Chris Pratt confirms he's in Jurassic World. There's a new casting rumor for The Fantastic Four's Ben Grimm. And set photos show off Peter Capaldi's new Doctor Who costume. Plus, is Captain America: The Winter Soldier so good that Marvel's already trying to lock the directors in for the sequel? Spoilers now!
Star Wars
Here's a rumor that almost needs a capital "R" – that's how unlikely it is. The story is that Mara Jade's going to be introduced in Disney XD's upcoming show Star Wars Rebels and then cross over into the live-action films. Thus, the animated TV show will bring her into Disney's new Star Wars canon, which has her as the mother of Ben Skywalker, who will appear in Episode VII. According to Star Wars 7 News, the landscape of Disney's canon will look like this:'
Episode seven takes place, in 30 ABY. Jacen and Jaina will be to Ben what Han, and Leia were to Luke. Ben is around the same age as his cousins. Chewie will be alive, and this is an all new timeline from 4 ABY forward.
Again, this is a seriously shaky rumor, that means very little until anything's officially confirmed. [Yahoo!]
---
Jurassic World
In more concrete news territory, Chris Pratt's confirmed that he's going to be in Jurassic World. And he's thrilled, saying:
For me, Jurassic Park was really kind of my Star Wars. I lined up at the theatre to see it, I saw it opening night, I saw every sequel, I've seen it a whole bunch of times… for me that was my big movie, I think I was 13 or 14 when it came out. And so it's a big deal for me to be any part of that, let alone this part I'm going to be playing. I'm thrilled about it.
G/O Media may get a commission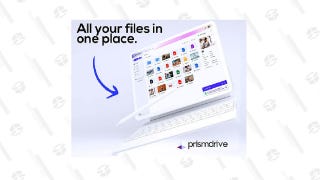 Save 97%
Prism Drive Secure Cloud Storage: Lifetime Subscription
---
Fantastic Four
And back to grain-of-salt territory: Sources "within casting circles close to the film" are saying that Josh Gad (Frozen) is the frontrunner for the role of Ben Grimm. His age does fit that of the other rumored actors (Michael B. Jordan, Allison Williams, Miles Teller, etc.), but nothing but rumor exists right now. [Slashfilm]
---
Batman Vs. Superman
While people like Jennifer Garner and Kevin Smith have said that they've seen the suit that Ben Affleck will be wearing, there's a report that the blue and grey suit they've seen is only one of two that'll be in the film. Latino Review's saying that Affleck will also have a special armored version, with silver-white plates attached to black cloth, with the cloth showing at the joints. [Latino Review]
Meanwhile, Affleck has had to pull out of directing the pilot of Fox's show The Middle Man. Despite the release date of Batman Vs. Superman being pushed back, production has not been delayed. So Affleck will be reporting to the set soon, along with everyone else. [Deadline]
---
X-Men: Days of Future Past
Here are some bits of concept art by artist Keith Christensen, which show a few options for Wolverine's outfit, Professor X's future wheelchair, and what looks like Michael Fassbender's Magneto helmet. [Keith Christensen via Comic Book Movie]
---
Divergent
The crew filmed additional scenes in Los Angeles last weekend and going to be filming more this week. [On Location Vacations]
The sequel script, Insurgent, will be getting a pass by Academy Award winning writer Akiva Goldsman, who will polish the current draft. [Coming Soon]
---
Captain America 3
It sounds like Marvel really liked the work done by Anthony and Joe Russo. A new report says that Marvel execs and test audiences have positively received Captain America: The Winter Soldier, leading to the directors' likely return for a third film. Of course, no final deal will be made until the The Winter Soldier is actually released, but it sounds like, barring a flop, it's close to a done deal. [Slashfilm]
---
Transformers 4: Age of Extinction
A Brazilian site has a new description of the movie, which contains more plot points then we've ever seen before. There's no confirmation, so take it for what it's worth:
Four years after the Battle of Chicago, the government is using reverse-engineered leftover technology to build their own Transformers. Joshua (Stanley Tucci) is an arrogant designer who believes the Autobots are "pieces of junk" and creating his own robots is a form of art. He's fills basically the same role as Agent Simmons from the previous trilogy.

Cade Yeager (Mark Wahlberg) is a widowed inventor who lives in a farm with his daughter Tessa (Nicola Peltz), unaware that she's dating a race car driver, Shane (Jack Reynor). Cade finds a piece of Cybertronian technology and takes it back to his farm, but it is accidentally activated, leading the government and alien bounty hunters to his farm. The bounty hunters (it's unclear if they're connected to the Decepticons) have antigravity weapons which they use to abduct Tessa. In another scene, an entire transatlantic cruise ship is raised out of the ocean and crosses through a busy intersection while the protagonists are in the middle of a car chase.

Sophia Myles is playing Darcy, Joshua's assistant and an archaeologist. Cade, Tessa, Shane, Joshua and Darcy are the main human characters, and the main subplot is Shane trying to prove his worth to Cade. Also, Cade addresses Bumblebee as "Bee" and calms him down when Joshua trash-talks him, indicating he might be Bumblebee's new owner.

Titus Welliver's character, Savoy, is the leader of a team of agents sent by Harold Attinger (Kelsey Grammer) to capture the protagonists.
---
Comes the Krampus
Kevin Smith's going to be producing an anthology film containing four stories about the holiday kid-punisher of myth. The four stories will be The Krampus vs. The 3rd Grade (directed by Andy McElfresh), Jason Mewes' Hitler's Krampus, Smith's Mask Maker, and The Proposal (directed by Smith's script supervisor, Carol Banker). Smith's wife, Jennifer Schwalbach, will be in charge of another story, The Bad Babysitter, which will act as the anthology's framing device. [Film School Rejects]
---
RoboDog
The animated film about the relationship between a young robotic dog and an old, grumpy "real" dog has its voice stars: Chris Colfer of Glee will play the young dog, KC, and the old dog will be voiced by Ron Perlman. [Coming Soon]
---
Teen Wolf
Keahu Kahuanui, who plays Danny, says that his character's got some tough times up ahead:
Whether he's conscious of it or not, Danny has a hard time staying out of danger. He also has a rough time figuring out where his relationship with Ethan is going. I think it's safe to say, Danny has some turbulence ahead.
[Buddy TV]
---
Doctor Who
Go here to see more set photos featuring Jenna Coleman, the TARDIS, and Peter Capaldi in his recently-revealed costume. [ryanfarr/SpoilerTV]
---
Orphan Black
The second season premiere will be called "Nature Under Constraint And Vexed," a line from Sir Francis Bacon. Season 1 took its titles from Darwin, and John Fawcett and Graeme Manson say that season 2 will take all its episode titles from Bacon. [SpoilerTV]
---
Grimm
Episode 3.17 will be called "Synchronicity." [SpoilerTV]
---
Beauty and the Beast
Episode 2.15 will be called "Catch Me If You Can." [SpoilerTV]
---
The Vampire Diaries
Here's a sneak peek at episode 5.12, "The Devil Inside." [via SpoilerTV]
---
Almost Human
Here's the synopsis of episode 1.10, "Perception":
DRUG CRIMES FROM THE FUTURE ARE REAL KILLERS ON AN ALL-NEW "ALMOST HUMAN" MONDAY, FEBRUARY 10, ON FOX

When Det. Kennex and Dorian investigate the simultaneous and sudden deaths of two genetically-enhanced - or "chrome" - children, a fatal dose of the perfect designer drug appears to be the cause. As the investigation unfolds and a recent drowning victim is mysteriously connected, the case takes an unexpected turn. Meanwhile, Kennex endures painful flashes from the past and pays a visit to the recollectionist in the all-new "Perception" episode of ALMOST HUMAN airing Monday, Feb. 10 (8:00-9:00 PM ET/PT) on FOX. (HU-104) (TV-14 L, V)

Cast: Karl Urban as John Kennex; Michael Ealy as Dorian; Minka Kelly as Detective Valerie Stahl; Mackenzie Crook as Rudy Lom; Michael Irby as Detective Richard Paul; Lili Taylor as Captain Sandra Maldonado.
Additional reporting by Charlie Jane Anders and Emily Stamm