Tonight's CTIA Pepcom event was not exactly quiet, with press, analysts, executives, and other assorted assholes running around trying to grope all the new phones. After things settled down a bit, I got more face time with the Samsung Upstage (which I keep calling the Upstart), formerly known as the music phone named SPH-M620. Michelle at Sprint gave me a tour of some of the coolest features, like the flip, touch buttons, and more. My take on the handset is that it is cleverly done, the tiny second screen is a terrific and useful novelty, and the OTA/PC music store and TV features are contenders for your time and money. It's a great phone.


G/O Media may get a commission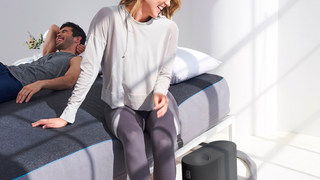 Eight Sleep Pod Cover


Complaints? Ha! When have I NOT had complaints. Here:
Flipping from the 9-key to the directional pad to control things can be a bit annoying. Really, that's a price worth paying on a rather interesting phone closer in size to an iPod nano than a BlackBerry Pearl (See the gallery's sizemodo photo.)
I'd consider it as a full time handset.
Not everyone feels this way, though— Sasha over at PC Mag got a nice prebrief on the handset, and rates it a 3/5. One of his complaints was the touchpad's inability to scroll as many rows as he'd want, per flick. I'd agree, but that isn't a deal breaker.
*Video's music courtesy of New London Fire, which my little brother plays guitar in. Great thanks to Vincent over at Slashgear who lent us his Upstage for the gallery.

Upstage[Gizmodo]