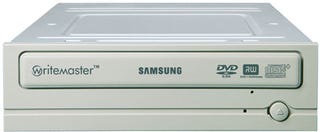 Samsung's throws out the world's first 18x DVD writer—16x was the previous high—to the glee of impatient people worldwide. The WriteMaster can write standard DVDRs at 18x, DVD-RAM at 12x, DVD Dual Layer at 8x, DVD+RW at 8x and DVD-RW at 6x. With the Blu-ray and HD DVD burners up in the way-too-much range, a new DVD Burner should tide you over until the next-gen becomes the current-gen.
Available later this month for $69.99.
Update: We should have read the press release all the way through. The actual claim was "SAMSUNG BREAKS SPEED BARRIER WITH THE WORLD'S FIRST 18X REWRITABLE DVD DRIVE TO SUPPORT 12X DVD-RAM RECORDING". So they're the first 18x that also has 12x DVD-RAM support, not the first 18x overall.
Image is of the 16x WriteMaster