San Andreas is filled with ludicrous, special effects-laden chaos, and it paints its main character's quest to reunite his family — an all-too-familiar disaster-movie trope — with the broadest possible strokes. But if you can put up with ridiculous science (and cheese), it's a fun, silly summer movie.
Some spoilers follow, though this ain't a movie with too many curve balls.
The opening scene's sole purpose is to establish that Ray, the LA Fire Department rescue team leader portrayed by Dwayne "the Rock" Johnson, is a badass. After we get a sense of his aw-shucks attitude ("Just doin' my job, ma'am ... I go where they tell me to go," he tells a tagging-along news reporter played by Archie Panjabi), we see him maneuver a helicopter between two dangerously close cliff faces, hover steadily while a colleague tries (and fails) to extract a driver from her dangling car, and then confidently rappel down and get the job done himself. That's just the Ray way.
The frightened young woman he saves, we'll see, is about the same age as Ray's own college-age daughter, Blake (Alexandra Daddario; you may remember her, um, assets from her affair with Woody Harrelson in True Detective), who will soon require her own perilous rescue. This is not a coincidence, because San Andreas' script is filled with carefully measured story beats that will ring familiar to disaster-movie fans.
G/O Media may get a commission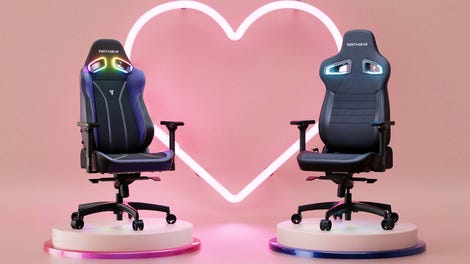 Up to $150 off
Vertagear Gaming Chairs
With the "brawn" side of San Andreas established via Ray, we move on to "brains," in the form of Paul Giamatti as a suitably rumpled Caltech professor named Lawrence. Conveniently, at that very moment, he's giving a lecture on the worst earthquakes in history, including the largest ever recorded: 1960's magnitude 9.5 that originated in Chile but spawned devastation across the globe.
"Could that happen here?" a student asks.
"It's not a matter of if, but when," Lawrence replies.
When comes sooner than Lawrence expected (the astute viewer will not be so surprised). Hot on the trail of some unusual seismic activity around the Hoover Dam, Lawrence and his colleague, Kim (Will Yun Lee) head to the site to test their quake-prediction theory. Turns out it holds up all too well, hell breaks loose, and San Andreas notches its first annihilation of a major American landmark. Wham, dam, thank you ma'am!
The special effects in this scene, rendered in water-gushing 3D, are stupendous. This is the case throughout the film — helmed by Johnson's Journey 2: The Mysterious Island director Brad Peyton — as the ante is upped on every level, even when the action shifts to San Francisco, home to perhaps more disaster-movie cliches than any other. We've seen the Golden Gate Bridge get mangled in countless previous films, by Godzilla, the X-Men, etc., but it's done so gloriously and insanely here that it almost feels like a fresh viewing experience.
After the dam-busting Nevada quake, Ray is called in for emergency LAFD duty, and must suffer the supreme indignity of handing over "dropping off Blake at college" duties to Daniel (Ioan Gruffudd), the smarmy rich-guy boyfriend of his estranged wife, Emma (Carla Gugino). Daniel, so cold-hearted that he refers to the buildings he designs as his "children," has a private jet standing by. When Blake and Daniel arrive in San Francisco, we're treated to glamorous aerial photography of the city's sparkling high-rises, all of which are clearly doomed to imminent smoky ruin.
Meanwhile, Serena, the reporter played by Panjabi who is apparently the only journalist in Southern California, shows up at Lawrence's lab to do a story on earthquake prediction. At that exact moment, the entire San Andreas fault starts jumpin' off, as Lawrence and his grad students stare at their laptops incredulously (often while cowering under their desks). Seems the Hoover Dam catastrophe was just a taste of the terror to come. Los Angeles is in big trouble, but real danger lies further north. The scenario is so alarming it inspires science-guy Lawrence to turn to Serena's camera and say, "Pray for San Francisco."
But wait! Before everything on California's coast starts rocking and rolling, it's important that you pause and take a moment to consider Ray's private family drama. Emma has just served him with divorce papers, and yet we see a semi-recent vacation photo of Ray, Emma, Blake, and another young girl who has yet to be mentioned, grinning in front of San Francisco landmark Coit Tower. What happened to this once-happy family?
We don't wait long to learn the answer. Ray's still in love with Emma, this much is clear, given his obvious loathing of Daniel, and the fact that he abandons his Nevada-bound route in favor of plucking Emma from her precarious position on the crumbling roof of a downtown LA skyscraper after SoCal takes a hit. The exes unite over a shared goal, which is reiterated over and over: to rescue their daughter, to bring her home safe. This is an especially urgent mission since they once had another daughter, seen in the photograph. Her death — which Ray believes he's responsible for — brought on the stress that caused their breakup.
While Blake awaits the Daddy-fueled rescue she knows is coming, she finds survival buddies in a pair of Brits who happen to be visiting SF: Ben (Hugo Johnstone-Burt), who takes a shine to the blue-eyed beauty, and his precocious younger brother Ollie (Art Parkinson). They flail around the city, dodging certain death through sheer luck multiple times, and somehow achieve the miracle of patching a phone call through to Ray's helicopter.
In this movie, The Rock is a guy who can apparently drive or pilot every vehicle ever built; can punch a creeper in the face (with panache) when it's absolutely necessary; and is generally massive enough to look like the go-to guy in any crisis. "Just get up against something sturdy and protect yourself!" he bellows at a group of terrified San Franciscans when the earth trembles yet again. Emma gives him a lingering look, because there's no doubting what/who her "something sturdy" is.
In the end, San Andreas is just as much about the repairing of Ray's family as it is about the earthquakes, making it approximately the zillionth disaster movie (Twister, 2012, War of the Worlds, The Day After Tomorrow, Independence Day, etc.) to use that plot. But maybe never before has it been deployed with such a heavy hand. Whether or not you will have a good time depends just as much on your tolerance for corniness as it does on your appreciation for superior special effects.