The reindeer that that call the Arctic home are in trouble thanks to climate change. Which is why Sweden's indigenous Sami people, who herd these animals, are asking the federal government for economic aid to help in wake of this year's dry and fiery summer.
Wildfires aren't new for Scandinavia, according to Niklas Labba, the director for the Centre for Sami Studies. "There have been fires before," Labba told Earther. "Reindeer herding has been here for thousands of years, so there have always been different types of weather situations."
Still, between record-breaking heat, drought, and wildfires this summer was especially brutal for the region. And it's just a taste of what's to come: On average, Arctic and sub-Arctic regions like Sweden are seeing temperatures rise faster than the rest of world.
All this is bad news for the Sami and their reindeer, which have been suffering this summer as drought and fire have ruined their feeding pastures, burning off the lichen the animals usually munch on. The Sami can't just pick up their herds and take them elsewhere to feed, either.
The 4,600 reindeer owners in Sweden who manage over 250,000 animals often lease land from private property owners. That means herders can't just go ahead and reseed fields or move their herds entirely. They hope the Swedish government can coordinate a solution between landowners and Sami herders, per the Swedish news site The Local.
G/O Media may get a commission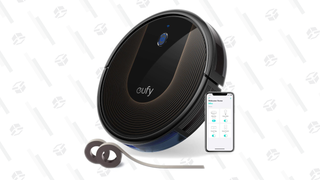 48% Off
Eufy BoostIQ RoboVac
Still, even more concerning than this summer is what'll happen in winter, Lappa said. That's when the animals are at real risk of starvation and when climate change's impacts are felt the most.
The snow season is shortening throughout the region: Sweden, in particular, is estimated to lose up to 80 days of snow a year by 2100. If temperatures fluctuate too much in winter, snow can melt and turn to ice. And that ice will cover the lichen reindeer typically dig through the snow to munch on.
"That is new because that [warm weather] is coming much more frequently now," Lappa said.
In the short-term, per The Local, these herders need some supplemental food for their reindeer. In the long-term, however, they want the government to investigate food that could replace the lichen the reindeer depend on for their meals—and to come up with climate change solutions that keep the Sami in mind.
The situation the Sami now face is mirrored by indigenous people across the world, whether it's First Nations in the Amazon dealing with deforestation or Alaska Natives forced to relocate.
Lappa, at least, hopes the heightened urgency around climate change will push the governments of Finland, Norway, and Sweden—all home to Sami villages—to open a dialogue with Sami communities. If these countries decide to leave fossil fuels behind, they'll need to focus more attention on mining minerals to develop powerful batteries, instead. And an unjust pattern of extracting from indigenous lands has already appeared in Scandinavia.
For now, the Sami must worry about making it through the rest of summer. Drought and wildfires are one concern, but so is an influx of insects (like mosquitoes) and the diseases they carry. This is just the beginning.