As public interest in Environmental Protection Agency Administrator Scott Pruitt's activities reaches a fever pitch, the EPA's Office of the Administrator is getting hit with hundreds of Freedom of Information Act requests. And as a new analysis shows, the agency is struggling to keep up.

Data released Sunday by the Project on Government Oversight shows a 400 percent uptick in FOIA requests directed at the EPA Administrator's Office between 2016 and 2017. And yet despite clear interest in everything from Pruitt's meetings to his notoriously hard-to-get calendar (Gizmodo Media is one of many news organizations that's requested copies of this under FOIA) to his travel habits, these requests are getting processed slowly: Just 17 percent of FOIA requests routed to the Administrator's Office were closed under Trump's administration in 2017. The an agency-wide closure rate? Seventy nine percent.
Andrew Bergman, Special Environmental Advisor to the Project On Government Oversight who led the analysis, told Earther that vast disparity "indicates that the evasiveness we're concerned about is real."
Bergman noted that many of the records requests making their way to the Administrator's Office regard politically sensitive documents or potential incidences of misconduct, i.e. "things that are most important to the public."
This analysis, which is based largely on records released to the Project on Government Oversight (under FOIA, no less), is ongoing, but as of yet the government watchdog has not been able to determine how that 17 percent closure figure compares with previous years. Regardless, the fraction of requests that led to the release of records from the Administrator's Office is likely to be far lower.
G/O Media may get a commission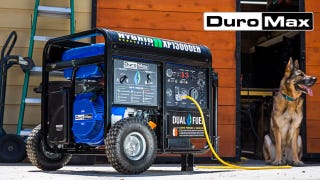 Black Friday Sale
DuroMax Generator Sale
"The vast majority of the 17 percent that were closed....no records were provided," Bergman said.
It's hard to say to what degree the inability of Pruitt's office to fill its growing pile of public records requests can be chalked up to bureaucratic inefficiency and sheer volume (the office received more than a thousand FOIA requests last year, the agency as a whole, over 11,000), versus the evasiveness that worries open government groups and environmentalists. The EPA did not respond to a request for comment on this story.

Adam Marshall, an attorney with Reporters Committee for Freedom of the Press, told Earther he wouldn't be surprised if funding, staffing, and intra-agency politics are all playing a role.
"I think certainly funding and staffing is a huge part of what makes FOIA requests take so long," he said. "At the same time, the amount of resources an agency chooses to devote to FOIA is kind of a policy decision."
Whatever the reason for the delays, many who are keen to pry information out of the EPA aren't sitting idly by. A concomitant report released by Politico on Monday shows a surge in open-records lawsuits aimed at the agency last year. Fifty five public records lawsuits have been filed against the EPA since Trump's inauguration, compared with just 57 FOIA lawsuits during George W. Bush's entire presidency.
It may be that the only way to truly understand why the EPA Administrator always flies first class is to sue.