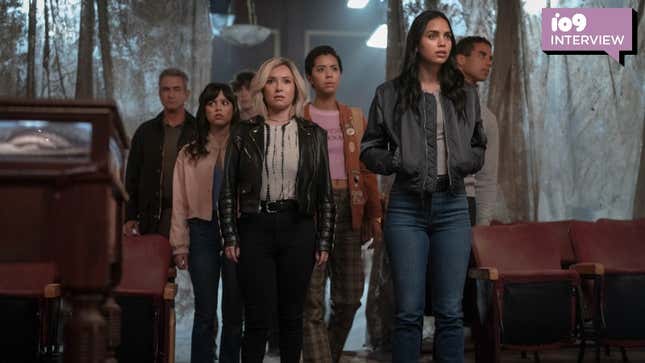 Scream VI is now in theaters and, as is the case with most Scream movies, much of it centers on who Ghostface is this time around. Once you figure that out though, part of the joy of the franchise is being able to watch it back and see how it all fits together. Was a character missing in a certain scene you didn't notice? Did the filmmakers provide any teases you missed?
Hulu's Hellraiser Reboot Has So-So Sights to Show You
io9 spoke with Radio Silence, which includes the film's directors Matt Bettinelli-Olpin and Tyler Gillett, and producer Chad Villella, about some of those hints as well as why and how a few choice characters died or didn't. Massive spoilers follow.

First up, we asked: once you see the movie a second time, what are some of the giveaways to who the killers are? In case you're reading this just to be spoiled and haven't seen the movie, the killers are the father and siblings of Richie (Jack Quaid) from the previous movie, revealed to be Detective Bailey (Dermot Mulroney), Chad's roommate Ethan (Jack Champion), and Tara and Sam's roommate, Quinn (Liana Liberato). Three of them!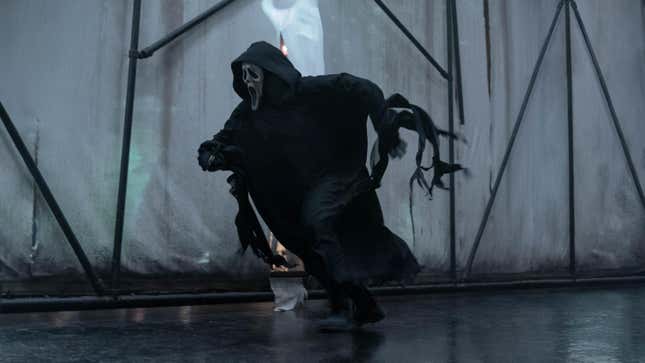 "I think for us we had a moment like, we were into the edit, and it dawned on us, this is the most obvious [thing]. It's literally the killer calling from Richie's phone 25 minutes into the movie," Bettinelli-Olpin told io9. "And it's like, 'Who would have gotten that phone?' Well, his family. 'Oh, it must be a family.' But the fun of Scream is that it puts it all right in front of you and then you kind of get the mental gymnastics going. Maybe that's not it. I don't know, is it?"

But that's not the only giveaway. "There is a shot of Dermot in the police station after that conversation with Hayden [Panettiere] in front of the murder board, whiteboard," Gillett said. "And Dermot turns around to look at her and he's framed against the murder wall. And that for me is the Shot. We go, 'Shit guys, he's on the murder wall.'" "He's literally in a line of Ghostfaces," Bettinelli-Olpin added.
And while the identities of the killer are the biggest spoilers, there are also a few other surprises, such as the fact that Gale Weathers (Courteney Cox) almost dies, but doesn't. We asked about the challenges of that scene and whether Gale was ever going to die.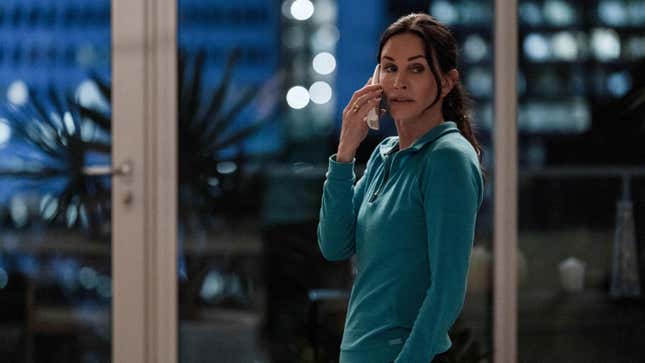 "We always wanted Gale to survive," Gillett said. "That was never on the table for us. But I think the challenge of that sequence—there were a bunch [of challenges]—but I think one of the big things was finding a location ... Finding a place that felt like it was a representation of Gale's level of success and really placed her in the city in a very specific way."
When they found the spot, the whole scene changed. "We found this amazing loft in Montreal, and then we really retrofitted that sequence to use that entire space, which is something that we love to do," Gillett said. "To find a location and then kind of write the script into the existing location. And thankfully that big open space allowed us to really do a lot of big action. And Courteney was so game. I mean, it was crazy to us that they hadn't had a [Ghostface] phone call. And so to not only do the call but then to have it become the sequence that it becomes, a full-on fisticuffs, Ghostface versus Gale, was just so damn exciting to us. And the number of gears and the number of little turns within that scene where Gale has the upper hand and Ghostface has the upper hand, like all of that was so fun to play with. And we're just really, really proud of how that sequence turned out. Courteney is just so damn good in it."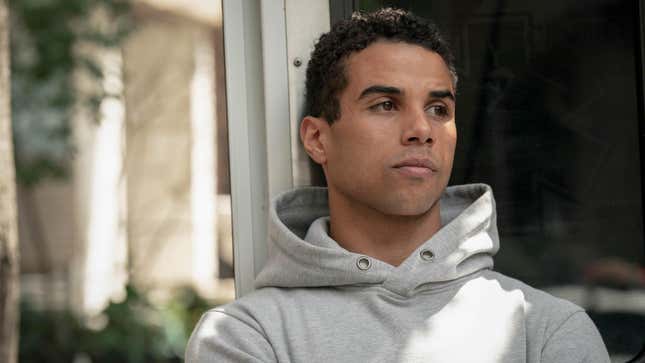 Finally, with time running out on our interview, I had just one other spoiler thing I could ask. And I chose this: how the hell does Mason Gooding's character Chad, a person we see stabbed in the chest dozens of times, survive?
"We like to joke you could almost hear his body whistling when they wheel him out," Gillett joked. "We're fans at the end of the day and the thought of killing off Mason's character to us was a nonstarter," Bettinelli-Olpin added. "There were obviously conversations about it, but for us, it was just if Dewey can survive that shit, let's make Chad that now. So maybe in Scream 10, Chad has something to worry about."
Scream VI is now in theaters.
---
Want more io9 news? Check out when to expect the latest Marvel, Star Wars, and Star Trek releases, what's next for the DC Universe on film and TV, and everything you need to know about the future of Doctor Who.