Lovers of wasteful coffee and conservative news can sleep easy tonight, because Sean Hannity just resolved the explosive conflict between his fans and Keurig. Hannity said in a blog post that he "accept[s] the apology of the Keurig CEO" and will be giving away 500 Keurig machines "as a thank you for always standing by me." And with that, we have a senseless conclusion to a senseless story.
If you're wondering why Hannity and Keurig were having a fight, you were lucky enough to miss the recent saga about Hannity fans smashing Keurig machines. It all started when Hannity interviewed Alabama senatorial candidate and alleged pedophile Roy Moore on his radio show. In defending Moore, the Fox News host suggested that his fans should be more skeptical of the multiple accusations that Moore sexually assaulted minors, one of whom was only 14-years-old when the incident took place. Hannity even intimated that it was okay for a man in his early 30s to have "consensual" sex with a minor.
The Twitter backlash was immediate, and within a few hours, advertisers started pulling out of their contracts for The Sean Hannity Show. Keurig was one of them and made the announcement in response to a tweet from the president of the progressive outlet Media Matters:
Then, things really got turned upside down. Right wingers—many of whom were of the Red Pill or #MAGA persuasions—started smashing their Keurig machines in the name of First Amendment rights and then sharing videos of the destruction on social media with the hashtag #BoycottKeurig. Because clearly the way to protest what you perceive to be a threat to free speech is the destruction of your own property.
G/O Media may get a commission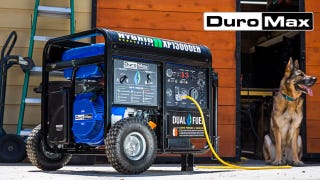 Black Friday Sale
DuroMax Generator Sale
Keurig chief executive Bob Gamgort felt compelled to respond to the perceived controversy in a memo to his staff that was promptly leaked. The memo basically blamed it all on the social media team for dealing with a sensitive situation right out there in public. "This gave the appearance of 'taking sides' in an emotionally charged debate that escalated on Twitter and beyond over the weekend, which was not our intent," Gamgort wrote. Then came the apology:
I apologize for any negativity that you have experienced as a result of this situation and assure you that we will learn and improve going forward. As we all know, the external environment is changing rapidly. We need to dial-up our speed and responsiveness to stay ahead of these developments and we will.
Just to be clear, the CEO is apologizing to his staff, not Sean Hannity or The Sean Hannity Show. It's unclear if there was some private apology sent to Hannity or if Hannity baked some wishful thinking into his reading of the leaked memo. It's also unclear if Keurig resumed its ads on The Sean Hannity Show. All Gamgort really says in the memo is that the tweet made it seem like Keurig was "taking sides." Either way, Hannity looks like he's trying to save face by giving away 500 Keurig machines, presumably to replace the machines that his fans destroyed in a backwards attempt at a protest.
We've reached out to Keurig to learn if there was actually an apology sent to Hannity. We've also asked whether they donated the Keurig machines for the Hannity giveaway. We'll update this post if we hear back.