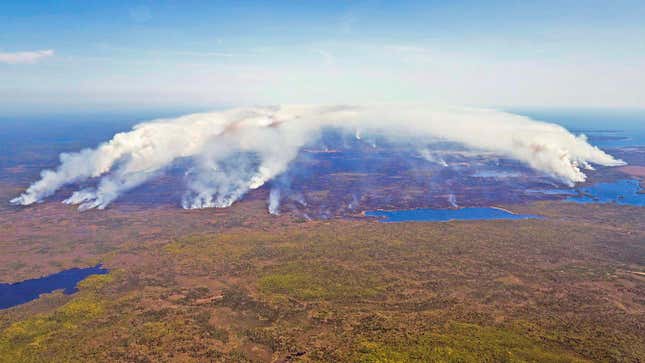 Canada is in for a fiery summer. Hundreds of active fires are burning across almost every single Canadian province and territory this week. And officials worry that this year will see higher than normal wildfire activity through August, the CBC reported.
"We are already seeing one of the worst wildfire seasons on record, and we must prepare for a long summer," Steven Guilbeault, Canada's minister of environment and climate change said in a statement yesterday. "The threat of increased fires due to climate change is one of the many reasons our government is developing a robust National Adaptation Strategy with all levels of government and Indigenous groups, so we can be sure our communities are well prepared for the impacts of climate change."
A large portion of the country is burning unseasonably early this year, officials have noticed. And as of this past Sunday, more than 3 million hectares (over 8 million acres) have already burned this year, Reuters reported. An estimated 120,000 Canadian residents have been temporarily displaced this year.
And the fires aren't simply affecting life and health throughout the provinces. The smoke is traveling south, affecting air quality for states in the Midwest and Northeast. This morning, the New York City Metropolitan area had some of the worst air quality in the country, Bloomberg reported. Officials have also issued air quality alerts throughout a lot of Vermont, upstate New York, and throughout Massachusetts. The smoke across multiple states is supposed to peak later today and will probably disperse by Wednesday afternoon, ABC News reported. This comes about a week after multiple counties and cities throughout the U.S. Northeast issued air quality alerts from smoke.
See how smoke and flames have taken over millions of acres throughout Canada in the last couple of weeks in the slides ahead.
Want more climate and environment stories? Check out Earther's guides to decarbonizing your home, divesting from fossil fuels, packing a disaster go bag, and overcoming climate dread. And don't miss our coverage of the latest IPCC climate report, the future of carbon dioxide removal, and the un-greenwashed facts on bioplastics and plastic recycling.