A long-awaited election security bill is finally rolling out today with bipartisan support.
The bill, which senators have hinted at for several months, would push federal agencies to share election security information with state and local officials, establish voluntary cybersecurity guidelines for election systems, and create a federal bug bounty program for voting machines and other election infrastructure.
Dubbed the Secure Elections Act, the legislation is co-sponsored by Democratic Senators Kamala Harris, Amy Klobuchar, and Martin Heinrich, and Republican Senators James Lankford, Susan Collins, and Lindsey Graham.
"We must act now to fortify our election systems against attacks by foreign powers in a way that is smart, comprehensive, and allows for effective communication and information-sharing between election and intelligence officials," Sen. Harris said in a statement.
Hackers successfully breached voter registration systems in several states during the 2016 election cycle. In September, the Department of Homeland Security finally informed election officials in 21 states that their systems had been targeted; the delayed notification upset many officials who felt they should've been informed sooner. The Secure Elections Act calls for security clearances for election officials so that they can be informed more quickly of cybersecurity threats.
G/O Media may get a commission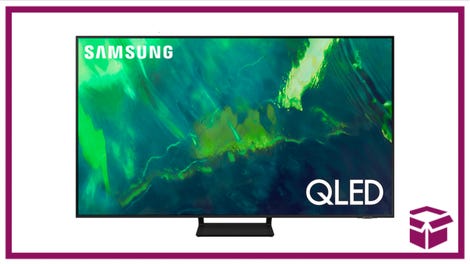 35% off
Samsung Q70A QLED 4K TV
Save big with this Samsung sale
If you're ready to drop some cash on a TV, now's a great time to do it. You can score the 75-inch Samsung Q70A QLED 4K TV for a whopping $800 off. That knocks the price down to $1,500 from $2,300, which is 35% off. This is a lot of TV for the money, and it also happens to be one of the best 4K TVs you can buy right now, according to Gizmodo.
The bill would also establish a bug bounty program for voting machines, giving hackers an avenue to discover and report vulnerabilities in election systems without fear of legal repercussions. State and local officials would decide whether to participate in the bug bounty program. During a three-day hacking challenge at the security conference DEF CON this year, hackers were able to breach all of the approximately 30 voting machines on display—a sign that the bug bounty program would be productive.
"During the 2016 elections, Russia tried to interfere in our elections," Sen. Lankford said in a statement on the bill. "Although they didn't change actual votes or alter the outcome, their efforts were an attack on our democracy. It is imperative that we strengthen our election systems and give the states the tools they need to protect themselves and the integrity of voters against the possibility of foreign interference."
The Secure Elections Act would also invite independent experts to help develop cybersecurity guidelines for election agencies and establish a $386 million grant program to help states to implement those safeguards.
"We must do everything in our power to protect our democracy from future attacks, and ensure those on the front-lines of administering elections are equipped with the tools and resources necessary to keep them safe," Sen. Klobuchar said in a statement. "Time is of the essence, the next federal election is less than a year away."