"We're allowed to be angry now in news media," says Red S. We're sitting on a park bench as people slowly trickle in with red headbands, armbands, boots, and umbrellas. It's unforgivingly hot, but the gathering crowd has a visible energy. People are huddled on the ground, excitedly making signs, while others rush to greet friends and family at the park's entrance.
Rob Savage on Collaborating with YellowJackets' Sophie Thatcher
Red is a community organizer with the Support Ho(s)e Collective, Survived and Punished NYC, and Survivors Against SESTA—one of a growing sea of people gathered around the Washington Square Park arch at the International Whores' Day demonstration in New York City on Saturday.

International Whores' Day dates back to 1975 when hundreds of sex workers occupied a church in Lyon, France, to demand an end to police brutality as well as general harassment and violence. Forty-three years later, sex workers and allies are still fighting for sex-worker rights—and to regain protections lost by the recent passage of a law with ramifications that sex workers say could literally kill them.
The sex workers are gathered here in Manhattan to fight back against SESTA/FOSTA, a federal law passed under the guise of combating human sex-trafficking but that effectively destroyed crucial online spaces for sex workers. While sex workers say the law is putting their lives at risk, it has invigorated the community and pushed the issues facing sex workers into the national consciousness. Before SESTA/FOSTA, Red says, getting the mainstream press to pay attention "was unthinkable"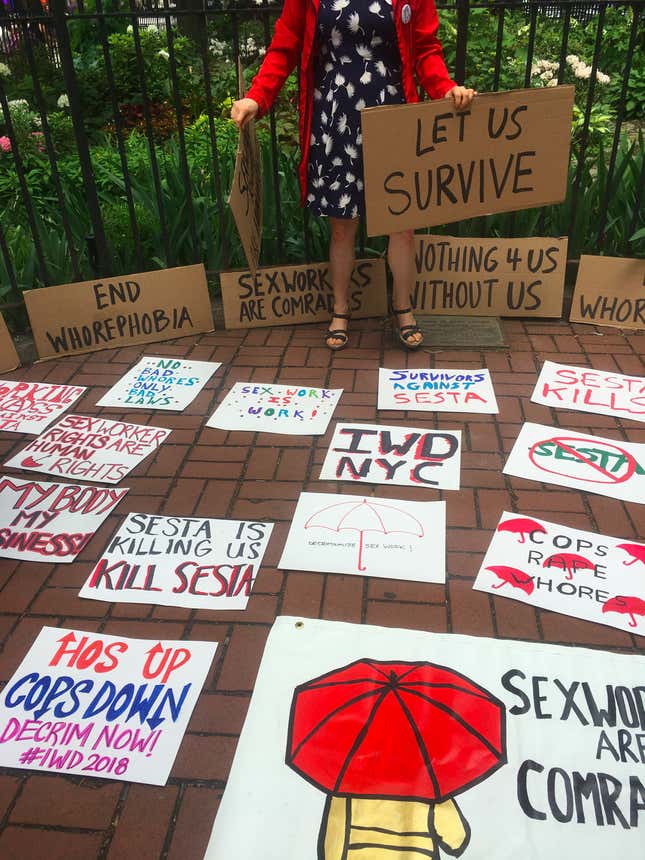 "We want to see ourselves and situate ourselves in the legacy of radical sex worker resistance to state violence," Red says, adding that it is appropriate, post-SESTA/FOSTA, that they come out boldly and unwaveringly, given the gravity of the problems now facing the community.
In April, Trump signed SESTA/FOSTA into law. Its supporters claim the legislation fights online sex trafficking, but sex workers say it will endanger their lives by increasing online censorship and taking away online forums sex workers have long used to find clients whom they can vet by freely discussing potentially violent clients with one another, protect themselves from police abuse and violence, and work independently. In other words, it's a law that dangerously conflates sex work with sex trafficking. And in the absence of these online spaces, sex workers are being pushed back onto the streets, cut off from a community that, quite literally, survives by connecting online.

"This year's protest is bigger just because of SESTA/FOSTA," says Liara Roux, a sex worker and independent porn director and producer. Saturday's demonstration had such a high turnout, the group relocated from Manhattan's Christopher Park to the larger Washington Square Park. "People are really upset. People are hurting. And people realize that if we don't speak for ourselves other people are just going to speak for us and so we really need to start getting more engaged politically."
Roux, an activist who also organizes for human rights for sex workers, says that when she talked to congressional staffers during Sex Work Lobby Day in Washington, D.C., they didn't seem to realize that SESTA/FOSTA "was about anything other than child sex-trafficking" before it was passed. But critics believe the law is written both too vaguely and too broadly to effectively help victims of trafficking. "After talking with them about some of the effects it's had on the community, they were sort of shocked and wanted to do whatever they can to try and help make it right," she says.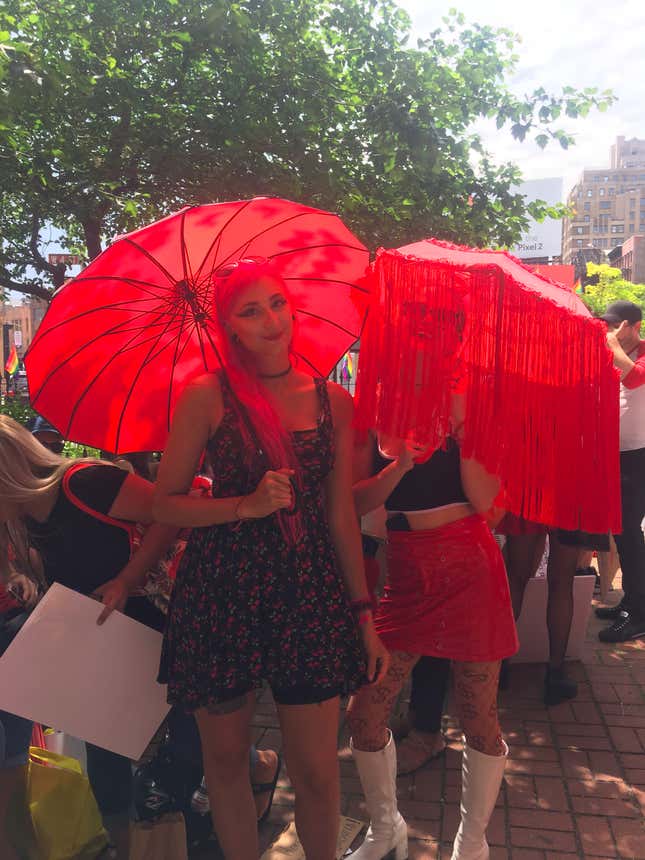 The dangers of the law on the livelihoods and safety of sex workers became clear in its immediate aftermath. As Motherboard reported in April, pimps began to exploit and abuse sex workers, taking advantage of the uncertainty the legislation created. And because of the ill-defined language of the bill, websites and social networks used by the community began to discriminate against sex workers or simply shut down altogether.
"Platforms are over responding to these vague bills and silencing us," Danielle Blunt, a New York City-based ProDomme and community organizer with Survivors Against SESTA, says, noting that more than 150 websites used by sex workers to screen clients and stay safe have been taken down.
SESTA/FOSTA disproportionately endangers marginalized communities because they are already disproportionately criminalized. In New York City, for instance, "nearly 70% of defendants facing prostitution charges in the Brooklyn trafficking courts are black," the New York Daily News reported in 2014. As a sex-worker-rights activist and advocate who started an emergency fund for sex workers told the Daily Beast in April, "The bulk of the people that are needing emergency assistance are people of color, queer folks, people with disabilities."
"Historically, it's always been about policing black people, policing women's bodies, always under the guise of sex trafficking, trying to combat sex trafficking," MF Akynos, a stripper and sex-worker-rights activist, tells Gizmodo as she's passing out leaflets for a collective she started. Another woman passes through the swelling crowd handing out booklets for Suraj Patel, who is running for Congress and has publicly opposed SESTA/FOSTA. "The people that are always affected by the laws are typically black and trans people," Akynos adds.
Perhaps the biggest loss for the sex worker community online—and the most well-known—was the shutdown of classified ads website Backpage in April. "When SESTA hit, people were messaging me asking me for help," Akynos says. Akynos founded the Black Sex Worker Collective in March as a support service for the black and trans communities, noting that she and her friends were deeply affected by Backpage's shutdown. "Our incomes are lost," Akynos says.

"Community members have died due to this legislation, many people have lost access to the majority of their income and don't know how they will pay rent, people who have been working independently are being reached out to by former pimps," Blunt says. "The effect of these bills is vast and devastating."
While the long-term effects of SESTA/FOSTA are not yet known, claims that the loss of online resources for sex workers results in violence and even death are supported by research and personal stories alike. The authors of the 2017 study "Craigslist's Effect on Violence Against Women" found that "Craigslist erotic services reduced the female homicide rate by 17.4 percent." (Craigslist shuttered its Personals section in March due to SESTA/FOSTA.) Adult performer Lorelei Lee told Motherboard in March, "Make no mistake, if these bills pass, sex workers will die." Tits and Sass, which reports on issues facing the sex worker community, documented the real-life dangers sex workers face in the aftermath of SESTA/FOSTA and the closure of Backpage in April:
The sex worker community online started to hear about workers going back out on the street and missing their check-in calls—as of April 14th, just based on anecdotal data passed between us, 13 workers have gone missing and two have been confirmed dead. Two workers have been assaulted at gunpoint, and I can't even count how many other stories of rape and assault I've heard from people returning to or just learning the streets for the first time. One person has already taken their life because of this legislation.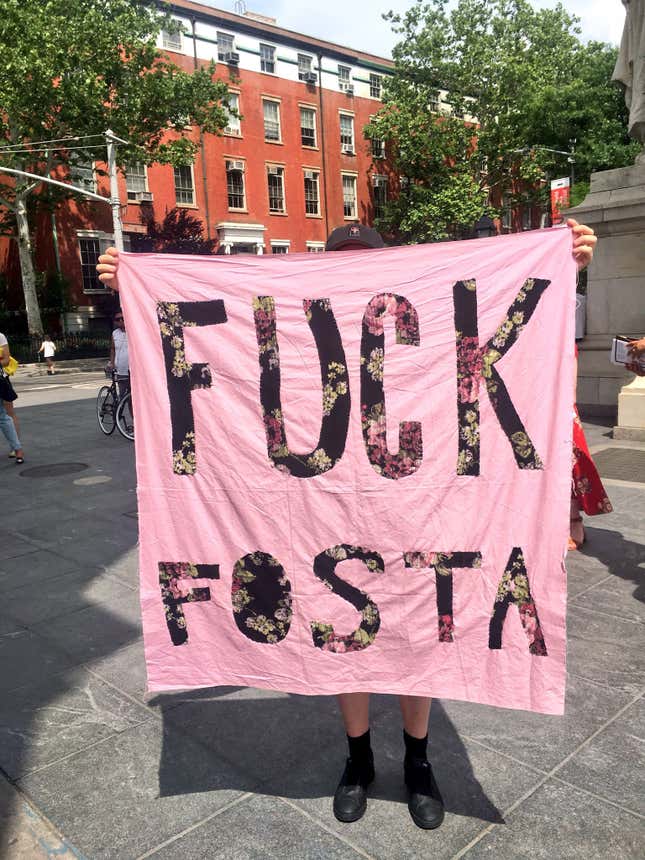 The groundswell of resistance in response to SESTA/FOSTA has increasingly put the need for sex workers' rights on people's radar. It's a law that represents state violence and police brutality against sex working people and survivors, and it's evident all around me at the International Whores' Day demonstration that this law has transformed and united the community.
Red says that sex workers' anger highlighted and validated in the media "allows us to be fully formed human beings in the news."
"And we deserve that," Red continues, "because we are fully formed human beings that are just working and surviving and supporting ourselves and our families and our friends as best we can."