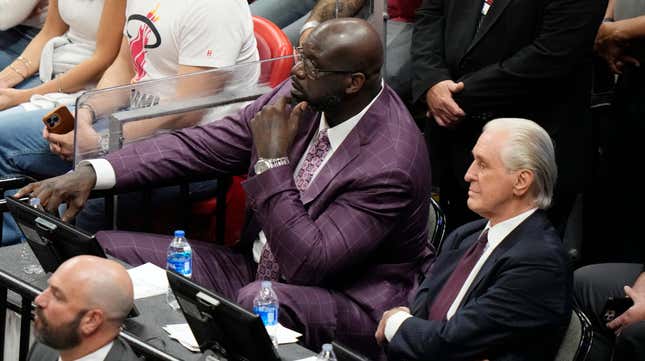 Shaquille O'Neal was served court papers in the class-action FTX case during his live coverage of the Miami Heat versus the Boston Celtics game on Tuesday. Process servers reportedly tried to track down O'Neal for four months, going as far as following him to his homes in Georgia, Texas, and Florida.
Giving Optimus Prime a Proper Back Story | io9 Interview
The process servers claim O'Neal spent months evading them, costing $100,000 in attorneys fees and delaying the court proceedings. "I haven't heard of anything like this in 30 years," Florida-based attorney Adam Moskowitz told The Washington Post. "This is a defendant who's well-known. He's not fleeing another island. He's in America, and he's on TV every day — but we can't get near him and serve him. It's insane."
Moskowitz, who is representing the group of investors who filed the lawsuit, said that when the processors were unsuccessful in reaching O'Neal at his homes and at the TNT studio in Atlanta where he works, they filed a motion requesting to serve him through social media, but a judge rebuffed their request. Two process servers later attempted to throw the court papers at the former basketball star's moving vehicle, which O'Neal's lawyers disputed in court, but the processors claimed they met the necessary requirements by making eye contact with O'Neal and showing him the papers.
Following the incident, a second complaint was filed against O'Neal, claiming they were scammed by another venture which sold non-fungible tokens, or NFTs. It was then that the process servers reportedly noticed O'Neal would be covering the Heat and Celtics game, and rushed to serve him with both court documents.
"It was a bit of poetic justice," Moskowitz told The Post. "But at the same time, this whole saga is unnecessary and farcical — it's not helping the case. It's not advancing the case. It's just delaying the case."
O'Neal is one of 11 celebrities involved in the class action lawsuit involving FTX founder Sam Bankman-Fried, including former NFL quarterback Tom Brady, Tennis player Naomi Osaka, and supermodel Gisele Bündchen. The celebrities appeared in commercials and advertisements promoting FTX, but when the company filed for bankruptcy in November, losing at least $10 billion in assets.

"We were really shocked to see Steph Curry and Shaquille O'Neal actually laugh about all the trouble they are in with FTX during the NBA telecast," Moskowitz said in an email to Gizmodo. He added, "These facts are so extraordinary. You have an individual ... with damages in the billions of dollars, an individual who can pay the judgment, and a person with enough money, to have security and gates to try to keep us away."
"A lot of people think I'm involved," O'Neal told CNBC in December following FTX's demise. He added, "But I was just a paid spokesperson for a commercial."
Sam Bankman-Fried is facing several charges including fraud, money laundering, and campaign finance violations. He has pleaded not guilty to all charges.
Updated: 5/26 at 8:42 a.m. to include a statement from attorney Adam Moskowitz