Just how many large mysterious objects can there be floating at sea? That's what many of us have wondered after the search for debris from Malaysia Airlines 370 turned up piece after piece of ocean trash. The search for flight 370 has focused our attention on empty patches of ocean and, in the process, shed light on the surreal world of lost shipping containers.
"It is not unusual to see debris floating in the ocean. Containers are sometimes adrift after falling overboard, for instance," reported the Sydney Morning Herald, after Australian officials first unveiled satellite images showing possible debris from the plane. When the AP followed up with an oceanographer, he added these surreal details about lost shipping containers.
He said there's one that keeps belching out Lego pieces onto the beaches of Cornwall, England. Another spilled 2,000 computer monitors. Another released thousands of pairs of Nike sneakers.
Nobody knows exactly how many are lost each year, but estimates range from 350 to 10,000 containers. That's a tiny percentage of the millions of containers traveling around the world carrying 90 percent of all our consumer goods, but it's enough to make us consider what happens to these thousands of steel boxes in the ocean.
This past February saw the single worst loss of shipping containers ever recorded. The cargo ship Svendborg Maersk hit hurricane-force winds off the coast of northern France and, when it landed in Spain, 520 containers had gone missing. The stacks may have been unstable because the containers were improperly weighed, experts told CNN, as shippers have incentive to lowball their weight estimates.
G/O Media may get a commission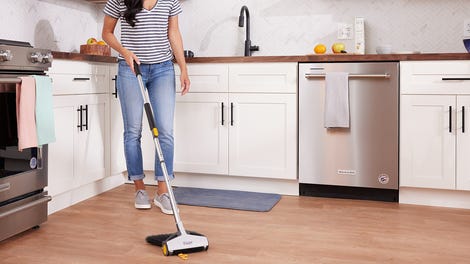 BOGO 50% Off
Flippr - BOGO 50% Off
Once containers fall into the sea, they continue to drift following ocean currents. Depending on the watertightness of the container and the buoyancy of its cargo, containers can float just below the ocean surface, turning into a hazard for small ships. They can also sink. In 2011, scientists studying a marine sanctuary were surprised to find a whole new ecosystem: a sunken container full of tires.
What are thousands of sunken containers doing to the the ecosystem at the bottom of the ocean floor? "Who knows?" the scientist told NPR, "They could even provide steppingstones for invasive species that go from one coastal harbor to another."
Most bizarre of all is when containers spill the contents, and thousands of manmade objects suddenly start coming in with the tides. Marlboro cigarettes in Dorset, England, hockey gloves in Alaska, and chow mein noodle cups in northern California—to just name a few. Rubber duckies that washed up everywhere from Alaska to Maine even taught oceanographers a thing or two about ocean currents.
Lost shipping containers actually account for only a small fraction of all ocean trash; most of it is tiny pieces of plastic from waste washed in from land. These sneakers and noodle cups appearing whole on our beaches are, however, a rare reminder of the vast shipping industry that operates invisibly behind the scenes. And when we actually go looking into the ocean with our satellites, planes, and ships, we find plenty of it in the water, too.
Images: A cargo ship grounded near the coast of New Zealand in November 2011. A sea crane is removing the 1,280 containers that remain on board the ship. AP Photo/New Zealand Maritime, Graeme Brown, HO