While this is the first shooting challenge I have actually entered, it is not the first that has worked my brain into a frenzy, attempting to come up with something worthy of Giz. I thought for nearly a week on differing mediums that would lend themselves to this challenge. My son's silhouette, paint, even chocolate sauce ran through my mind, but finally, I hit upon it...ground coffee. This photo was taken on a background of freezer paper, on my dining room floor, complete with drum serenade/practice from my hubby. (Thanks Babe! : ) ) I played with the coffee for about 5 minutes, reminding me of the sand painting videos on you tube and commercials. Very cool, although the strong, strong smell of coffee lasted in my nostrils for quite a while. (Yes, it's late, yes, I am still very awake!) I used the iPhone 4 the hubster bought for me back in August, (again, thanks Babe!), then used a combination of my photoshop express app and Photoshop on our MacBook. The whole process of flipping, resizing and saving was all new to me and was very rewarding to learn! I made two other images, but one looked like The Tick, and the other like a One-Up mushroom/lotus flower love child. This one won our hearts for it's pure Rorschachyness. (It's a technical term ; ) ) Thanks for looking!
-Amber Bray

This is my (lazy) submission for this week. I put some iPod earbuds on a black t-shirt and took several shots until I got the right contrast. Settings were F4.9, 1/60 seconds, using flash, on a Canon S90.
After converting to B&W and inverting the colors, the hard part was trying out different axes in every direction for the mirror effect. Finally I tried this "double mirror" arrangement, and this came out... I kinda see a little dancing robot in there.
-Andreina Jimenez
G/O Media may get a commission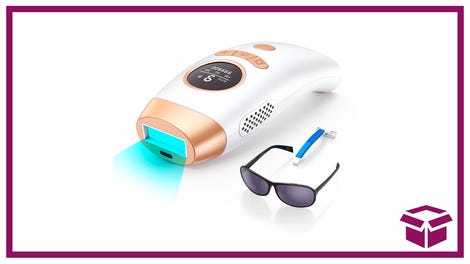 58% Off + Coupon
IPL Hair Removal Device

"Ghost in a Dark Room"
Shot with a Nikon D90 with a 50mm prime lens. I used an f-stop of 1.8 with a 1/60 shutter.
I used a black trash bag in a dark room to create this shot. I tried taking pictures with multiple different light sources, but using a direct flash ended up producing the best shot. This is the first time I have had to do any real image post editing. I used Gimp to invert the image and mirror it.
-Andrew Carrigo

Inkblot (ink in water) : Nikon D70S / Sigma 200 mm macro / iso = 250 .
Kitesurfer (at utah beach, Normandie, FRANCE): Nikon D70S / 24mm / iso 250
Once you go kitesurfing, this is what you will always see in an inkbolt. Your mind can't see anything else.
-Benoit Blanco

Taken with a Canon Powershot S90, f/2.8, 1/60 second, ISO 200.
I filled a tall glass vase with cold water and stood it in front of a white refridgerator. The fridge was illuminated by a directional bedside lamp. My lovely assistant poured black molasses into the water as I took the shots. Post-processing done in Paint.NET and Photoshop.
-Brian Hall

I wanted to make the "Ink Blot" without using photoshop for the mirror effect. To do this I used a small macro setup; white paper curved into a background, a desk lamp on each side, and a long mirror as the bottom. Using a small Lego AT-AT model as the subject I shot portrait along the length of the mirror to get the proper proportions on the reflection. I used my Canon 40D with a 50mm prime lens at f/1.8, 1/100 sec shutter, and ISO 100. Post processing in Aperture for levels, cropping and to dodge the background a little. Shooting along the mirror this way added some blur on the reflected image so I picked an image that was specifically unsharp to give more of an inky feel.
-Brock Gillis

Camera: Canon EOS 7D
Lens: Canon EF 50mm f/1.4 USM
ISO: 1000
Aperture: f/1.4
Shutter Speed: 1/250
When I think of the Rorschach test for some reason I always think of Steve Buscemi in Armageddon when he looks at the ink blots and all he sees are women's breasts. Yes I know it's a terrible movie. I figured why not take a suggestive test and put it on a suggestive canvas i.e. a woman's chest. Not entirely obvious at first glance but look long enough and you'll see.
-Chris Humphrey

Nikon D5000, 18-55mm, 1/400.
My roommate is the Tennis Team manager for UCF, and he always has a lot of scrap string laying around. I took all the red string pieces he cut from a bad racket and placed them on top of my mini-fridge. I turned all the lights off and put the camera in manual mode to make the flash go off and I adjusted the focus based on each previous picture until it was all in focus. Edited in iPhoto to B&W and to make the blacks stand out a little more.
-Cody Clarke

I originally hadn't planned on participating in this week's challenge; I just got back from Guatemala and needed to put my camera away for a while after wearing around my neck for nearly two months. So I headed out to California to visit my girlfriend for the week, and left my camera back home in Utah.
Turns out her little brother also was visiting for a day or two, and he had his Canon T2i with him. I broke down and decided to attempt the challenge. I draped a white sheet across the sliding glass door to the deck, and set a glass of water on a table about a meter in front of the sheet. From there I simply dripped blue and yellow food coloring into the water, and shot away.
Processed in CS5, black and white conversion, adjusting the colors to mostly solid black, rotated once 90 degrees counter clockwise, then a mirror and flip. I liked the organic feel of this shot. Let me know what you see/think.
Shot with a Canon T2i w/kit lens, f/5.6@55mm, 1/200 sec, no flash, ISO 6400 (It's been cloudy and rainy in La Jolla.)
-Colby Shepherd

Shot with my Minolta DiMage Z1, this was a tricky task for me to accomplish since I couldn't think of any interesting shapes in my household that would be worth photographing. Earlier in the week, though, my (college) teacher was handing out some silly little toy bugs to everyone if they could answer some questions in an oral pop quiz. I answered a question correctly, and was awarded a praying mantis toy that pretty much spent the rest of the week on my desk until it occurred to me that it might be interesting to photograph for the challenge.
So after a few false starts trying to find a good way to get a silhouette with this tiny guy, I finally got a clothespin and attached him to the brim of a lamp shade. I think it turned out pretty well, in terms of mirroring it into an interesting shape. To me it looks like either a kabuki mask, or an easter egg on some kind of mantle.
-Dan Valenzuela

I live is florida and nestled in the crevice of tree branches are these squiggly air plants. I shot the plant against a beautiful blue sky. In photoshop I first desaturated only the blue channel to get the white background, then I desaturated the entire image to produce a b&w subject. Shot handheld with my Canon 20D, fixed 200mm @ ISO 100, f/5.6, 1/125.
-David Nemerson

Camera Specs: Canon T2i, Shutter Speed 150, Ap f/4.5, ISO 100
For this challenge I used my MacBook Pro screen as the background (i.e., display a Keynote presentation with one white slide and the screen in full brightness).
As far as the inspiration, I knew I wanted to use household items for this one (getting the silhouette outdoors was too hard for me in "not-so-sunny" Boston a few weeks ago...). After trying some translucent options (water, sauces, cotton, paper, plastic wrap, etc.) I started playing with the cotton swabs and tried different shapes and forms... Ultimately decided on this "butterfly" picture since it seemed the most Rorschach-ish to me.
-Diego Jimenez

Shot this on my T2i with my lens at 34mm, at iso 400, for 1/125th.
I had my dog sit on the glass top coffee table, put a couple flashes (with wireless triggers) on the ground, and put a garbage bag between them.
I had a feeling it would look better after doubling if she was curled a little, so I had my girlfriend call her from different points in the room to get her to keep turning around. Once I got one I liked, I converted in photoshop, and flipped horizontally and vertically, and voila'.
-Dustin Gillis

I was walking by theses trees at night and they were lit up really neat against the dark night sky with the moon right above, and I thought it might look cool if I inverted it to make the trees/moon an inkblot. So I took a pic and made this with it!
Taken with a Nikon d60, 35mm prime, f/1.8, shutter 1/25, iso 200. Processed (inversion/mirroring) with gimp.
-Emily Turner

Shot with a Canon Rebel XSI, Sigma 17-70mm 2.8-4 Macro HSM Lens @ 42mm, ISO 1600, Shutter Speed 1/30, Aperture f/3.5
I usually shoot photos of my food and drinks while I'm in restaurants. I had this challenge in mind all week, and on Saturday right before eating my lunch, I shot photos of it. I relied only on the dim lighting in the restaurant, but I had a feeling these sushi photos could work. The plate made for a good white background, and I like how the sauce around the sushi is ink-like. I tried working with a few other photos from my impromptu shoot, but I found that this one was my favorite.
-Esmer Olvera

Nikon Coolpix S210
Shutter speed 10/371
ISO 200
f/3.1
Focal length 6.3mm
Was thinking about what to do for the last while and just came up with this at the last minute. Only have one SLR so had to shoot my image with my girlfriends point and shoot! lay the camera down on the new immaculate white table and shot from above standing on a chair. I used adobe ps CS4 to increase contrast, and mirror image, and just about got the entry in on time!
-Gary Grant

Canon 300D
50mm f/1.8 lens
f/3.5
1/400
ISO 800
I went out to a cabin on the lake with some friends this weekend. Sunday morning I got up and walked down to the dock with my camera, and took a picture of this leaf floating on the water. When I got home, I converted it to black and white, inverted it, mirrored it, and set the water to the 'white' point in curves.
-Greg Thorne

I set up the shot with this mask on a pure white background, held up by scotch tape (good old scotch tape). It was taken with a Nikon D3000, f 5.6, ISO 100 with flash. Instead of tweaking to complete black and white, I left some shades of grey in the feathers because the texture stood out nicely.
-Hadley Kovsinger

Equipment: Nikon D5000, AF-S 18-105 VR
Settings: ISO 400, f/8, 1/300 s, 45 mm
I made a photo of a flower on may balcony against a white cloudy sky. Originally it's red but rules dictate black and white photo, so I included color wallpaper which is more spectacular than the black version.
-Janez Kos

Nikon d5000, Vivitar 383 Flash (with cardboard custom bonnet), Black Room.... Iso100, f13, 1/300 shutter speed. Stock 55mm lens.
I have recently gained a fascination with high speed photography. Ive always used a point and click, until about 2 months ago. Now, I find its hard to put it down.
This picture was taken in the spare bedroom, with black sheets over the bed, and on the walls. Light was turned off, and the door was closed for complete darkness. Had a flashlight so i could find my way around :). Set up an incense burner on the bed, and got the camera all positioned.
Took quite a few tries to get the right shot, but after about 100 or so, I was able to find a few that were pretty nice. A friend pointed me this way to the contest, and voila.
Ill admit though, explaining why the backroom had been turned into a dark room, was quite fun to explain to my wife when she got home from work :).
(Psst - not sure what you see in this one, but looks like a couple pirouette dancers with their backs to each other, also looks like two hands holding what could be crosses in each hand - either way, this is my favorite)
-Jeremy Wrezinski

My image started as puffy white clouds in front of the sun. I used a Canon Rebel XT with a canon 24-105 lens at 35mm, f/4, ISO 100, and 1/4000 sec. I brought it into Photoshop, turned it 90 degrees, mirrored it, and used a threshold adjustment to make it black and white. Then I inverted it to get a white background and black inkblot. From puffy, white clouds, I now see an angry rabbit, a praying mantis, a demon, a sad Snoopy, a new Transformer, and the bat signal, depending on how I look at it.
-Joe Russo

"Macro Filth" image was captured with a Nikon D90, Tokina 100mm f/2.8 macro lens, and Nikon SB-600 flash mounted on-camera. 1/200th of a second, f/13, ISO 100. I used Photoshop to convert the image to black and white, adjust the tones, and mirror the image into four equal-sized pieces. The original image captured is only a quarter of the total image seen here, if that makes sense. Other than the adjustments mentioned here, image is straight out of camera. I'm very excited to see this week's submissions; there's a great community of skilled photographers that frequent Gizmodo!
-Jonathan Wyman

My girlfriend and I were in Playa Del Carmen and had our SCUBA diving excursion delayed by 2 days thanks to Hurricane Paula. When we went on the 14th, I had no idea of the contest but snapped a shot of two of the other divers ascending to the surface against a very bright sun. When I saw the contest I threw it into photoshop to blow out the blue of the sea and (which removed some detail from the divers, as the light was very bright looking up) and inverted it. I think it looks a little like a Luchador mask.
Image was taken with a Canon PowerShot D10 at ISO 80 at f4 with a 12mm focal length 1/160 shutter time. The camera I rented from LensRentals.com, which made taking vacation pictures way less stressful than taking my 50D on a boat!
-Jonathan Harrop

Nikon D90
35mm f/2 @
f/5.6
1/30 sec
ISO 400
For this challenge I wanted to mimic the organic quality of splattering ink with a subject that was seasonal and recognizable. These gourds were perfect, with diverse lines and bold tones. In color, they are forest green, pale yellow, and Mac and Cheese orange.
For the photo, I placed the gourds on a canvas grocery bag on the floor and shot straight down. Two Nikon SB-600s fired from the left and bounced off the ceiling. I "folded" the photo two times, and did a little burning and dodging for contrast.
-Jonathan Vanderwiet

Rebel T1i with ef-s 55-250mm lens. Lumopro lp160 flash. 1/200, f5.0, ISO 100.
I used dried, crushed up green tea leaves for the design. I put them on a clear plastic tray and shot down on it with an off-camera flash lighting up the floor (which was acting as the background). I would simply shake up the tray after each shot to produce new images. This one was easily the best design of the bunch.
-Kitt Turner

I shot "XY/XX" with a Canon 40D, Tamron 28-75 mm f/2.8 XR Di lens using a white closet door as the background and two work lamps as light sources (picked up from Home Depot!). At 1/80 shutter at f/5.6, ISO 100, I flooded the wall behind my subject with light and silhouetted his profile (it got very hot and he took his shirt off).
Knowing that Rorschach inkblots are usually perfectly symmetrical, I wanted to play with that idea and take it a step further, creating an androgynous image from the back-to-back male and female profiles. Both profiles are of the same shot of the same subject, mirrored in Photoshop. I created the female profile by modifying the male profile with more feminine features (I painted them on Photoshop) so as to underline how very little separates the distinction between opposites in nature (hence, the title).
-Kristina Jacinth

My white background is milk. My inkblots are made of cheerios (plain). First, I poured way too many in the bowl. So I ate them, and saved a couple for photos. Opened them into GIMP and altered the curves. For this challenge, I spent quite a bit of time dreaming up ideas and testing them -failing mostly. I tried out about five ideas which separately included shaving cream, thread, profile shadows, paintbrushes, and these cheerios. By the time I got to doing this one, I was able to complete it in a matter of minutes from start to finish. Olympus E-510, 14-42mm, 1/180, F11, ISO 800
-Lea Chambers

On the side of the road, I found this rusty, old chassis from some electronic doodad that had been run over and flattened. I photographed it backlit, then used Photoshop to mirror the image, adjust the contrast, etc.
Nikon D70s with 60mm Micro-Nikkor, ISO 400, 1/125sec @ f/22.
-Mark Reddick

Nikon D40
18-55 lens
Rorschach, Rorschach, Rorschach....the name was buzzing around the back of my head all week. I've been wanting to participate in one of the photo contests for a while; the idea of doing a Rorschach photo really got me excited. Idea after the next came and went, until, being the awesome boyfriend that I am, began to vacuum the house for my mostawesomemestgirfriendever's return home from a business trip. During said vacuuming I backed up into our wine rack (its a horizontal one form Ikea) pushing multiple bottles out of their precarious positions. Keeping my cool, I swiftly flailed my arms about in a vain attempt to stop the bottles from detonating their sweet elixir and glass buckshot.
Furious with my stupidly I cursed to the heavens aloud, then lowering my head in defeat, my eyes saw the shattered beauty.
-Matthew Valverde

Camera: Nikon D3000
Lens: Nikkor 18-55mm 3.5-5.6
ISO: 200
Aperture: 5.3
Exposure: 1/60
For this shot I went outside and decided to make do with whatever I could find. As I walked along the road I noticed a leaf that had fallen and thought it was pretty cool to use this. Being a university student, I always have some documents in my backpack so I picked up one of those, put it on the ground, focused my camera on it, and used the flash to eliminate any of the shadows on the paper. Then I used photoshop to mirror and desaturate the image.
-Matt Vreugde

Fujifilm s100fs / F5.0 / 1/500" / ISO 400 / 8.7mm fl
GIMP for post production
The image started out as a bare tree with an osprey nest in it. The sky was completely clear. of The shot was deliberately over exposed to wash out the color. The shot was framed so that it only required a simple rectangular crop to remove all the unwanted elements. The trickiest part was lining everything up and still finding a way to shield the camera from the noonday sun. GIMP was used for the crop, desaturation to remove the remaining color, an unsharp mask pass, mirroring the image, and aligning the two halves of the image.
-Mike Case

Shot with the camera built into my Blackberry 9630, no flash. I just shot my chaotic wad of buckyballs (didn't have any zen magnets on hand) on my desk. Used gimp to rotate, crop, mirror, grayscale, and adjust levels. I only decided to rotate aligning the desk wood grain with the bottom of the photo during post-processing. After doing that I decided to keep the "leftover" part of the photo as the focus (I assumed the "more interesting" part of the wad would be the primary photo feature). I think it ended up looking like a samurai-inspired Mardi Gras mask combined with a moth. Maybe it's just a pair of Elton John's glasses.
-Miles Hancock

Camera: Canon Rebel T1i (550d)
Lens: 18-55mm (kit lens)
Apreture: f/4.5
Exposure: 1/200 sec
ISO: 100
Flash was fired.
i don't have any studio equipment or even a speedlight, so to shoot this pic i did the following, i used a black t-shirt as a backdrop which i put on a chair and then pointed the camera towards it and then put the incense stick in middle and directed a lamp desk towards the stick from the left to provode more light, i took about 40 shots with different settings then chose one to use for the task then i opend it in photoshop, did some raw editing to make the smoke look at its best and removed some blemishes from the background, invereted it, mirrored it and voila.....here is the result, hope that you like it, i sure enjoyed creating it.
P.S. i think if you zoomed out a little bit, you will see a face, with eyes, nose and a mustache :D
-Mina Kedis

Shot by a gravel pit that looked really cool at night with all the conveyors at night. I decided to over expose a little then invert since the lighting that was used was so intense. There were some other awesome shots that came from this shoot but I thought this worked best for the Rorschach contest with all the wicked conveyors going everywhere. Oh and you're supposed to see a cool looking bug.
Shot with a Canon T2i on a Sigma 10-20mm at 16mm and f/5.6 for 4 seconds at ISO400.
-Morgan Andreychuk

For my shot, I soaked an old hardback book in a bowl of water for
four hours. Once the spine and cover peeled off, I stood the pages
upright on a carboard box and began sculpting, using wood bbq skewers
to hold pages in place to dry. Once dry enough, I took the photo down
against a black sweatshirt and inverted the colors in Photoshop while
mirroring. I need to give credit to photographer Cara Barer for
inspiring me to try her book-sculpting style, and to author Ralph
Connor for writing The Patrol of the Sundance Trail in 1913. Sorry for
ruining your book, Ralphie. Taken with Nikon D90, 50mm lens, SB-600,
and Gary Fong Lightsphere @ f2.8, 1/200, ISO 200
-Nick Sprankle

For my setup I threw a couple of handfuls of rice on a black cloth. I was going for a random shape, but that looked like someone threw a bunch of rice on a black cloth, so I had to shape it into some less chaotic form. Used only one light from the side at a low angle to get this shadow/gradient on rice. In Photoshop I adjusted levels (cliped some of the shadows), inverted colors and made a mirrored image.
Canon 450D with Canon 50mm f/1.8 , 1/160s @ f/2.8, ISO 100
-Niksa Stanovic

Canon 7D
Canon 100mm USM Macro
ISO: 400
F 3.5
1 sec exposure
I was trying to get a new profile picture for my facebook page and I was trying to use smoke to get some cool patterns.
This wasn't going well so I started messing around with laser pointers (green and purple), stoked with the results so thought I would share.
-Nordy

F2.8
1/200
ISO 80
I took a jumbo sized piece of paper and went crazy on it with some black spray paint. Next I turned it around since less of the paint soaked through to the other side. I hung it up outside on a ladder and took a bunch of pictures until I was satisfied. contrast adjustments and black and white were added in later in Photoshop CS4. I like the way it turned out, it reminds me for some reason of two extra terrestrial ballerinas.
-Peter Glitsch

Olympus E-620 with Olympus Zuiko 12-60mm f/2.8-4.0 lens. 1/1250 sec @ f/3.5, 24mm, ISO 200
For this one I took a handful of dead leaves from the yard and shot them against a white sheet of paper taped to a sunny window. I converted to Black and White and boosted the contrast in Lightroom, then mirrored the top part of the image in Photoshop and further adjusted the curves to get to nearly pure black and white. I actually like the version with more levels of gray better, but that made it look more recognizable.
-Peter Lee

I took this photo of a tree against the sky in a graveyard in Winchester in England. I used a Canon Eos 550d on ISO 100, f/5.6 shutter speed 1/160. I was looking for a fall photo, but most of trees were still green so I got this instead.
I think that I can see the head of a demon bull in the image. Does that make me crazy?
-Richard Breen

I now understand the hardest part of entering these challenges, & thats picking a single image. Over the course of three days, i had taken about 250 pictures for this challenge. I started with a deer skull with two strobes & ended up with what you see here. This is a mirror laid flat, with isopropyl alcohol on fire. I had to basically lay on the floor in order to try to mirror the fire correctly. I didn't want to use photoshop for that if i didn't have to. Image was inverted, rotated, & resized.
Canon XSi, 18-55mm kit lens, F/ 4, Shutter 1/100, ISO 100,
-Robert Kelley

Nikon D70s
NIkon 55-200 @ 160mm
1/250 @ f16
ISO 800
This is my first time entering the Gizmodo shooting challenge. In this image you can see ink blots at many levels, the leaf itself, the pattern on the leaf, and the reflection of the sky and clouds in the water running over it. I worked on the challenge with my buddy Wayne, and we decided we wanted the ink blot to be based in something in nature. After trying a few things with clouds and reflections in buildings, we noticed some leaves with water running over them in a fountain. I used Lightroom's B&W Red Filter to convert it to black and white and bring out the leaf's pattern, I then copied and flipped it using a cut and paste in a generic image editing app.
-Ryan Guzy
Camera: Canon 5D Mark II
Lens: Canon EF f/2.5 50mm Compact Macro Lens
ISO: 100
I used a black backdrop with a studio strobe. For this shot I used incense named "Ancient Forest". I thought that I would mention that for fun!
This was my first shoot with my 5D Mark II and I was very impressed with the outcome! I played with a few of the shots and created some pretty interesting images. Out of the batch I chose this one because I believe that it suites the theme more so then the others. So my only question is, "What do YOU see?".
-Sarah Bowman

I was toying with the idea of using an actual mirror to create the effect, but couldn't think of anything to use to get a decent reflection. Then I remembered the interesting shadow effects on the wall produced by this table we have in our living room. The shadows are caused by the fact there are three downlights in a row at varying distances from the table, effectively in line with the centre of the table. I don't have a tripod so had to sit very still to get this shot. I shot with the monochrome filter in the camera on, and used photoshop to crop and mirror the image. I love how the shadows bring so much depth to the final image. Olympus E-520, Zuiko Digital 40-150 mm lens (set to 40 mm), 1/4 sec, f/4.0, ISO 400.
-Simon Backhouse

I took this picture at work with my Droid X with a symmetry app in black and white. I used a big black marker and printer paper drew lines and dots randomly.
-Thomas Reid

I actually stumbled across doing these types of images after last weeks challenge and found them very cool. I had a couple of people ask me if these were Rorschach Inkblots. I guess they could be if someone wanted them to be. This is my favorite. I call it "The Womb". After putting it together I kept seeing little details that could be interpreted as
parts of a woman. I found that the turmoil and chaos of the smoke helps lead on to that interpretation.
-Tom Jones

I decided I finally wanted to try a challenge so I set out with a friend of mine to take some pictures in the city. We came across a fountain outside a cafe. It was water running down a metal mesh wall. There were some leaves around that had recently turned and fallen. My friend and I were examining the leaves because some had a sort of ink blot coloration in the center. We put some leaves on the fountain wall and took pictures with the water flowing over them. I actually ended up using a shot I took with my HTC EVO and the default auto settings on the camera. In post processing I inverted the colors and then mirrored the image and played with the levels a little. It's not the standard pure white background but I like the way it turned out.
-Wayne Steidley