An SSD is something that you wish you had: they're fast, efficient, and quiet. Now Western Digital has introduced SiliconEdge Blue, the first line of consumer SSDs from one of the biggest names in storage. Too bad they're overpriced.
There's no questioning that SiliconEdge Blue is more than capable, with 240 - 250MB/sec read speeds and write rates at around 140 - 150MB/sec. But according to Hot Hardware's review, WD's new SSDs leave something to be desired. The actual performance was average, especially considering the bloated price point compared to similar Intel and Micron models:
Intel's 160GB SSDs are selling for as little as $429 currently and Micron's 256GB C300 SSD is currently selling for $799. With MSRPs of $529 for the 128GB variant and $999 for the 256GB model, the SiliconEdge Blue isn't going to turn many heads its way right out of the gate.
Of course, this is just the introductory MSRP, which will likely go down soon after launch—especially if there's weak market demand. As for the performance, it's important to remember that WD also has a higher-end Black line of products, so if you're looking for an SSD with a little more juice you may want to hold off until whenever SiliconEdge Black shows up.
WD(R) Introduces Fast and Rugged Solid State Drives for Notebooks and Desktop PCs

New WD SiliconEdge(TM) Blue(TM) Drive Designed as High Performance, High Reliability Storage for OEMs and Technology Enthusiasts

LAKE FOREST, Calif., March 3 /PRNewswire-FirstCall/ — WD® (NYSE: WDC) today announced that the company is shipping its first consumer-oriented solid state drive (SSD) with the new WD SiliconEdge™ 2.5-inch SSD family. WD SiliconEdge Blue™ SSDs offer fast read/write speeds and high SSD capacities, making them an ideal storage solution for read-intensive applications requiring high performance and plug-and-play compatibility.

WD SiliconEdge Blue SSDs, in capacities up to 256 gigabytes (GB), feature a native SATA 3.0 gigabits per second (Gb/s) interface with read speeds up to 250 megabytes per second (MB/s) and write transfer rates up to 170 MB/s. Fast and rugged, WD SiliconEdge Blue SSDs accelerate application performance and deliver maximum tolerance for drops, shock and vibration along with silent and low-power operation.

"The development of the WD SiliconEdge Blue product family leverages WD's extensive experience in designing and manufacturing highly reliable storage products and the company's worldwide sales and distribution network to accelerate SSD technology adoption by OEMs, technology enthusiasts, gamers and road warriors," said Michael Hajeck, senior vice president and general manager of WD's solid state storage business unit. "Customers who demand the ultimate in performance will find the WD SiliconEdge Blue SSDs exceed all their requirements."

The new WD SiliconEdge Blue product family has passed WD's extensive functional integrity testing procedures, which subjected the WD SiliconEdge Blue SSDs to over 250,000 hours of testing to ensure they meet the industry's highest data integrity, reliability and compatibility standards. Designed for both read-intensive client/consumer applications and write-intensive, 24/7 OEM applications, WD's new multi-level cell (MLC) -based SSDs feature patented and patent-pending technologies, such as advanced wear-leveling and error correction control, as well as TRIM and NCQ (Native Command Queuing) command support to ensure maximum drive performance and endurance with easy plug and play compatibility.

Price and Availability

WD SiliconEdge Blue SSDs are available through select distributors and resellers. The manufacturers suggested retail price (MSRP) for WD SiliconEdge Blue SSD 64 GB (model SSC-D0064SC-2100) capacity is $279.00, the 128 GB (model SSC-D0128SC-2100) capacity is $529.00 and the 256 GB (SSC-D0256SC-2100) capacity is $999.00 USD. The WD SiliconEdge Blue drive is backed by WD's world-class technical support and comes with a three-year limited warranty. More information on WD SiliconEdge Blue SSDs may be found on the company's Web site at http://www.wdc.com/en/products/Products.asp?DriveID=789.
G/O Media may get a commission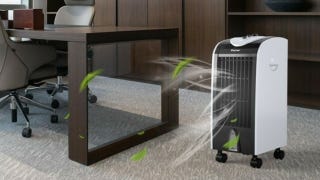 Save $10
Evaporative Portable Air Conditioner Cooler with Filter Knob