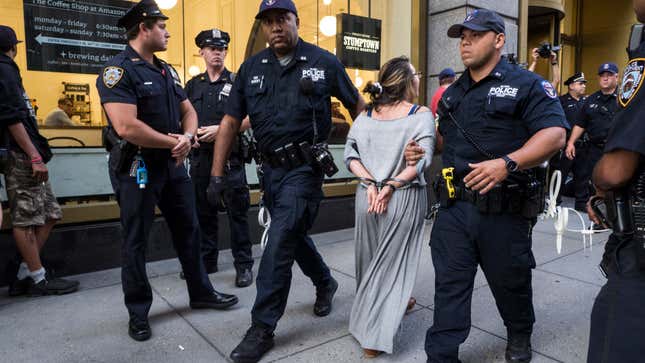 Coinciding with a national "we won't be complicit" day of action aimed against US Immigrations Customs and Enforcement (ICE) approximately 100 protesters gathered in Midtown to pressure tech companies, which in recently months have drawn criticism for providing infrastructural support to the agency.

Meet Microsoft's New Surface Laptops
Beginning around 5:30 outside Microsoft's offices across from the Port Authority, demonstrators from Science For the People, and Movimiento Cosecha NYC, as well as the Rude Mechanical Orchestra marching band weaved their way through Midtown, chanting over brass and drums. The planned stops were the headquarters for Salesforce, and an Amazon Books location on 35th Street. (Bonus: Salesforce's 6th Ave. corporate tower is located beside a Whole Foods, which Amazon owns.)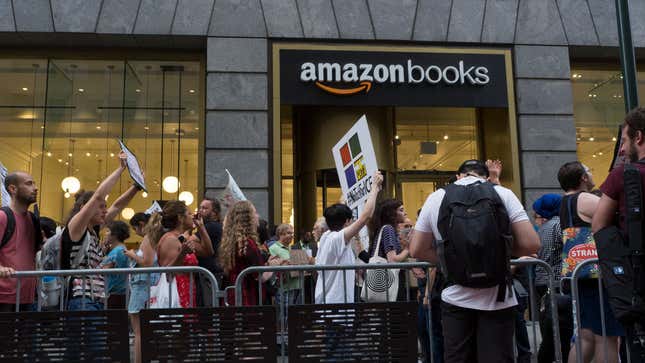 Salesforce and Microsoft have direct cloud computing contracts with ICE. While statements from those companies have insisted that the technology provided does not deal specifically with family separations, many view the arrangement as unsavory, and that line of justification as facile. "From where I stand I don't think it makes much difference," Matteo Farinella, a post-doctoral student at Columbia told Gizmodo. "These companies, they present themselves as very liberal, as very forward-looking, but when it comes down to it, where do they make their money?"
Amazon, while not directly associated with ICE, provides support to Palantir—a data-mining firm that does—and has sold questionable facial recognition software to other law enforcement agencies. Employees of all three companies wrote letters to their CEOs in recent months calling for these arrangements to be nullified.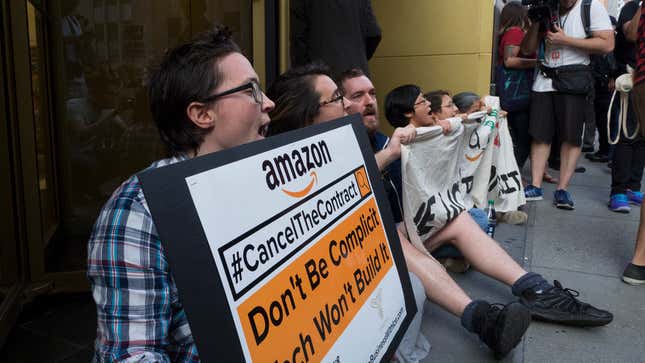 Aside from about six counter-protesters who identified themselves as members of the Jewish Defense League—a far-right group listed as an extremist organization by the Southern Poverty Law Center—the protest remained upbeat and forceful. "The money that's being put into Amazon is putting children in cages and separating families," one speaker said in a call and response with the rest of the group, "If Amazon continues doing business with ICE then we won't let them do business at all."
At the final location around 7pm, six protesters held a small sit-in, blocking the entrance to Amazon Books. Ten minutes later officers blocked foot traffic around the store, and one approached the group with a backpack containing a speaker which played a prerecorded message warning them to disperse or be arrested for disorderly conduct. One by one they were zip-tied and led into a Strategic Response van.
"We will target companies that do business with ICE," said Maria Fernanda Cabello, an undocumented organizer with Cosecha, in a press release issued following the arrests. "And we will show that the American public is on the side of immigrant families—not Trump and his deportation machine."
If you work at one of these companies and have information you wish to share, please reach out via email, Keybase, or Secure Drop.