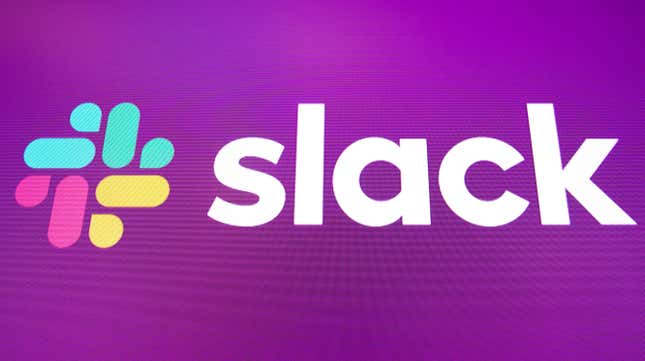 Back in October, Slack announced it would be intro'ing a product that would allow any paid user—at any organization—to directly message each other across the platform. On Wednesday, the company made good on that promise by opening Slack Connect DMs for anyone currently paying for their Slack subscription.
Meta's Apparent Firing Goof
According to Slack's announcement about the new feature, all someone needs to do is send over an invite to anyone in any organization, and wait for them to accept (or decline) the invite. Pretty soon, the company adds, it'll expand these sorts of DM invitations to all teams, even those that are currently using Slack for free.
The new feature is an expansion of Slack Connect, which the company rolled out this past summer as a way to connect Slackers from up to 20 different companies within a single Slack channel. Thanks to the new DM feature, it looks like contacts across companies won't be relegated to talking on an open channel, but through private messages, too—sort of like email, but over Slack.
While Connect is meant for paying Slack customers, the company is also inviting non-paying Slackers—or even people who don't use Slack—to try out these new DM's for themselves. The company is offering a free 90 day trial for eligible users to connect to a paying user's shared channel.

Update: 3/24/2021, 2:25 p.m.: After people pointed out how easily its new direct-to-DM feature could be used for targeted harassment, it looks like Slack is already doing some damage control to minimize the feature's potential for abuse.
The company's VP of communications and policy confirmed to the Verge not long after the rollout that it would be taking "immediate steps" to mitigate any harassment—starting with Slack pulling the ability to customize messages when inviting a colleague to try out the new feature. As pointed out in a particularly jarring example from Twitter employee Menotti Minutillo, aside from allowing people to potentially package some hurtful garbage into the subject line of their invite, Slack doesn't offer any reasonable way from opting out from getting these invites sent to your inbox.
In most cases, when an emailer is hurling abuse your way, you can simply block the person sending it and carry on with your life. But Slack's DM invites are sent via its feedback@slack.com address—a generic address you probably don't want to block if you're a typical slack customer.
We've reached out to Slack to clarify what other steps they're taking to mitigate potential harassment on its platform, and will continue to update our story when we hear back.