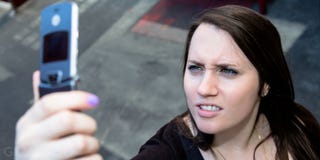 Happy Sixth of July! The fireworks have all blown up, the beers have all been consumed, and the hot dogs have all been eaten. And you're probably still suffering from it. Look, just kick back and relax, and check out the best stories we wrote this week. You'll recuperate eventually.
In July of 2004, Motorola debuted the Razr V3, one of the most iconic cellphones of all time. Exactly 10 years later, I shed my iPhone for a month to experience the world where apps don't exist and T9 reigns king. Maybe I did it for the nostalgia. Maybe I did it because I hate myself just a little bit. Either way, one thing is certain: Using 2004's hottest phone in 2014 is hell.
Maybe you've heard of the OnePlus One. It's the self-styled "flagship killer" aiming to swoop in from China and beat the Nexus 5 at its own affordability game. That's a tall order, but the OnePlus One fills it. It's so dirt cheap, and so incredible, that it's damn near unbelievable.
Later today, the Design Museum will announce its pick for Design of the Year 2014. Since "design" applies to pretty much any object created by humankind, it's a pretty tough to whittle down an entire year's worth of buildings, electronics, apps, and objects to a single winner. Here are the seven finalists they'll be choosing from.
Whether you believe that smartwatches are the inevitable future or that they're the Devil's own handcuffs, almost everyone can agree that they've been pretty weak so far. Android Wear is here to fix that. And it just might! Eventually. Samsung's Gear Live is the first attempt, and while it's got some issues, it's a great first shot.
The LG G Watch is one of the first Android Wear wristables to reach the arms of those anxiously waiting for a smartwatch that's more than hype. Until now, the options have all been a little clunky, lacking either beautiful hardware, usable software or both. This is better. But that doesn't make it good enough—yet.
If you've been anywhere near this great, big internet of ours over the past few days, you've probably heard about Facebook's outrageous breach of trust. Except, at least this time, Facebook might not be entirely in the wrong.
When activist Abbie Hoffman wore his American flag shirt back in the 1960s people were shocked. He was even arrested and charged for "mutilating the American flag." Oh how times have changed. Today, putting the American flag on t-shirts, in advertisements, and even on napkins is considered the height of patriotism. But technically, many of these things are still illegal. At least on paper.
As Hurricane Sandy revealed almost two years ago, New York's 100-year-old subway is not a modern and robust system. In fact, compared to other cities, it's downright dirty, unpredictable and technologically behind. But the Metro Transit Authority is currently dragging it into the future—and I got the chance to go behind the scenes of the MTA's mission.
Don't call it a comeback. Second Life has been here for years—eleven, this month—but after the virtual world's much-vaunted debut, the online universe slowly slipped out of the cultural consciousness, now infrequently referenced more as a punchline than legitimate popular hangout. Unless you, like I did last week, have an Oculus Rift handy.
When it's hot, city dwellers begin to have a certain look of desperation: That single-minded determination to access the sweet summer relief of a pool. Well, here's a public pool that's completely free and available to use—provided you can locate the pool itself, which is somewhere in the middle of a 25,000 square-mile Southern California desert.