This Kickstarter toy looks like a rubber hockey puck or neon drink coaster, but it's a tiny Frisbee-like disc you play catch with, capable of being flung 200 feet. I want one.
It's called ZipChip. It's designed like a Frisbee, fits in your hand like a ball, and is thrown like a skipping stone. It's made from a soft, flexible, recyclable elastomer. It's 2.5 inches long, half an inch thick, and weighs less than ounce. They makers say that the light weight reduces arm fatigue, allowing for longer catch sessions. It's buoyant, too, and can be thrown long or short distances, so you can play with it in the pool, too.
I'm wondering how hard it is to keep track of, especially if you're zipping it great lengths on a sunny day. I'm also hoping that the throwing technique isn't ridiculously hard to get a beat on, like some gimmicky toys in the past. (I spent many a frustrated hour in the 90s trying to master those god forsaken devil sticks.)
But ZipChip seems interesting. The Kickstater campaign's already well-funded: it had a goal of $4,000 but has hit $155,000, with a couple days left to go. No price has been announced, but if you donate $7, you get one ZipChip.
G/O Media may get a commission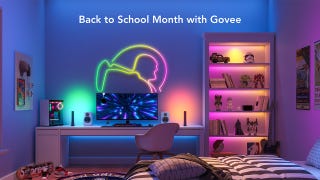 Back to School
Back to School Month with Govee Sale
Sometimes coming up with a good idea just means tweaking what already exists.
Images via Kickstarter