Getting from to Anthony's Comics Book Art in Moonachie, New Jersey, from New York involves a short drive on the highway and a longer stretch through a series of industrial parks. They're all single-story warehouses you normally find huddled around airports or shipping yards. The roads have been ravaged by overloaded 18-wheelers and the tiny car we're in makes a loud kathunk as tire hits pothole.

Anthony's stands apart not because of the sparkling white delivery van outside—they're a dime a dozen in this neighborhood, or because of the building itself—a low to the ground brick building that has more storage space than parking space. It's the sun-bleached signs stuck in the window that tell us we've arrived at the 8000-square-foot warehouse that houses some of comic books' most important history.
Anthony and his assistant greet us, and banter as we set up our shoot. Anthony is quick to give a tour, guiding us through the place before we ever turn a camera on. He points out Dum Dum Dugan's bowler from First Avenger as casually as we'd point to our laundry in the corner. Nods to the very last oil palette Frank Franzetta ever used like some vase picked up at Wal-Mart.
The bulk of Anthony's Comics Book Art is two giant rooms, housing millions of comics. He always buys entire collections instead of single issues, so one enormous room, with long boxes stacked 10 feet high, is full of comics his staff has yet to sort through. There's some diamonds there in the pile—or at least some little piece of history that collectors will find important.
G/O Media may get a commission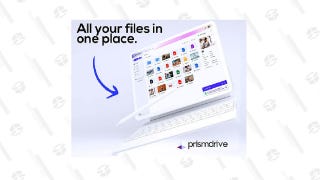 Save 97%
Prism Drive Secure Cloud Storage: Lifetime Subscription
But the real jewels of his collection are stored in black tubs up front. They're a few hundred books filled with artwork from comics both in print and retired. He whips out the Birds of Prey book because I tell him I'm a fan, then ask his assistant to track down the Walking Dead ones—Anthony currently has the largest collection of Walking Dead art outside of the artists who create the stuff. But he's not a fan himself. I tell him I'm not a fan either. Zombies scare me.
Eventually we get to recording the latest episode of Show Me Your Nerd. While we're rifling through old toys and press books from classic films Anthony's sent his assistant rushing across Jersey. And when we come back to the front of the store Anthony casually opens a case loaded with comic book history.
There are Michael Turner's pencils for the splash page of Supergirl's reintroduction in 2005—her first official appearance in comics, in costume, since 1986. It's $12,500 of art history Anthony doesn't mind me handling like a comic fresh from the shop today. And there's more Super history in his case, like a piece Curtis Swan penciled for John Byrne so Byrne could get comfortable inking Superman before his iconic Superman run. Byrne would be the guy who would change things around so that Clark Kent was the person and Superman the mask, while Swan's art is the source of all officially licensed Superman products in the U.S.
The piece is signed by both at the bottom. Anthony shrugs while I sputter. He's still casual. It's too valuable for him to sell, but he's okay with us both handling it.
He's even okay with us handling a rare production book from the first season of Batman: The Animated Series. Inside, next to two no-name gangsters, is the very first official rendering of Harley Quinn. Back before she was the crux of a multimillion dollar disaster of a movie, she was the animated equivalent of a walk-on role as Joker's moll.
But what is completely gobsmacking is the Jack Kirby piece, one of the jewels of Anthony's collection. The original pencils and inking of the first page of The X-Men #4. It's a piece of art that's pristine despite being drawn in 1963 and never intended to be held onto.
You can see each individual stroke of Paul Reinman's marker on the page, the indentation created by Jack Kirby's pencil, and on the back, scribbled in a hand that might be Stan Lee's, is the name of the X-Men's original foes, the Brotherhood of Mutants. X-Men #4 would introduce the bad guys, including Scarlet Witch, and someone, presumably Stan Lee, has jotted out ideas for her name all over the back of the page.
Miss Witch?
Lady Witch?
THE Witch?
Scarlet Witch is ultimately underlined, just beneath Mastermind.
Like the Curtis Swan/John Byrne collaboration, and the Batman: TAS production book, it seems like something better suited for a museum than a case that Anthony takes with him nearly everywhere.

But it won't end up there anytime soon—not unless the museum buys it from Anthony first. He's firmly of the belief that everything has a price.