What if I told you that you could be a singer if you just spoke into an app. Seriously, that's all you have to do with Songify. The app autotunes your voice and stitches it against a song. YOU SOUND AWESOME.
Is AI Moving Too Fast? | Future Tech
What's it do?
It turns basic speech into awesome songs. You don't even have to try to sing! Made by the Gregory Brothers, the dudes behind Bedroom Intruder, Auto-Tune the News, Double Rainbow and more hilariously awesome songs, the app pretty much gives you their powers. For example, I recited Gizmodo article titles and the app imposed it on the Double Rainbow soundtrack to create something way more fun than it should be. There's free templates for familiar meme-ish songs like Double Rainbow and if you splurge on in-app purchases you can get Bedroom Intruder, Winning and The Rent Is Too Damn High.
Why do we like it?
HEY IS THIS WHAT T-PAIN FEELS LIKE? That's what I wondered after I heard myself "singing" on the app. It kind of sounds like me but then it doesn't but then it kinda does but then it doesn't at all. Even though I didn't work at all to create the song, it doesn't mean I'll feel any less gratified hearing myself get musical. I'll let Songify be smart (it smartly uses speech to text to break down the words and "songify" certain words to match with the beat and rhythm of the background song). It's dead easy to use too: clickity on record, clickity on stop, let the app process, and you're done. You can share to all the social networks you sell your life to and pimp yourself as the next pop star with minimal talent.
G/O Media may get a commission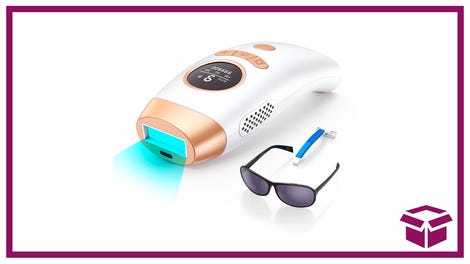 58% Off + Coupon
IPL Hair Removal Device
Songify
Download this app for:
The Best
I can sing!
The Worst
No customizability