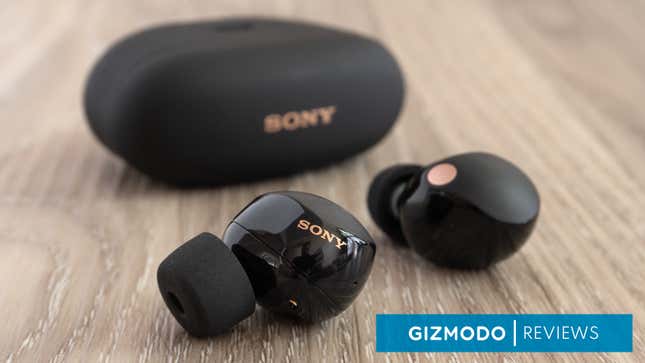 Sony may sometimes struggle with giving its products memorable names, but at the same time, calling its new flagship wireless earbuds the WF-1000XM5 is kind of a major flex. They are astoundingly good, and their sound quality and ANC performance are more than enough to sell the earbuds without any clever branding. Don't let that string of seemingly random letters deter you: the new WF-1000XM5s are absolutely now the best wireless earbuds you can buy.
If you search for lists of the best wireless earbuds from the past two years, most will inevitably include the Sony WF-1000XM4, the predecessor to the new WF-1000XM5. They also raised the bar when it came to the sound quality and ANC performance of wireless earbuds when they debuted back in 2021, but as I and many other reviewers pointed out, they featured a very bulky design that many users found almost impossible to fit in their ears. I loved everything about the Sony WF-1000XM4s, but could never successfully wear them for longer than 10 minutes before they would fall out of my ears. It's an issue that Sony was very much aware of, and an issue that, I'm happy to report, the new WF-1000XM5s completely solve.
A Welcome Redesign That Stays in Your Ears
With a switch to squishy foam eartips that do a much better job at helping to keep a pair of wireless earbuds securely in your ears, I still endlessly struggled to use the WF-1000XM4s—even while just sitting at my desk and barely moving.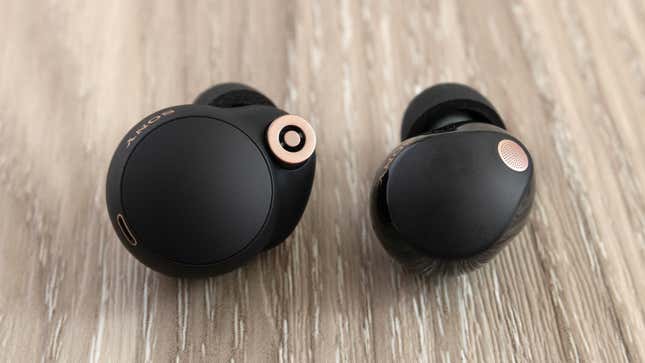 Sony's solution to the problem was to reorganize the components inside the new WF-1000XM5s and then squeeze all those electronic guts into a body that's "25% smaller and 20% lighter" than the WF-1000XM4s.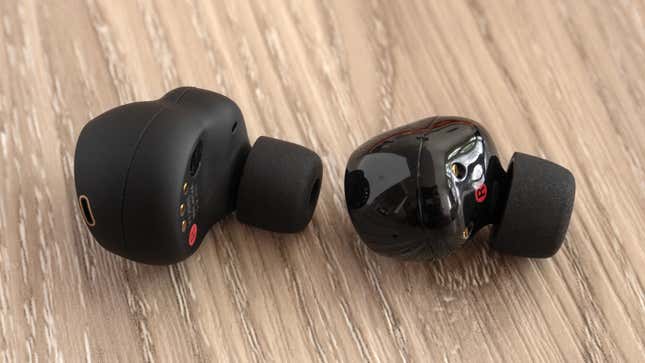 That might not sound like much, but at the scale of wireless earbuds, that amount of shrinkage ends up making a world of difference.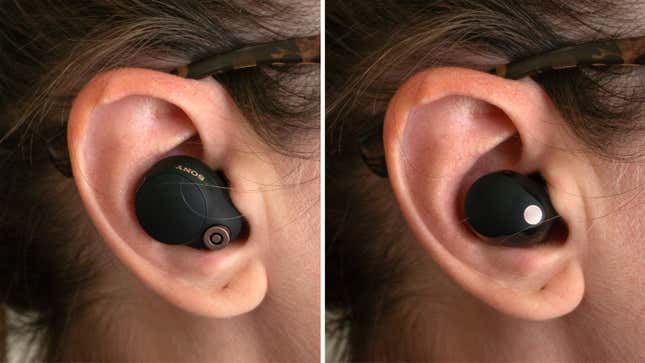 After roping my partner into yet another photoshoot, even they remarked that the new Sony WF-1000XM5s were far more comfortable to wear, and felt lighter in their ears. Previously, the buds fell out of their ears after posing with the WF-1000XM4s for just a few minutes.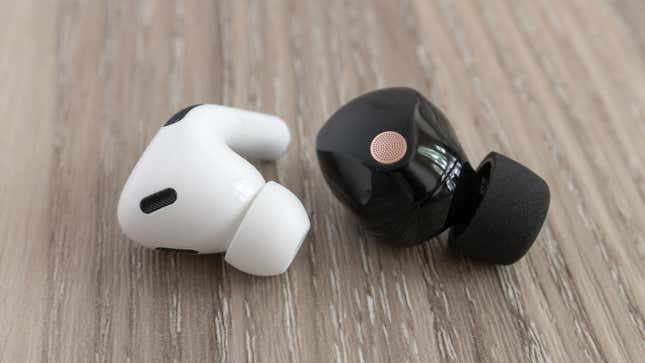 The Sony WF-1000XM5s do look a little larger than the AirPods Pro 2 given Apple is able to put some of the electronic components, including the rechargeable battery, into the wireless earbuds' protruding stem. But with that 20% weight reduction, I found the new WF-1000XM5s to be just as comfortable to wear as the AirPods Pro 2.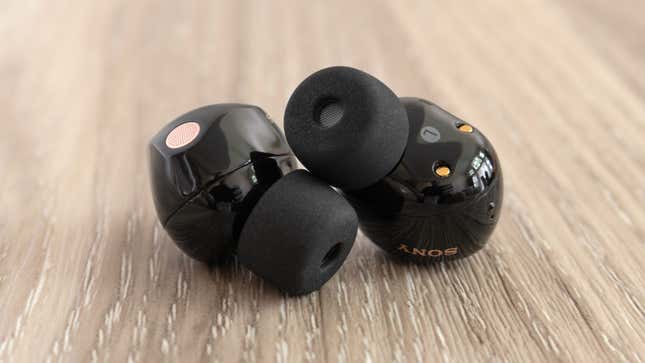 As with the WF-1000XM4s, Sony only includes eartips made from polyurethane foam with the WF-1000XM5s, which allows you to gently squish the material as you insert the tips into your ear canals, where it then expands to provide a better seal and a tighter fit. The earbuds easily passed my activity test, staying snug and secure during jumping jacks and runs, and for the WF-1000XM5s, Sony includes four sets of tips instead of three, with the addition of an extra small set.
It's another welcome upgrade, and for those who've struggled to get in ear-ear wireless earbuds to stay put, I often recommend switching from silicone to memory foam eartips from companies like Comply. The downside is that foam ear tips tend to get dirty faster and need replacing more often, so it would have been a nice bonus if Sony had included two complete sets so users had a backup waiting in the wings.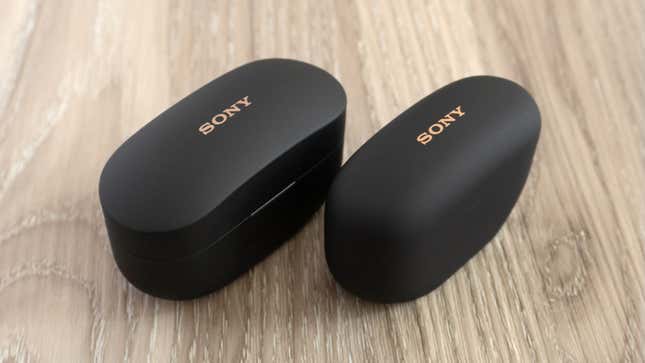 Along with smaller earbuds comes a more compact charging case for the new WF-1000XM5s, which Sony says is roughly 15% smaller than its predecessor. The case also features a more rounded design that feels more comfortable when slipped into a pocket.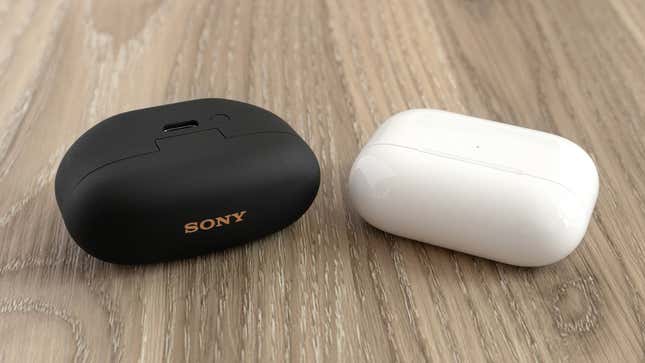 The charging case for the WF-1000XM5s is more or less as small as the one Apple includes with the AirPods Pro 2—maybe a bit thicker—but still includes support for Qi wireless charging, or tethered charging over USB-C. Battery life is the same as the older WF-1000XM4s: 12 hours on buds alone or up to 36 hours with the charging case and ANC turned off, or eight hours on buds alone or up to 24 hours with the charging case and ANC active. That's slightly less than how long the AirPods Pro 2 can be used before you need to find a power source, but this time around Sony is promising that after just three minutes in the charging case, a dead pair of WF-1000XM5s will run for a full hour.
A Few Added Features That Make a Big Difference
If you regularly use Apple's hardware, the seamless interoperability between its various AirPods models and devices like the iPhone and iPad is a very compelling selling point. Being able to simply call on a voice assistant by just saying, "Hey, Siri," or, "Hey, Google," is something you still can't do on Sony's wireless earbuds without first tapping them—which I usually try to avoid at all costs when wearing wireless earbuds.
The touch controls on the WF-1000XM5s are sensitive enough to allow you to be gentle with tap interactions so as not to accidentally dislodge them, but I've never been a fan of having to learn a series of tap patterns to control music playback or make volume adjustments. I've also noticed that when tapping the left earbud to cycle through ANC and Ambient Sound boosting modes, the WF-1000XM5s don't announce what mode is currently active. It now just plays different chimes which are another thing you'll need to learn to distinguish.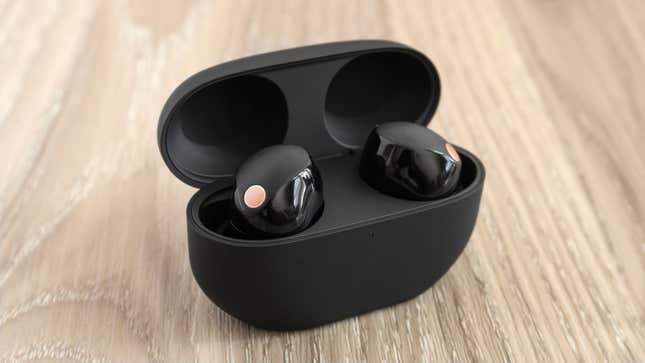 The WF-1000XM5s carry over the same voice detection feature found on the WF-1000XM4s and many of Sony's headphones. When the user's voice is detected, playback is automatically paused and ambient sound boosting is activated so you can carry on a conversation without having to remove the earbuds. When the conversation is over, ANC turns back on, and playback resumes automatically. If you wear earbuds in an office setting, it's an incredibly useful feature.
The Sony WF-1000XM5s also finally gain "Multipoint" connectivity allowing them to be simultaneously connected to two different devices at the same time, like your smartphone and your laptop, allowing you to effortlessly switch between the two without having to continuously jump into Bluetooth settings to manually connect/disconnect them. And unlike many brands that tune their wireless earbuds to a specific sound profile that can't be changed, users can make EQ adjustments to the Sony WF-1000XM5s through the Sony Headphones app, or cycle through a series of pre-configured EQ profiles—but they probably won't need to.
The Sony WF-1000XM5s Sound Amazing
Sony could have done the bare minimum with the Sony WF-1000XM5s—just redesign the WF-1000XM4s so they were smaller—and they would have still delivered a fantastic pair of wireless earbuds, even with two-year-old tech. But as a leading proponent of the ANC arms race, Sony has instead once again taken a big step ahead of the competition with its new WF-1000XM5s. Somehow, despite making the earbuds 25% smaller, Sony managed to find room to upgrade the WF-1000XM5s with the same dual processor setup used on the company's much larger WH-1000XM5 ANC headphones.
Those processors work alongside three microphones on each bud—six in total—to deliver the best ANC I've ever experienced on wireless earbuds. The performance is dependent on ensuring you're using the appropriately sized eartips to create a tight soundproof seal in your ears, but your diligence is rewarded with wireless earbuds that take an even bigger bite out of the noise around you, particularly in the frequency range that falls between the deep hum of engines and human voices. The inescapable roar inside an airplane cabin, simulated using my home theater setup at full volume, almost entirely disappears. And while higher frequencies still aren't entirely silenced, the improvements made to the WF-1000XM5s' ANC capabilities are most noticeable when the earbuds are quieting the din of voices in a crowded room, or taking the edge off the electronic ringer on a modern desk phone, easily edging out competitors like the ANC on the AirPods Pro 2.
When it comes to sound quality, Sony is confidently showing off an expertise in headphone design it's been perfecting for almost 40 years with its new WF-1000XM5s. Although competitors' products, like Apple's AirPods Pro 2, sound very good, using a new 8.4-millimeter Dynamic Driver X in each bud (the drivers on the WF-1000XM4s were 6-millimeters in size) the new WF-1000XM5s are a very noticeable step-up in performance giving your music more presence and oomph, without sounding like the earbuds are being overdriven or pushing the limits of what they're capable of. Bass hits land harder with more thump in your ear while drums have a more satisfying snap, and all without vocals getting lost in the mix. They are, without a doubt, some of the best-sounding wireless earbuds I've ever used, even without listening to a high-resolution audio source through Sony's high-bitrate LDAC codec.
Are the Sony WF-1000XM5s Worth the Price?
At $300, which is even pricier than the $249 Apple AirPods Pro 2, the Sony WF-1000XM5s will definitely be some of the most expensive wireless earbuds to hit the market this year.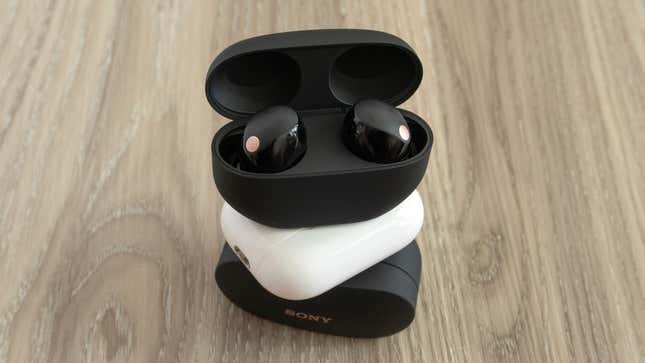 Six years after Sony introduced the first wireless earbuds with ANC, the WF-1000X, ANC has now become a feature you can find on even $100 wireless earbuds. Not all ANC is created equal, and given how small they are, it's much harder to pull off good ANC on wireless earbuds compared to larger headphones. But somehow, the ANC on the new Sony WF-1000XM5s outperforms the ANC on many headphones I've tested, while also delivering amazing sound quality. If you're looking for the best wireless earbuds out there, and your budget doesn't wince at spending $300 on them, the new Sony WF-1000XM5s are where you should be spending your money.