As the credits rolled on Spider-Man: Across the Spider-Verse, it felt like waking up from a dream. In this dream, something impossible happened. A team of talented filmmakers made a sequel to one of the, if not the, best superhero films of all-time that was not just worthy of that original film, it actually made the original better. Truly, this couldn't be real. How could it actually be possible that a sequel to a basically perfect movie could, itself, be so incredible?
And yet, it wasn't a dream. Spider-Man: Across the Spider-Verse is that incredible. It's everything everyone loved about the first film, but more human, more complex, and more visually stunning. Directors Joaquim Dos Santos, Kemp Powers, and Justin K. Thompson lead a tour-de-force of filmmaking that transcends animation and will leave you heartbroken, breathless, and utterly dazzled.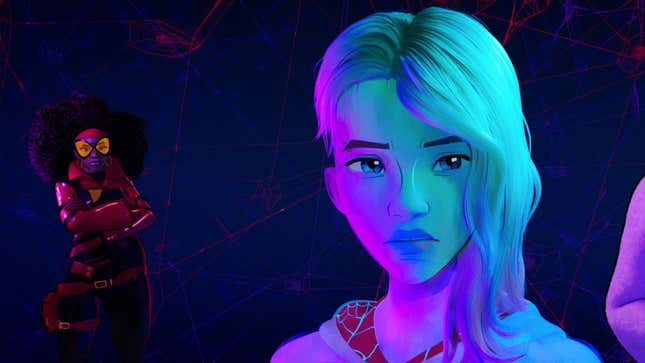 That starts from scene one, as writers Phil Lord, Chris Miller, and David Callaham bring us back not with Miles Morales (Shameik Moore), as one would expect, but instead with Gwen Stacy (Hailee Steinfeld). Gwen played a huge role in the first film but here is given much more depth. Her previously only-touched-upon backstory gets filled out, including some heavy scenes with her dad (Shea Wingham) instantly endearing her to the audience even more. These scenes—all of which, shockingly, take place before the opening credits—make it very clear that Across the Spider-Verse is not pulling any punches in terms of stakes or emotion.

In comparison, things with Miles seem almost normal. He's now been Spider-Man for over a year, and while he loves it and is good at it, it's taking a toll on his life. His parents (Brian Tyree Henry and Luna Lauren Vélez) don't know why he's being so flakey, especially because he seems to be out at all hours without any friends. Miles does his best to cover, but he's struggling and you get the sense Miles is spending too much time as Spider-Man. He wants other things. By the time Gwen comes back into his life after a year, it's a friendship and trust he desperately needs.
As all this is happening, Spider-Verse beautifully weaves the first of many (many, did we say "many?") new characters into the mix. Characters like Miguel O'Hara (Oscar Isaac), who comes to Gwen's universe with Jessica Drew (Issa Rae) to help fight an interdimensional villain. There's also The Spot (Jason Schwartzman) a mysterious being who is made of holes and has some sort of connection, at least he thinks, to Spider-Man.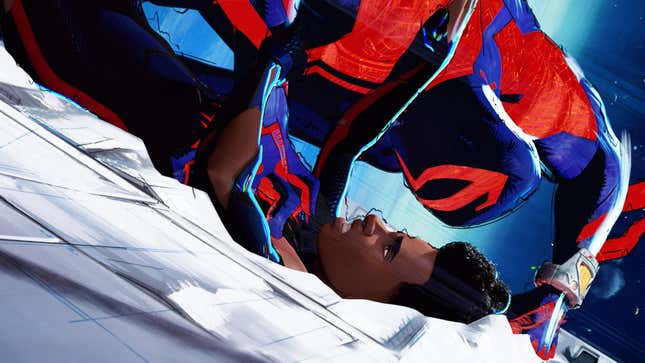 In the first third of the film, as we get reacquainted with Gwen, Miles, and these new characters they're dealing with, Across the Spider-Verse is decidedly methodical. There are moments of exciting, beautiful action, but the main story is always kept just slightly outside what we're seeing. It takes its time to make sure we know where all these characters are mentally so that when Miles and Gwen finally kick off their journey, we're ready for anything and still slightly unclear on what exactly this is all leading to.

If there's one big issue with Across the Spider-Verse it's that, from there, things snowball so wildly, it can be hard to keep up. After a more traditionally paced first act, the rest of the film is like a runaway train lit on fire. As Miles and Gwen start to travel across the Spider-Verse, more and more Spider-people get introduced, more and more surprises are waiting around every turn, and seemingly every single frame in the film will have you wanting to pause because you know you're missing something.
The story escalates and escalates. Reveals get bigger and bigger, all leading to not one but several massive revelations that shake the series to its core. And yet, it all happens so fast, and is so significant, it's almost hard to get your head around it all. By the end, I had that dream-like feeling not just because the movie was so good, but because it was so much to take in.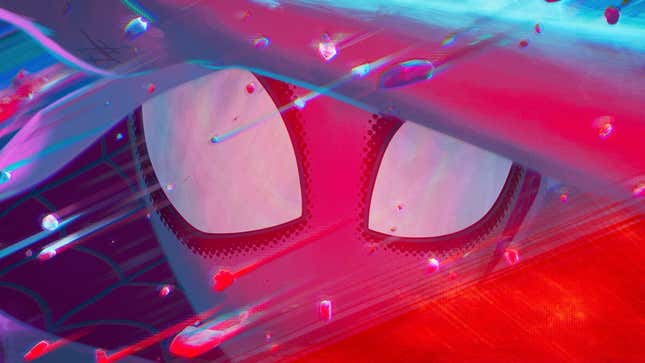 And yet, even with the story and visuals picking up pace and density, the core parts of the story are never lost. Miles just wants friends. He just wants to be understood. Gwen, with these new Spider-people she's around, seems to have that. But is it helping her with her issues? The filmmakers never let you forget that we're not just watching a bunch of weird, wild, Spider-folks running and jumping around on the screen, they're there to serve the story of these characters, what they want, and how they can make themselves and each other better.

All of this is elevated by every single facet of the filmmaking. The animation is stunning, which almost goes without saying, but the variety and way it all blends together is what really stands out. The score, once again by Daniel Pemberton, adds near palpable energy to drama and action scenes alike. And while the song choices are solid, there isn't anything quite as standout as "Sunflower" or "What's Up Danger?" from the original film which is maybe another tiny demerit.
Or, at least, that's my thought on first viewing. Talking about a film as complex, and wonderful as Spider-Man: Across the Spider-Verse is almost a sin after a single viewing. It's a film that demands multiple viewings and is sure to only get better once the excitement of discovering the story is gone and more attention can be paid to every detail. Because make no mistake, every single detail in this movie was toiled over. You can just tell. From the billboards to the comic references to things I would love to spoil but won't, passion pours off the screen. It's built to revel in, which is good because Across the Spider-Verse has a whopper of a cliffhanger that'll make you wish you could jump through time to see the next movie right now (it's currently scheduled for release in March but we'll see).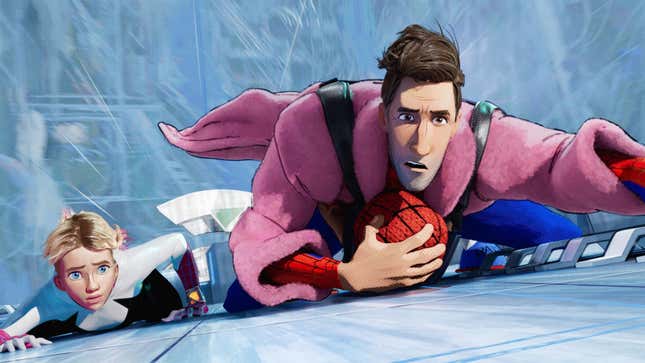 Since we can't travel through time though, we'll just have to keep watching Spider-Man: Across the Spider-Verse over and over and marveling (pun intended) at it. Plus there's so much more to gush over. Seriously, it's all great. All the new characters, new dimensions, the voice actors, hilarious callbacks, easter eggs, you name it. It's a special sequel, an unforgettable superhero movie, and one of the best films of the year.

Spider-Man: Across the Spider-Verse opens June 2.
---
Want more io9 news? Check out when to expect the latest Marvel, Star Wars, and Star Trek releases, what's next for the DC Universe on film and TV, and everything you need to know about the future of Doctor Who.