Could The Avengers and The X-Men face off on-screen? One producer says it's possible. Game of Thrones stars filming one of the most notorious scenes in George R.R. Martin's books. Check out brand new Skyfall and Wreck-It Ralph videos. Plus interviews with the stars of The CW's Vampire Diaries and Arrow!
Spoilers from here on out!
Top image from The Walking Dead.
The Avengers vs. The X-Men
A crossover movie like this is best left to the fevered imaginations of hardcore fans — particularly since Marvel Studios owns the Avengers and 20th Century Fox has the rights to X-Men, which makes this a complete non-starter. But X-Men producer Lauren Shuler Donner decided to go ahead and entertain the notion that this could actually happen:
I would love it. I would love it. I personally have close ties to Marvel because of Kevin Feige, because Kevin worked for me. But to take our characters and mingle them in the way that they were written, yeah, absolutely.
Whatever the intermingled studio connections, I would say this is significantly less likely than Spider-Man cameoing in a Marvel Studios movie, and even that I would say has virtually no chance of happening. [Crave Online]
---
Skyfall
Here's a TV spot for Daniel Craig's latest James Bond movie.

---
Wreck-It Ralph
Here's a sneak peek from Disney's upcoming movie set inside the world of video games, spotlighting John C. Reilly's title character and Sarah Silverman's Vanellope Von Sheetz.

---
Black City
Screen Gems has reportedly acquired the rights to this as yet unpublished young adult novel by Elizabeth Richards. Here's the synopsis for the book — let's just hope the apparent racial subtext is strictly limited to the description, because otherwise... yeesh:
In a city where humans and Darklings are now separated by a high wall and tensions between the two races still simmer after a terrible war, sixteen-year-olds Ash Fisher, a half-blood Darkling, and Natalie Buchanan, a human and the daughter of the Emissary, meet and do the unthinkable—they fall in love. Bonded by a mysterious connection that causes Ash's long-dormant heart to beat, Ash and Natalie first deny and then struggle to fight their forbidden feelings for each other, knowing if they're caught, they'll be executed—but their feelings are too strong. When Ash and Natalie then find themselves at the center of a deadly conspiracy that threatens to pull the humans and Darklings back into war, they must make hard choices that could result in both their deaths.
G/O Media may get a commission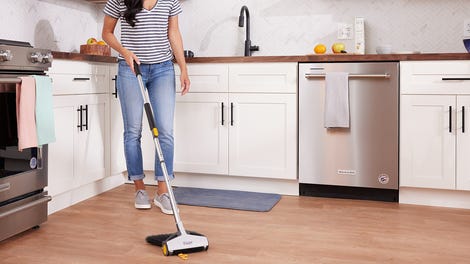 BOGO 50% Off
Flippr - BOGO 50% Off
---
Fringe
Here's a promo for this Friday's third episode, "The Recordist."

---
Game of Thrones
The show has reportedly started casting extras for the notorious Red Wedding sequence. Specifically, the show is looking for male cellists and male amputees who are comfortable wearing prosthetics that suggest their legs were only just cut off. [Westeros]
---
The Walking Dead
Star Andrew Lincoln reiterates that this season is far more about human villainy than zombie monsters:
"That's what this season is about, really, is that human beings can be far more atrocious to one other and invent incredibly novel and imaginative ways to hurt one another."
[EW]
Executive producer Gale Anne Hurd discusses the role of David Morrissey's Governor:
David is one of the finest actors in the UK, nominated for a BAFTA award, and is known for a nuanced performance. It is important that we have a villain that is not just a cardboard character, but someone you believe people can follow. His charisma and vision needs to command the respect of the citizens of Woodbury and he to be seen as a formidable threat to Rick Grimes and the other survivors.
She also explains the particular challenges of a 16-episode third season:
It's truly a blessing and a curse. The blessing is that we get to tell more stories with sixteen episodes. We also have standing sets that are air conditioned, which is a big change for us. At the same time, there is a greater scope and more intensity, which is a lot more work for the cast and crew. We started shooting a month earlier, so they got a much shorter break and had to work a longer season.

The incredible thing is that we have a cast and crew that are so dedicated, and they didn't look at this as a problem. They embraced it as a terrific opportunity to tell more and bigger stories.
There's tons more at the link. [The Daily Dead]
Here are some alleged spoiler-y tidbit for this Sunday's third season premiere, courtesy of SpoilerTV. I can't vouch for their veracity — and I definitely can't vouch for its spelling and mechanics — but they're still interesting reading:
- Time has passed by months since the end of season 2. A winter and more. Andrea still has not found the rest of the gang. That`s why they look so different from last season. Lori will give birth to the baby soon, most possible in the prison.
- Most of the start of the season takes place in the prison. Andrea shows up a few times with Michoone doing they're own stuff.The prison is quite claustrophobic.
- The Governor does not show up during this Episode.
- Hershel gets bit at the end of the episode, but does not die during the first episode. Rick chops off his leg, like what happened to Dale in the comics.
- The end of the episode ends with Rick chopping up the leg, and 4-5 prisoners stares at Rick, Daryl, Maggie, Glenn, and Hershel with his leg chopped off. These are people from the comics, or similar.
Here are some promo photos for the third episode, "Walk With Me", which airs October 28. [SpoilerTV]
---
Person of Interest
Here are some promo photos for the third episode, "Masquerade", which airs October 18.
---
Revolution
Here's a promo for episode five, "Soul Train", which airs next Monday.

Here's a short description for the sixth episode, "Sex and Drugs":
Miles and the gang take a detour to get medical help for Nora; Aaron thinks back on his life; Neville hands Danny over to Monroe.
---
Grimm
Here's a promo for the next episode and seventh overall, "The Bottle Imp."

---
666 Park Avenue
The tenth episode is reportedly called "The Comfort of Death." [SpoilerTV]
---
American Horror Story: Asylum
Here are the official, albeit rather short descriptions for episodes two and three:
Episode 2 – "Tricks and Treats" (Airs October 24, 10:00 pm e/p) – An Exorcist is summoned to Briarcliff to help save a troubled farm boy. Sister Jude's darkest secret is revealed.
Written by James Wong; directed by Bradley Buecker.

Episode 3 – "Nor'easter" (Airs October 31, 10:00 pm e/p) – A violent storm hits Briarcliff, allowing a group of patients to plan a daring escape. Sister Jude is haunted by her past.
Written by Jennifer Salt; directed by Michael Uppendahl.
---
Misfits
Here's a promo for the new season of the British superhero show (using the term "superhero" about as loosely as humanly possible).

---
Arrow
The CW's Green Arrow show debuts tonight, and here's star Stephen Amell's take on the main character:
He bends toward justice. And he just understands, along the way, that there can be collateral damage. There's a Deadline article that said, you know, "CW superhero targets the rich demographic." And thus I'm a liberal... The idea that he's going after the rich is a big misnomer. He's going after people that are not being responsible with power... More often than not, we're dealing with wealthy people. But the idea that he's simply targeting someone because of their bank statement is false.
Costar Katie Cassidy discusses her character, Dinah Laurel Lance, who judging by the name probably has a future as the show's Black Canary:
know that Laurel is very strong, very tough. She comes from a middle-class family. Her father's a cop. She knows how to fight. Everything she believes in, the Arrow contradicts. But at the same time, he's trying to do the same thing she is, just in a different way... I think she is smart... She's become an attorney — she stands for the law.

What are the emotions between Laurel and Oliver?
I think they grew up together, and they were friends first in grade school... I think it was just an innocent friendship that developed into — obviously something with Oliver, something far more passionate. And it developed into a strong relationship. They share a lot together. And again, I think deep down she knows he has a big heart.
There's plenty more at the link. [BuddyTV]
---
The Vampire Diaries
Star Ian Somerhalder discusses what's next for the show's big love triangle, in particular his character Damon:
"Is he going to be pining? He will definitely be pining significantly less. And by pining I mean like 'Aw, she doesn't love me,' that kind of thing. I think now there's a whole other element that is sort of in play here, and that is by virtue of the fact that there is this transition, this thing that's happened in our lives, and it's altering the course of the way things are going down in Mystic Falls, at least between Stefan, Elena, and Damon."
He also explains Damon's approach to Elena's new vampire tendencies:
"Imagine having a little baby kitten and that kitten wants to play all the time, and you're like 'No, kitten, can't play.' You put the kitten in a box. You put the kitten in a closet. Kitten can't play. But it's a kitten. It's supposed to play. You're supposed to play with it, give [it] toys. You've got to allow it to advance its skills as a hunter, as an individual. Effectively the way Damon sees Elena being led into this, it doesn't make any sense. There's a huge downfall that he sees, which is that if she does not experience first hand this bloodlust, there's no way in hell she's going to be able to control it. She's not going to know what she's up against."
There's more at the link, including a video interview with Somerhalder. [Zap2It]
---
Beauty and the Beast
Here's a promo poster for the new CW show, which premieres tomorrow. [SpoilerTV]
---
Additional reporting by Rob H. Dawson and Charlie Jane Anders.