The mass exodus from the Fort McMurray area in Alberta has widened as wildfires continue to spread in and around the ravaged oil town. Officials have had to re-evacuate fleeing residents, while relocating its emergency headquarters some 200 miles south of the city.
A state of emergency has been declared in the province of Alberta as a rapidly moving and frustratingly unpredictable wildfire continues to rage outside and within the city of Fort McMurray. As a massive wildfire continues to bear down on the Fort McMurray area of northern Alberta, officials have had to expand a mandatory evacuation order to neighboring communities, including nearby regions in which fleeing residents had sought shelter.
Nearly 90,000 people were forced to leave Fort McMurray earlier this week—some with just 30 minutes notice— making it the largest evacuation in Alberta history.
The growing fires also forced the city's emergency operations center to move for the second time in one day. Officials have now set up camp some 185 miles (300 km) south of the ravaged oil town. By declaring a state of emergency, the province will be able to request additional resources from outside the province.
G/O Media may get a commission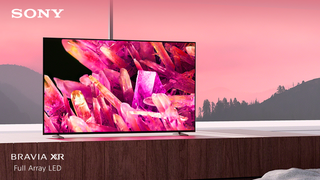 $400 off
Sony 55 Inch 4K Ultra HD TV X90K Series
People were asked to leave areas south of Fort McMurray, including Anzac, Fort McMurray First Nation, and Gregoire Lake Estates. Hundreds of evacuees had sought refuge in these areas, but they now have to move yet again. Buses are expected to transport residents further south to Lac La Biche and Edmonton.
The fires are also making a serious dent on Fort McMurray's massive oil industry. Suncor Energy had to trim production at its Sunrise facility down to 10,000 barrels of oil per day from 30,000. Royal Dutch Shell stopped production at two facilities, holding back 255,000 barrels a day of production. Other companies, such as Husky, Syncrude and Nexen, have likewise had to either shut down their facilities and pipelines or scaled-back production. These measures were done to help evacuate non-essential personnel and because of the sudden loss of the labor force. Fort McMurray is home to thousands of oil industry workers, but experts say the oil facilities are not at risk.

Fire crews in Fort McMurray continue to battle three distinct fires, one of which is creeping closer to the Fort McMurray International Airport. The other two are moving towards Parsons Creek and the Mackenzie Industrial Park. Mercifully, a cold front is expected to move through the area later tonight. It's estimated that 1,600 homes have been destroyed, but the figure could be much higher. Some neighborhoods experienced as much as 80 percent damage.

The wildfires have also produced a massive plume of smoke—a giant pyrocumulus cloud so large that it could be seen from space. The plume has even generated its own lightning. The blaze is being partly blamed on El Nino, which is producing drier than normal conditions in the prairie provinces. Combined with high temperatures and strong winds, the situation in Fort McMurray was a time bomb waiting to explode. Experts warned several years ago that something like this could happen to Alberta's aging forest.
At the same time, Prime Minister Justin Trudeau said people shouldn't automatically blame climate change on the fires.
"It's well known that one of the consequences of climate change will be a greater prevalence of extreme weather events around the planet," Trudeau said. "However, any time we try to make a political argument out of one particular disaster… that can sometimes not have the desired outcome."

[Globe and Mail, BBC, NYT]