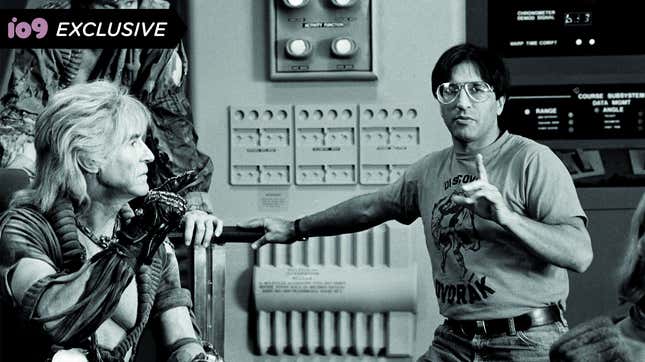 Titan Books—publishers of the recent behind-the-scenes exploration of Conan the Barbarian—have another essential release for fans of classic genre film on the way. From authors John Tenuto and Maria Jose Tenuto, Star Trek II: The Wrath of Khan - The Making of the Classic Film reveals rare and previously unpublished production art, interspersed with new, exclusive interviews:

"Just over 40 years ago, Star Trek II: The Wrath of Khan saw Kirk and the U.S.S. Enterprise crew face one of the greatest foes in Star Trek history, Khan Noonien Singh, as well as the death of Spock. Celebrate this landmark anniversary by taking a deep dive into the stories behind this iconic science fiction classic. This beautiful coffee-table book is full to the brim with rare and previously unpublished archival material, behind-the-scenes photography, production art, cut scenes, script extracts, and much more, alongside new and exclusive interviews with the creatives, including director Nicholas Meyer."
Authors John Tenuto and Maria Jose Tenuto are both sociology professors, but more importantly, please enjoy this snippet proving their Trek bona fides from their joint author biography: "John first saw Star Trek II: The Wrath of Khan at the Esquire Theatre in Chicago on opening night with his late father Vincent. When John and Maria Jose were married, their wedding song was the theme to Star Trek: Voyager ... They have been featured in the Netflix TV show The Toys That Made Us and the History Channel's The Center Seat: 55 Years of Star Trek docuseries, and have been invited to speak at the Official Star Trek Convention, the St. Louis Science Center, and by the future birthplace of James T. Kirk, Riverside, Iowa, and the town of Vulcan, Alberta, Canada."
The book arrives September 5 (you can pre-order a copy here or here), but io9 has some exciting images to share today. Click through to see storyboards, pre-production images, and on-set photographs featuring director Nicholas Meyer and stars Ricardo Montalbán, Kirstie Alley, Leonard Nimoy, and more.