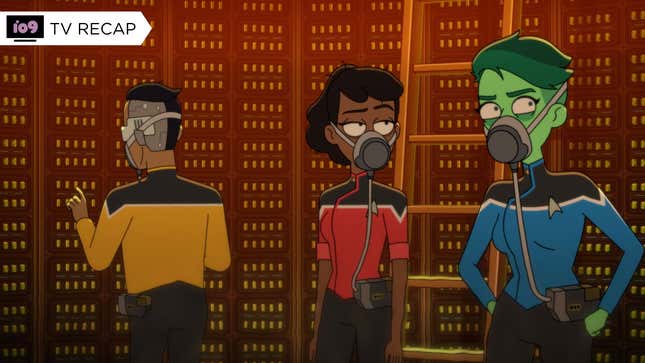 Last week's season 4 premiere of Lower Decks kicked off the season with a big promise, even in the smallest form they can come on Star Trek: the tiny pip transforming our Ensign heroes into Lieutenants Junior Grade. But for as small a leap it is on the career ladder, it's already giving the series great chances to dig into the growth opportunities this change has.

How Has Ortegas Changed and Grown Coming into Star Trek: Strange New Worlds Season 2 | io9 Interview

In the Cradle of Vexilon" is, really, three Trek episodes in a trenchcoat. The primary plot of the episode—the Cerritos crew, spearheaded by an eagerly ancient-tech-savvy Captain Freeman, travel to the ring world of Corazonia to conduct repairs on its supercomputer maintenance system, Vexilon—is arguably the Trek-iest of them all. But it's also the least interesting because it primarily is just that hallmark Big Computer That Runs Civilization Goes Wrong story Trek has told countless times, if a little less vindictive than some of the evil computers the Cerritos has dealt with before, and because, ultimately, it feels mostly like an excuse to have Captain Freeman get hands-on with the plot of the week and not come off anywhere near as good as she should, especially compared to the growth seen by Boimler, Mariner, Rutherford, Tendi, and T'Lyn.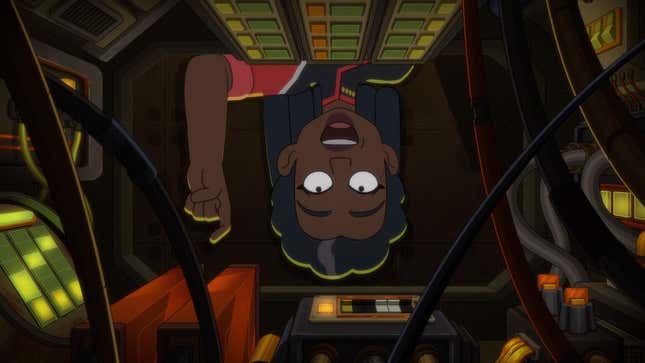 The other two plots, split between the havoc on the surface caused by Vexilon's repairs going wrong—with Boimler and T'Lyn paired leading an away team—and the much calmer atmosphere on the Cerritos, where Mariner, Rutherford, and Tendi are stuck scanning isolinear chips for a senior officer, are much more interesting, because they both tackle the realities of our main character's new status quo from different angles.
In the Boimler/T'Lyn story, as conditions on Corazonia degrade and put the away team of ensigns they're commanding in danger, we're treated to the farce of an increasingly exasperated Boimler trying, and failing, to do his team's job on his own. What starts as a teaching moment becomes Brad dodging erupting faults and debris as he tries to lug dozens of power cylinders back to the team's shuttle screaming is head off, and at first, it's as if nothing really has changed in our heroes' promoted world. They're still doing the crappy jobs, they're still kinda barely getting by with the skin of their teeth, they're still woefully out of their depths. But with the crucial arrival of T'Lyn in the dynamic as Boimler's straight man—putting him out of that usual role!—the arc becomes more resonant and important here, as she tries to get him to understand why he won't let his team do their jobs, and effectively do his own as their commander.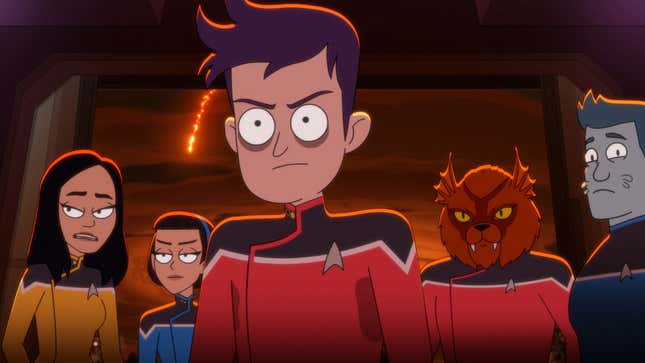 In doing so, T'Lyn exposes Boimler's insecurities about having been on the other side of these commands—who is he to put people in life-threatening danger when it would've been him alongside them in a matter of days prior?—but also gets him to process them logically. Or at least, as logically as someone hyper-anxious as Boimler can, but it's enough for him to not just trust in his own instincts as a commander, but the instincts of his friends and now subordinates in the Ensign class. This too is a tried and tested Trek trope for officers unused to the hot seat, but it resonates strongly in Lower Decks because not only is the promotion and responsibility as recent for us as it is Boimler, but because we have had three seasons of seeing his frustrations at ineffective command already, and watching him deal with that from this new position is an effective sign of what kinds of stories Lower Decks can now tell in this new phase of its growth. Even if Boimler does end up ultimately briefly dying in his first effective command. He'll be fine. Probably.
Meanwhile, aboard the Cerritos, the rest of the team face an altogether more humbling version of a similar lesson. Tasked with finding a single faulty isolinear chip in a room storing hundreds—one that, for good measure, occasionally expels hazardous gas, which seems bad on a starship!—Mariner, Rutherdford, and Tendi are faced with the frustration that they're still stuck doing shitty jobs in spite of the recognition their promotion is meant to bring. Hatching an elaborate plan of vengeance that involves an accidental sideward step into Deep Space Nine's worst episode—that in turn ultimately leads them to reconsider their vengeance and instead embrace that they're still going to be dealt a shitty job from time to time is a nice bit of humbling. But it's also like the show is reminding us that while its dynamic is growing, it's not becoming an altogether different show this season.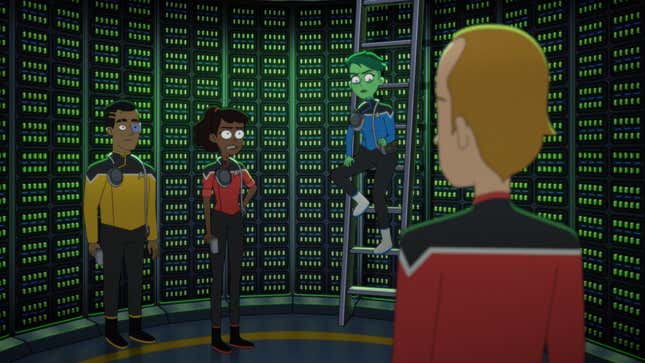 Lower Decks will still find Trek tropes to mine with reckless, gleeful abandon, it will still explore the power dynamics of the haves and the have-nots aboard a Starfleet starship. It will still, for the most part, be very funny in the process. It's just that the have-nots have a tiny little slice of the power they didn't have before—which is not just a vital bit of growth for them as characters, but also just another tool in Lower Decks' arsenal to explore Star Trek storytelling. Even in as simple as an episode as this one is, it's effective—and a sign of great potential to come.
---
Want more io9 news? Check out when to expect the latest Marvel, Star Wars, and Star Trek releases, what's next for the DC Universe on film and TV, and everything you need to know about the future of Doctor Who.