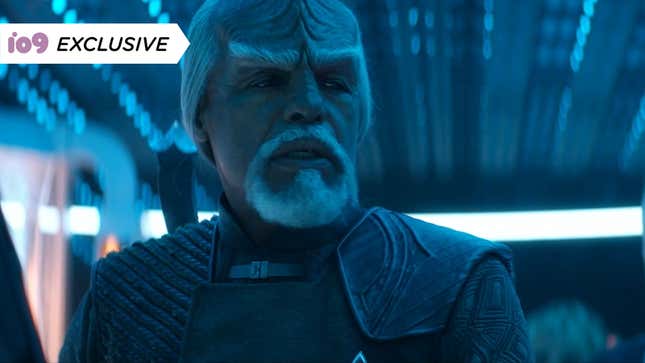 When we once again meet Michael Dorn's legendary Klingon hero Worf in Star Trek: Picard's third and final season, he's a very different man to the one we saw across The Next Generation and Deep Space Nine—tempered by a long life of isolation as he has gone on a one-Klingon mission to combat the changeling threat. But now you can see what just spurred that change in this exclusive deleted scene.

Star Trek: Picard Season 3 Deleted Scene Dives Into Worf's Past
Taken from "The Bounty," the sixth episode of Picard's final season, the deleted scene sees Jonathan Frakes' Will Riker ask his onetime colleague aboard the Enterprise just why he's taken on this new warrior-monk persona. And, as you can see for yourself below, Worf offers a very tragic answer.
Star Trek: Picard Season 3 Deleted Scene Dives Into Worf's Past
Star Trek: Picard Season 3 Deleted Scene Dives Into Worf's Past
It's a beautiful little moment and wonderfully done by Michael Dorn—you really get to see the weight of these long years of fighting has on Worf, especially someone who was on the front lines of the Dominion War in Deep Space Nine the way we didn't get to see the likes of the TNG crew deal with. It's a shame it didn't make it into the final episode, but at least we can see it now—alongside more, when Star Trek: Picard season three hits Blu-ray and DVD today, September 5, alongside Picard: The Complete Series, bundling all three seasons of the show in one collection.
And if that wasn't enough Jean-Luc for you, October 17 will see all three seasons of Picard, alongside all seven seasons of The Next Generation, and the four Next Generation-era Trek movies Generations, First Contact, Nemesis, and Insurrection, bundled together in a 54-Blu-ray box set called, appropriately, Star Trek: The Picard Legacy Collection—check out more details on that here.
---
Want more io9 news? Check out when to expect the latest Marvel, Star Wars, and Star Trek releases, what's next for the DC Universe on film and TV, and everything you need to know about the future of Doctor Who.