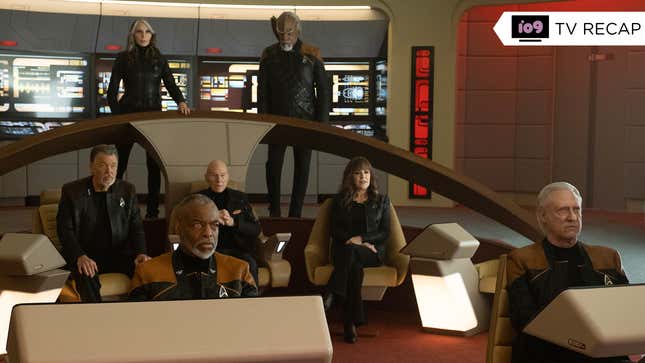 A little over three years ago, I said of Picard's first season finale that it gave its audience everything it wanted—and that that was a problem. Today, for its third and seemingly last season finale, I find myself wanting to tell you a similar thing. But I can't, because while Picard's last goodbye does give you everything you wanted, I no longer think that it's a detriment.

Mica Burton on Which La Forge Character She Related to More

The thing is, not a lot really happens in "The Last Generation." A lot is happening—there's spaceship dogfights, a threat against all of Earth, a ship turning into a base under siege as it gets in spaceship dogfights, Alice Krige's Borg Queen borging it up, and the Enterprise-D defying all odds against its ginormous saucer structure to pull a Return of the Jedi Death Star II bombing run against a Borg Cube. All of these things are a lot, and they indeed are happening. But for all the spectacle and phaser-light shows that punctuate the vast majority of the episode, "The Last Generation" is at its heart a deceptively simple, earnest story. And that story is, to borrow the earlier Return of the Jedi parallel, kind of an inverse Star Wars riff wherein it is the father that must save the son, and reforge a familial link that has the power to face overwhelming odds.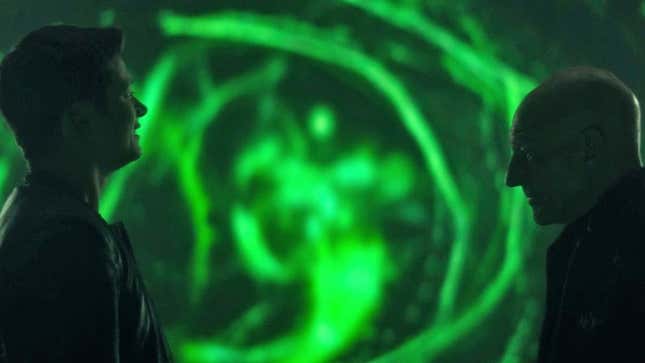 What makes most of Picard's nostalgic overtures here work (a few are a bit groan-worthy, mostly in the sentimental epilogue that makes up the episode's back third, which we'll get to later) is that, beyond being in service of this simple core idea, at long last Picard itself is unabashed about the love it has for this world and these characters. For as surface level as a lot of this stuff is—it's an hour-long action movie that has to do service to two separated groups of characters, and one of those groups is made up entirely of people who you might not ever see embody roles they have embodied for over three decades off and on again in such a manner—the show doesn't question why this is happening. It knows why it's happening. You want to see the Enterprise swirl through Borg fire, phasers flaring to match. You want to see Picard face the Borg Queen, who has haunted him for decades, and win. You want to see the TNG crew crack jokes with each other in the face of danger, because they're comfortable with each other and love each other in such a way that even in the darkest of hours they shine brightly. You want big heroes giving big speeches and standing in front of a starship view screen, you want last-minute transporter beam-outs saving the day, and Picard finally, finally goes "oh go on, we want that too."
There is no real convoluted reason for any of this, and although much of this last season has provided the set up for this hour of gleeful spectacle to happen, what happens here in the moment of "The Last Generation" is Picard letting itself go with the flow, and finally knowing what it really is all along: deeply, madly, fannishly in love with these characters. This might seem like a thing you could equally say in a derogatory fashion, and perhaps you could—especially as Picard has tried to do this before and it's very much not worked, from season one routing all the interrogation of Starfleet and Picard himself in its final hour to season two, well... going off the deep end in a very different way. So why does "The Last Generation" succeed where they failed? Because there is no middle ground here, no time for half measures. You have Patrick Stewart and the main cast of The Next Generation together on screen for what could be the final time? You go for it. Hell, you throw in Federation President Anton Chekov, son of Pavel, played by Walter Koenig, just because you can!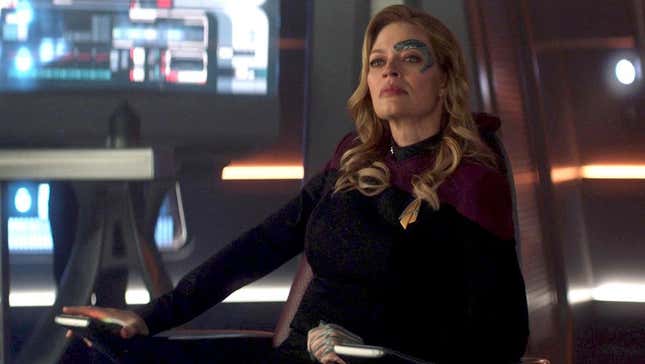 And by keeping things as simple as it does—while the Titan faces off against both its assimilated youth and the corrupted fleet turning on Earth's defenses, Picard has to infiltrate the Borg Cube and rescue a now fully assimilated Jack from the clutches of the Queen—Picard allows itself to marinate in its characters as much as it does the razzle-dazzle of phaser beams and explosions. It gives time to have Geordi, Beverly, Troi, Riker, Worf, and Data not just be heroes but be comfortable with each other, connected in the same ways Jack seeks to be and believes he could find in the rebirth of the Borg, but ultimately finds in his father earnestly reaching out to him, being willing to almost sacrifice himself up to the scars of his time as Locutus if it means connecting to his son. It's those connections that save the day: Picard breaking through to Jack; Geordi and his friends putting their faith in Data to pilot the Enterprise through to the heart of the Borg ship to save Riker, Worf, Picard and Jack—and Deanna trusting her connection to Riker to guide the ship to them. The remaining crew of the Titan puts their faith in Seven to stand up to the assimilated Starfleet and buy the time needed to pull off the impossible.
Everything is wrapped up just as simply, and perhaps even a little too conveniently, but in a way it feels like Picard begrudgingly accepts this as well. Stopping the Borg Queen reviving the collective with her greatest enemy was never really the point, so it essentially being stopped by blowing up an off switch is fine. It's the characters and their bonds that were the real heart of it, and "The Last Generation" celebrates that lovingly—and that's even before its bittersweet epilogue. As the dust settles and we jump ahead a year (just as conveniently, so we can have Starfleet and Earth back to normal), everything is as it should be. Dr. Crusher, now Admiral Crusher, has stopped running from her friends, and now leads Starfleet's medical wing. Her son, free of the Collective, has followed in his parents' footsteps for real and joined Starfleet. Seven of Nine, in a wonderful scene for Voyager fans, finally re-unites in the same room with Tim Russ' Tuvok and is officially instated as captain of the Ti-oh, sorry, the Enterprise-G (this, this is the groanworthy fanservice, I feel. The disrespect to the Enterprise-F!). And Jack and Raffi, the actual Next Generation, will be beside her.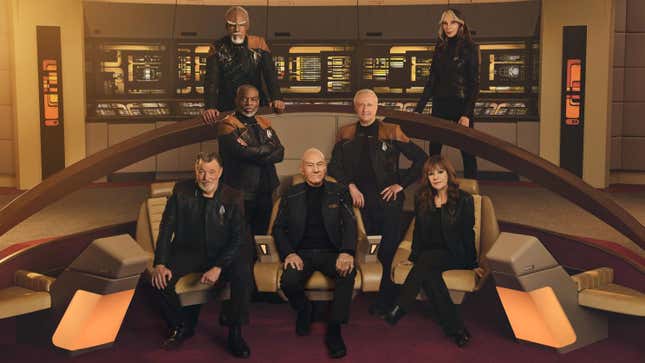 And then there's them. The crew. They're going their separate ways—Riker and Troi retired and going on a much needed vacation, Worf has exited the shadows of intelligence work to instead lecture, Geordi is back at the Fleet museum, and Data, Beverly, and Picard have all seemingly decided to stick around with Starfleet in various capacities too. But for one last night, they gather around after a night at Ten Forward for a game of poker. Heroes of times passed, friends of the here and now and of the future, as the triumphant blare of the Next Generation theme plays out legends. It's a fitting end for these revered figures, suitably balancing that fine line between finality and potential openness. A post-credits scene has other plans to make things not so final with a tip-of-the-hat nod to the Legacy demands, as a surprisingly returned Q blips aboard the Enterprise-G to inform young Mr. Crusher that while his father's trial is over, his is just beginning. But it doesn't take away from the overall conclusion "The Last Generation" places over three and a half decades of history here—a fitting embrace of the past, that doesn't forget the potential of the future.
It's farewell from Star Trek: Picard. And at long last, it's earned it.

---
Want more io9 news? Check out when to expect the latest Marvel, Star Wars, and Star Trek releases, what's next for the DC Universe on film and TV, and everything you need to know about the future of Doctor Who.