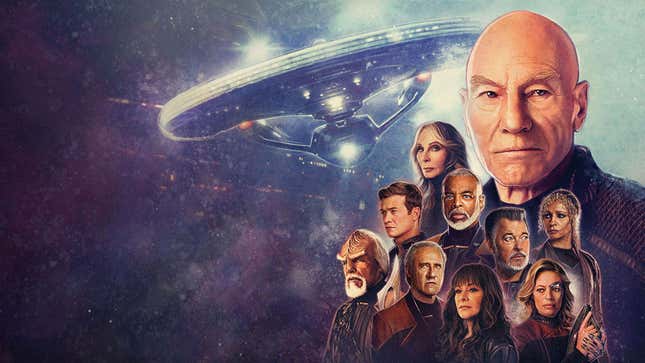 Star Trek: Picard is in its literal endgame now, with just one episode left in its final season. This whole season has been a full blown reunion by bringing back the now older actors from Star Trek: The Next Generation. And with that show's crew now back in action for one last ride—at least, for now—all they need now is a ship.


This past week's episode, "Võx," ended with the reveal of a new Enterprise-D, rebuilt by Geordi La Forge (LeVar Burton) following the ship's destruction in 1994's Star Trek Generations. Though it's rebuilt to be good as new, there's still some old flourishes from its former self to hit those nostalgic notes as Picard and crew go off to save the day in the upcoming finale. Speaking to Variety, showrunner Terry Matalas discussed how that recreation came to be, which he admitted was "financially a nightmare."

According to production designer Dave Blass, there weren't a lot of guidelines he and art director Liz Klockzowski could use to recreate the Enterprise-D. The pair went into a deep dive with what they had, which came to "every photo ever taken and every screencap. We had a giant wall of inspiration at the back of the soundstage with photos of every single detail, so that everyone could see that we had thought this through." Even with that and the consultation of Next Generation production designers Mike and Denise Okuda, getting source materials wasn't easy.
Picard's production crew had to effectively remake the Enterprise-D from scratch. The bridge itself took three months and nearly 50 people, which was an even bigger ask when you take into account that seasons 2 and 3 were shot back to back. (As an example, Blass said the interiors of the starship Titan, along with the Borg ship and Daystrom Station, were all done "on top of each other.") Some parts were easier than others; the new chairs and the wood archway were among the challenges the design team faced. Speaking to the latter, he revealed a full size paper plan of it had to be printed out, then multiple templates were used to fully shape it.
You can read the rest of the deep dive into the recreation of the Enterprise-D over on Variety. To go with that interview, Paramount released official pictures of the crew inside their new old ship, which you can see below.
Star Trek: Picard's series finale—fittingly titled "The Last Generation"— airs on April 20, and you can expect our thoughts on the episode shortly after its airing.