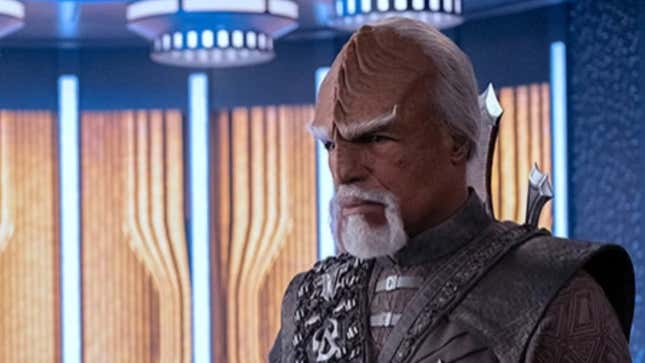 While Worf was never quite the always-angry kind of Klingon in Star Trek—to give him that push and pull between his people's warrior culture and his place within Starfleet—the version of him we've now met in Picard's last season has taken this to a whole new level. But while the move may surprise some fans, it's one the man behind the Klingon has long advocated for.

Playing Raffi Throughout Star Trek: Picard
Now that we've properly met Worf in Picard's third season—after he came in like the Klingon cavalry to rescue Raffi from a dicey situation last week—we're getting the image of him that is more like a wandering monk than the brooding, put-upon soldier he could be in TNG and Deep Space Nine. He meditates, he drinks chamomile tea, he will absolutely slice your head off if necessary but he really doesn't want to. Worf has, in a galaxy of chaos, found a calm center for himself.
And it turns out, it's a center Michael Dorn has wanted for the character ever since he began loudly advocating for a Worf spinoff show years ago. "I had written a screenplay or pilot where it was a spin-off of the Worf character," Dorn recently told /Film about the character's evolution in Picard. "And part of that was he has gone back to this planet, like a martial arts place, and they taught him about meditation and what is the mark of a true warrior. And he has really gone further in that realm, because it's more in keeping with who he is and his journey."
Like I said, it's clear that Worf is still very much capable of putting the hurt on people when necessary, but the evolution makes him an incredibly compelling foil to Michelle Hurd's Raffi—a character that has been defined a lot by her brash recklessness and anger. "I told the producers that, 'Yeah, he still is very dangerous, but he has tempered that with a wisdom that his meditation and his teachings has kind of added to who he is'," Dorn continued. "And they were very good with that."
It's cool to see that Dorn's ideas for Worf over the years have finally made their long way to TV, just like he always wanted—and perhaps fittingly, granted himself a sense of peace, much in the way the character has also found.
---
Want more io9 news? Check out when to expect the latest Marvel, Star Wars, and Star Trek releases, what's next for the DC Universe on film and TV, and everything you need to know about the future of Doctor Who.