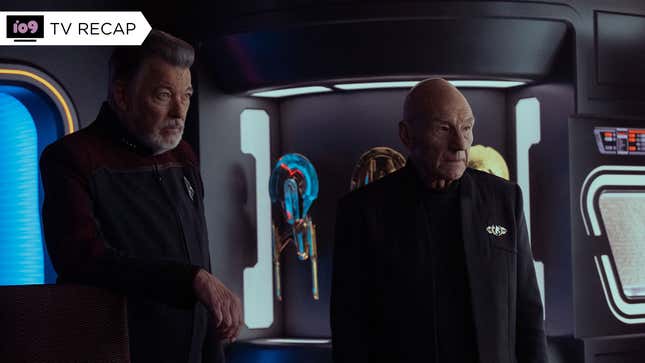 Last week's season three premiere of Star Trek: Picard navigated the show into a nostalgia-laden examination of the weight behind our heroes' long lives—the impact they've had, and what's remained as Starfleet and the galaxy at large have grown beyond them. If that was a more esoteric examination of this theme, this week's episode makes it rather more literal.


Well, that is in its final moments. "Disengage" is largely an episode of set up waiting for this very moment, even if it makes it very obvious almost from the get go that its focus is going to be on Ed Speeler's Jack Crusher, the newly introduced son of Beverly, at the climax of last week's episode. Almost the entire episode is about who Jack really is, from his frantic escape from Vadic's assault alongside Picard and Riker, to Captain Shaw discovering Jack's sultry history as a would-be vagabond medical frontiersman—and his larger moral dilemma of whether or not he should prioritize figuring out who Jack is over the safety of the Titan's crew. It's about it especially so in the multiple moments where Riker becomes the audience stand-in, glancing from Jack to Picard, and back again, before turning to the audience as much as he is his best friend, and going "can't you see what I see!?"

Because yes: the mystery of Jack Crusher that lingers throughout the episode of tension, as Vadic and her mysteriously powerful ship, the Shrike, nips and looms over the Titan and its two new passengers in tow, is an obvious one. He's not just the son of Beverly Crusher. He's the son of Jean-Luc Picard.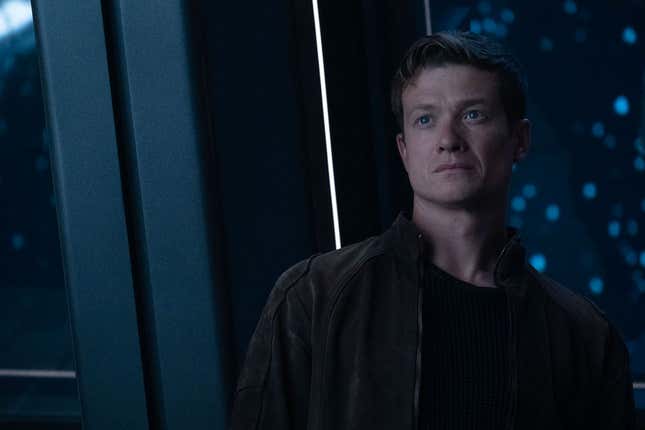 G/O Media may get a commission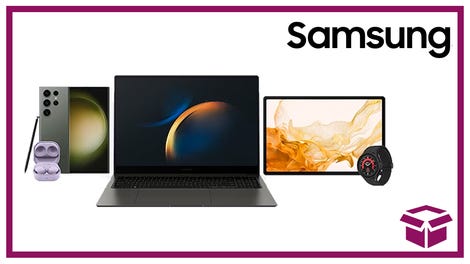 24 hour deals
Discover Samsung - Daily Deal
We're not left to deal with the ramifications of this revelation; for us and Jean-Luc alike, that's for another time. But even if the reveal that Jack is Crusher and Picard's child born from a tryst before Beverly cut ties with her former crew is the moment of "Disengage" despite coming in its last 60 seconds or so, what it means for what Picard wants to say about its hero this season reverberates throughout the preceding episode anyway. Ties to your family, chosen or otherwise, are vital throughout every storyline in this episode—whether it's Jack, vacillating between a smug, devil-may-care rebel and an earnestly good man, or Seven wrestling with the trust put in her by Picard (and Janeway before her) as she bristles against Captain Shaw's increasingly exasperating realization that he's a new Star Trek character thrown into a story about a bunch of old Star Trek characters.

It's there in Raffi's grazed-upon subplot, as she is confronted with the reality of her undercover work straining her already fractured relationship with her family—and in establishing a new relationship in the form of her newly revealed Starfleet Intelligence handler, who is of course Worf (Michael Dorn, who shows up this episode to basically stab a bunch of people and slice a Ferengi's head off, which, given his DS9 days, is honestly very funny). Throughout, even as it dances around the Daddy Picard in the room, "Disengage" constantly asks its characters what prices they are willing to pay in the name of family.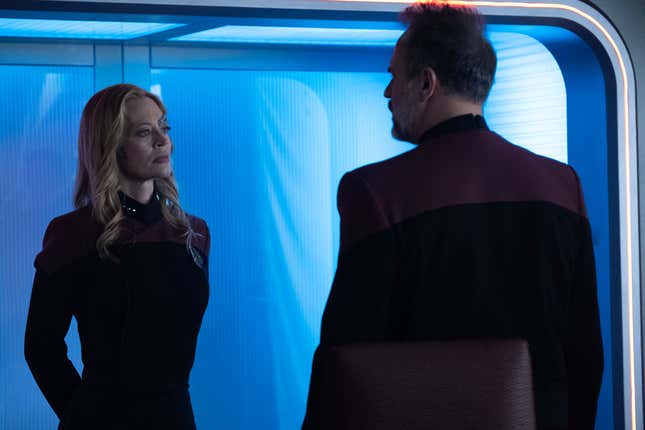 Which then of course brings us to the Daddy Picard in the room. It's obvious from the get-go that Jack has ties to Jean-Luc well before Jean-Luc himself comes to the realization in the episode's final moments. Ed Speleers and Patrick Stewart's chemistry is magnetic, even as Jack and Picard's relationship is meant to be laden with an entire generation's worth of bitterness and distance on the former's part. But even as we see Jack rail against the father that he never had, and as we see Picard deny the evidence of his eyes (and Riker's, standing in for us as he constantly tells his friend to just admit it) until he can do so no longer, their scenes are bursting with a kind of loving melancholy. There's a dissonance between their attitudes as the elder statesman legend and this brash young rebel; it's equally matched by the ways that they're clearly similar to each other, in their passion, in their willingness to stand up for people they love, in their blistering senses of justice.
The larger threat of the episode—the literally lingering Vadic, shadowing over the Titan as a constant background threat but not really doing anything other than forming the ticking timebomb catalyst for Picard's fatherly realization—melts away to hone in on Picard and Jack, and make the tension instead, and much more interestingly, about the push and pull about their ideas of family and duty. And yet, as good as these moments are, and as almost cathartic the final admittance by Picard that Jack is his son is, as Riker and an ailing, recovering Beverly look on, they all really just set the stage for a bigger question: did Picard need to become a "Dad Show"?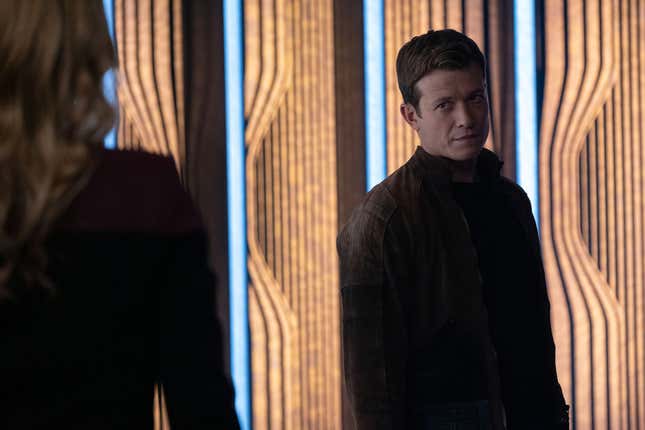 The series has, for better or worse, already spent two seasons not quite sure how to interrogate the long legacy of Jean-Luc Picard as one of the most fabled Star Trek characters of them all. Season one swung hard into the idea of Picard being high on his own supply until the siren call of nostalgia caused it to collapse in on itself; season two was immediately more loving, sending its hero on a big, bonkers adventure. As season three edges back into a sense of skepticism about Picard's legacy—and the self-destruction of his desire to be in Starfleet going on adventures again—does it need to frame that exploration by giving him a child he never knew as a lens for his failures and his successes? What do we gain by making a series that has largely explored this idea of a found family—the ties Picard and his allies have made as friends, the absence and now trickling arrival of TNG's old family back onto the scene all these years later—into one that is now about more literal family connections?

Like I said coming into this recap, "Disengage" does not give us the answers just yet. But while it might be thrusting its lead character into familiar dramatic territory, so far Picard season three is willing to show us that it knows there's potential in those answers.
---
Want more io9 news? Check out when to expect the latest Marvel, Star Wars, and Star Trek releases, what's next for the DC Universe on film and TV, and everything you need to know about the future of Doctor Who.