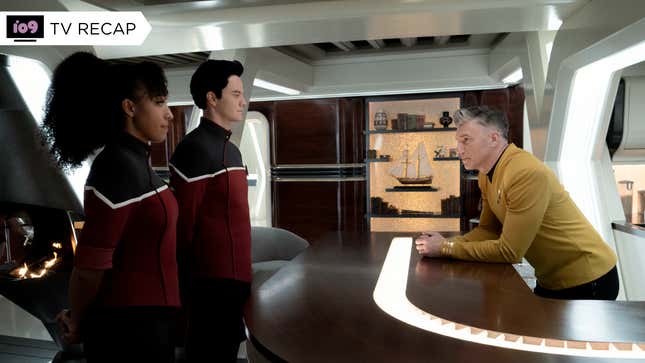 Crossovers are hard. The balance of time, fandom-winking wishlists, and the need to have things still actually matter to your characters can make smashing together heroes from across a franchise a challenge—a challenge Star Trek hasn't been afraid to rise up to in the past. It's good news then, that Strange New Worlds and Lower Decks' collaboration is a successful balancing act that represents Trek at its best.

Weirdest Thing Star Trek Star LeVar Burton Has Signed

"Those Old Scientists"—released almost a whole week early to audiences last night as a San Diego Comic-Con celebration—already had a lot of tricky hoops to jump through even before the logistical tightrope of marrying the worlds of a live-action series with an animated one. Lower Decks and Strange New Worlds are in some ways close siblings, sharing similar episodic structures and loves of Star Trek's history and form. While their tones can vary week to week—and the way they diverge when it comes to exploring that love and how that tone impacts their characters can be very different—the ways that they are distant make trying to combine those worlds a bit of a headache. And a headache is certainly what the crew of the Enterprise gets. After an opening animated interlude sees Ensigns Boimler (Jack Quaid), Mariner (Tawny Newsome), Rutherford (Eugene Cordero), and Tendi (Noël Wells) investigate an ancient, seemingly defunct portal, only to find it anything but, Boimler is thrust a few centuries into the past and directly in the paths of Captain Pike and his bridge crew.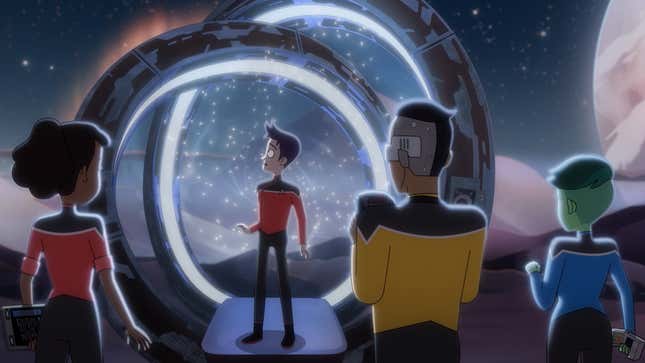 When the episode transitions into live action, and even with just Quaid running around the Enterprise like an out of control anomaly at first, "Those Old Scientists" is at its most obviously cross-over-y, and it takes time for things to stick. For the audience and Quaid alike, it seems, it takes a little bit to get flesh-and-blood Bradward to feel right, and the awkwardness is only partially due to the intentional fanboy persona of Boimler. It's all geeking out, knowing references to travel tropes, you name it, Brad clumsily plants himself face-first into it. It's cute and annoying and once it becomes awkward in the intended way, things click a little more—but it's then that the episode actually starts getting to another level.
Because yes, the whole point of TOS-era fanboy Brad Boimler coming to the TOS era is that you want him to freak out about meeting the likes of Captain Pike and Mr. Spock and Number One, people who have become icons of a golden age by the time he's growing up and applying to join Starfleet Academy. It lets you do the crossover fandom thing of having characters you love meet each other and get excited out about the ways they also love each other (although the feeling is less mutual on the Enterprise for Boimler as he is, being Boimler, full of borderline-infuriating awkward puppydog energy). But the other point, and one that starts sinking in the longer Brad keeps sticking his foot in his mouth—and it seems like it gets increasingly impossible for him to either get back to his home time or maintain the timeline as he knows it—is to contrast his, and in turn our, idealized imaginings of these people in his head. Never meet your heroes is one thing, but it shakes Boimler and the crew of the Enterprise alike that those expectations and reality don't match up.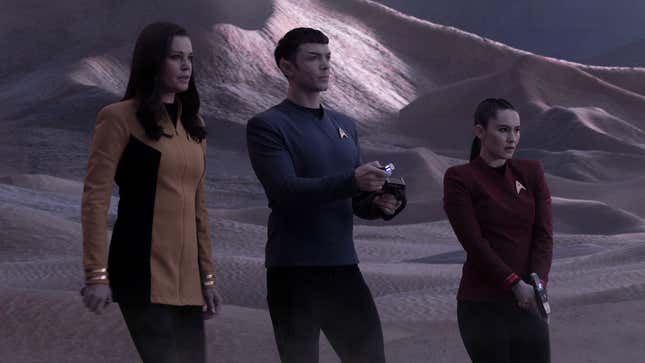 This is played as much for laughs—Boimler finding ways to fearfully get out of Una's orbit literally any time he sees her, leaving her both amused and deeply concerned about her legacy in the wake of her trial—as it is a genuine emotion that really makes "Those Old Scientists" shine brighter than it could have. With Boimler, it's mostly through how he sees Mr. Spock, who in the wake of his burgeoning relationship with Nurse Chapel has begun experimenting with navigating his human emotions more openly—and how that is absolutely not Boimler's fanboy image of Spock as the perfect, clipped Vulcan logician. When Mariner inadvertantly finds herself stuck back in time alongside Boimler during the Enterprise's first attempt to get him home, it comes through in her relationship with her idol Uhura—the latter of whom finds herself struggling to reconcile Mariner's hero-worship of a badass, outspoken Starfleet legend with her reality as a shy, bookish workaholic.

It's in these moments of emotional conflict that the crossover really shines, because it plays on the metatext of Strange New Worlds' very existence. Boimler and Mariner are us when we first learned that a Captain Pike spinoff was happening: we had the future of these heroes enshrined in our past, we had the idealized versions of them locked into our heads from generations of fandom. We knew the Spock and Uhura our Lower Deckers geeked out over, but now, a season and a half into Strange New Worlds, we've also very much been hit with the reality that the versions of the characters we're seeing on screen right now aren't those images. They have to get there, they need to experiment and doubt and overcome and grow as people, and the real joy of Strange New Worlds is seeing that journey happen, as much as the gleeful fannish emulations of Star Trek's retro future-past. This emotional subplot gives additional nuance to Boimler and Mariner in turn, as they realize that their heroes are just as flawed and human as they themselves are—and at the end of the day, they're all just Starfleet officers who want to do the best they can and the right thing.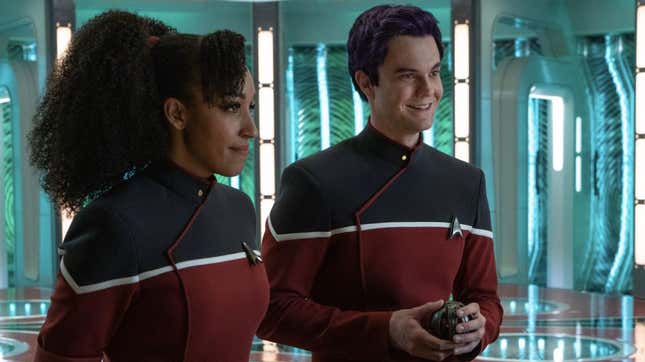 It makes this crossover—which could've been a harmless, isolated adventure full of knowing gags that's promptly never touched on again—offer itself as a wonderful pairing with the other episode of Strange New Worlds we got this week, this past Thursday's "Lost In Translation," tapping into those themes of these characters exploring themselves and needing to grow and change as people. And while yes, "Those Old Scientists" mostly is a harmless, isolated adventure, and is definitely full of knowing gags (shoutout to Mariner lecturing Boimler about the possibility of ending up in the worst time travel place imaginable: 2024 San Francisco), adding this shock to the system that Boimler and Mariner both have to deal with, and in turn have the crew of the Enterprise acknowledge when they're made aware of those dissonances, gives it a spark of life that elevates it beyond harmless fluff.

Like I said at the start of this recap, Star Trek has a good history with crossover episodes—often loving, nostalgic celebrations that play up the idealized view of its past legacies. "Those Old Scientists" does that too, but it also crucially and smartly uses the opportunity of beaming back into the past to interrogate the paths our heroes are all placed on by fate and destiny—giving us an episode that is indeed very fun and cute, but one that will hopefully sit in our minds for a while longer after the charm of that crossover fun has worn off.
---
Want more io9 news? Check out when to expect the latest Marvel, Star Wars, and Star Trek releases, what's next for the DC Universe on film and TV, and everything you need to know about the future of Doctor Who.