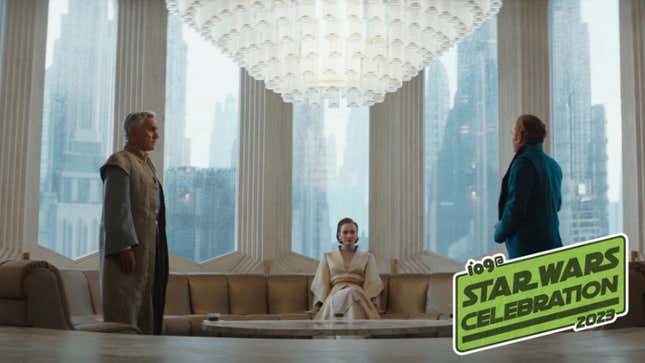 Andor was lauded for its grounded approach to Star Wars, leaning on a physicality to its production that rooted the audience in its grittier take on the galaxy far, far away—which also meant a different approach to VFX that contrasted with the recent rise of Stagecraft and "The Volume," the screen-based set that revolutionized production on The Mandalorian. But there wasn't really an opposition to the tech from the Andor team.

Doctor Strange 2's Sam Raimi on America Chavez
"In a perfect world, we'd be able to shoot location and shoot old school, and then we'd use the Volume when we want to use it. There are times when the Volume would be really good for us, but the technology doesn't exist to do both," Tony Gilroy told The Hollywood Reporter last September in the wake of an internet debate about whether or not Andor's decision not to use the tech was somehow an intentional slight against the Star Wars productions that had come before it. "Our system is completely different. We shoot everything with the actors, and we build out from there if we need to build out. And those two systems, maybe there's somebody who's doing it, but economically, you can't do [both]. So, automatically, we were just like, 'We have to be a build show.' It wasn't a controversy, really. I saw it get turned into a controversy the other day, but it's not like that at all. There are times where we'd love to use it. It does some great things."
But at today's Andor VFX panel—featuring Visual Effects Supervisor Mohen Leo, Lucasfilm Visual Effects Producer TJ Falls, Special Effects Supervisor Richard Van Den Bergh, and ILM Visual Effects Supervisor Scott Pritchard—the team behind the show's VFX revealed one moment making the series where at least some elements of Stagecraft's screen tech was actually used: projecting Coruscant outside the windows of Mon Mothma's embassy windows. The crew used one of Stagecraft's massive screens to represent the world outside Mon's window, bringing in VFX teams to specifically create a scene that worked being projected onto a screen that was then shot by cameras from inside the Embassy set.
TJ Falls specifically noted the use of Stagecraft in the Embassy as how the decision by Andor to use or not use Volume sets was never a philosophical debate for the show—it was simply about flexibility, and what tech worked best for each specific scenario. The Stagecraft screen was a better option than simply using a green screen and laying in the VFX plates in post-production—giving the Embassy appropriate lighting from the world outside its imaginary window, and giving actors something to look at and feel part of the world was Stagecraft's strength.
This multi-disciplinary approach to production on Andor—a collaboration repeatedly noted throughout the panel—was vital to Gilroy's approach of every aspect of production working together to make the show's aesthetic feel real, and pointedly connected to the tone and look of films like Rogue One and A New Hope.
And it's an approach the VFX teams have honed as they work on Andor season 2, currently on track to release on Disney+ in Summer 2024–an approach where every department, from costuming to set design to VFX, collaborates together as filmmakers rather than separate entities. If what little was shown of Andor season 2 earlier at Celebration is any indication, then it's an approach that continues to pay dividends.

---
Want more io9 news? Check out when to expect the latest Marvel, Star Wars, and Star Trek releases, what's next for the DC Universe on film and TV, and everything you need to know about the future of Doctor Who.