The next Toy Story won't continue the story of the first three. There's another tease of Jared Leto's version of the Joker. Jeph Loeb says Marvel's Netflix shows won't cross over with the films just yet. John Barrowman gets a new series. Plus, Flash set pictures tease the return of Reverse Flash. Spoilers Now!
Top image: Doctor Who.
Toy Story 4
Studio president Jim Morris has stated that the next entry in the Toy Story franchise will not continue any story elements from the first three films:
The third movie ended in a beautiful way and completed a trilogy. I think this movie is not part of this trilogy. It is a separate story, which in turn I do not know if will be continued. Never begin a project with that in mind.

It is not a continuation of the end of the story of Toy Story 3. Temporarily it is, but it will be a love story. It will be a romantic comedy. It will not put much focus on the interaction between the characters and children. I think it will be a very good movie.
Morris comments — which were translated through Google Translate and edited for clarity, so there's a good chance there's some translation weirdness involved — are very vague, but they seem to imply we'll be seeing family characters, just that the focus won't be the sort of 'human and toy' sort of stories we saw in the firs three films. [Disney Latino translated by /Film]
---
Wolverine 3
Director James Mangold says filming will commence on the movie early next year. [Superhero Hype]
G/O Media may get a commission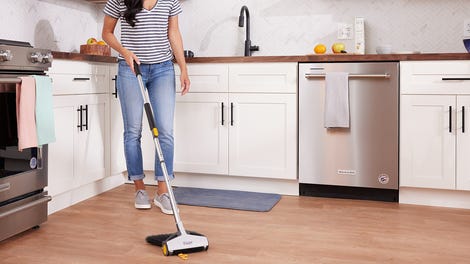 BOGO 50% Off
Flippr - BOGO 50% Off
---
It
Cary Fukunaga (speaking through translator Lucca Cantisano) discusses the work on his adaptation of the King classic.
"I've been in this project for about five years," says Fukunaga in a translation by Lucca. "I had already read versions of the script but nothing felt right. Everybody tried to put too much into it, telling it from the perspective of the adult and the child in a two hour movie. It didn't fit. So I decided to throw it all away and start from scratch.

"This will be my first movie in the US and I'm still trying to find the perfect guy to play Pennywise," he added. "It's really good to know Stephen [King] likes what we did. We (Fukunaga and writers David Kajganich and Chase Palmer) changed names, dates (the story is originally set in the 60′s) dynamics, but the spirit is similar to what he'd like to see in cinemas, I think."
[O Globo via Bloody Disgusting]
---
Neill Blomkamp's Alien
Sigourney Weaver discusses handing the franchise over to Blomkamp:
"I can't think of a better director," Weaver told Variety at the New York City premiere of Blomkamp's latest film, "Chappie." "He's a real fan. I think he'll be true to the world and take it in unexpected directions. It's got a lot of sinew in it. It will certainly stand up to the others and probably break a lot of new ground as well."
[ Variety]
---
Star Wars: The Force Awakens
Another batch of rumours for the movie, this time focusing on Leia's role in the film. Allegedly Leia is no longer referred to as a Princess, but instead as a Queen, and is still a prominent leader in the Rebel Alliance. She's also allegedly close to celebrating her 35th Wedding Anniversary with Han, who has been away for a considerable length of time before they meet back up during the movie.
The other details of the rumours also dish out more information on the two 'superweapons' that are purportedly in the film: "The Catapult", a weapon designed by the Empire that kills one of Leia's agents, and "The Sledgehammer", a rebel kamikaze-like ship capable of taking down Star Destroyers with ease.
As ever, take all these with a lot of salt. [Making Star Wars]
---
DC Movies
Speaking at the Morgan Stanley Technology, Media & Telecom Conference, Warner Bros. CEO Kevin Tusjihara discusses whether superhero movie fatigue will impact upon the DC movies:
"The key thing is that the movies and the television shows and the games, everything looks very different …you have to be able to take advantage of the diversity of these characters."

"The worlds of DC are very different," he said. "They're steeped in realism, and they're a little bit edgier than Marvel's movies."
[Variety]
---
Descendant
The script for this movie about a genius-level child who may be influenced by mysterious forces has been acquired by Lotus Entertainment. [Deadline]
---
Suicide Squad
Another day, another hair-related tease for Jared Leto. First, Leto himself posting a clearly picture of his new hair cut, dyed platinum blonde:
There was a second instagram image from Leto's stylist Chase Kusero, showing him mixing green hair dye, but this has since been removed.
[via CBR]
---
The Peanuts Movie
Here's some character posters for the movie - go here to see the rest. [Coming Soon]
---
Doctor Who
In the same interview where he discussed the back-and-forth on Jenna Coleman's decision to stay on the show, Steven Moffat also hinted at how the harsher side of the Doctor will soften in the next series:
We're not bringing him back exactly as we left him, at all, I think that was already evident at Christmas. He's left some of the burden of being a superhero of the universe behind. So I'm pushing him – I'm writing quite funny this year – I'm pushing him the other way...
---
The 49th Key
John Barrowman will produce and star in a miniseries adapting this new story from Erika Lewis. Here's a short description from The Hollywood Reporter:
The first chapter in an expansive fantasy series tells of a rogue archaeologist and a young autistic and mute boy on a treacherous journey through England to bring the boy home. The boy turns out to be the key to a gateway between our world and that of Enochia, a magical society that exists below the Earth's surface, filled with fantasy creatures and highly advanced humans.

The story makes its debut in issue 273 of Heavy Metal, which hits comics shops and bookstores Wednesday and is drawn by J.K. Woodward. The serialized story will run in the magazine through the year.
---
AKA Jessica Jones/Daredevil/Defenders
Jeph Loeb discusses whether the Netflix Marvel shows will cross over with Agents of SHIELD or the films:
Look, it all exists in the same universe. As it is now, in the same way that our films started out as self-contained and then by the time we got to The Avengers, it became more practical for Captain America to do a little crossover into Thor 2 and for Bruce Banner to appear at the end of Iron Man 3.

We have to earn that. The audience needs to understand who all of these characters are and what the world is before you then start co-mingling in terms of where it's going.
---
Of Kings And Prophets
British actor Ray Winstone has been cast in the role of Saul, First King of Israel, in the Biblical ABC drama. [Deadline]
---
Helix
Here's some dialogue teasers from Vade in Peace:
"I'm sorry. I can't hear you from up here."

"Is this your grand plan?"

"Jeez, don't. That's suicide."

"This is payback for all of the hotzone stuff, right?"

"That would make you the queen of nothing."
[ Spoiler TV]
---
12 Monkeys
And likewise, some dialogue teasers from Yesterday:
"Don't you ever shut up?"

"You need to do this on your own."

"48 hours at best."

"It wasn't me I was worried about."

"A lot of lives at stake, and you guys have a dick measuring contest."

"It does require a certain faith."

"Hey. Get ready. Things are about to get real interesting."

"I get a lot of things now."
[ Spoiler TV]
---
Star Wars Rebels
A rumour is circulating that Sam Witwer — who voiced several characters on Clone Wars, including Darth Maul — has joined the cast of the show, and will be playing Emperor Palpatine. [Making Star Wars]
---
Agents of SHIELD
Jeff Bell discusses how an amnesiac Lady Sif will approach SHIELD's current issues with Inhumans:
We know Sif will appear on Earth after having lost her memory. Aside from the fun I know you're going to have with this, can you talk a little bit about Sif's reaction to Skye's powers? Because right now, she has no idea what a superhero even acts like, right?

That's a really good question. The other thing is that technically, Sif's an alien. Technically. So we as S.H.I.E.L.D. have been experiencing a lot of alien weirdness towards the first half of the season. And we don't know much about it. And suddenly, we have a person here who might be able to help, but doesn't have any memory that's really helpful. So there's potential to learn things about other alien stuff, and perhaps we also presume that she doesn't remember much…so that might be part of why this character is here now.
And here's a teaser art poster for Sif's appearance. [ Entertainment Weekly]
And here's some actual promo pictures from the episode, Who You Really Are - see more here. [Spoiler TV]
---
The Walking Dead
Daryl discovers he's being followed by Aaron in this clip from "Forget." [Spoiler TV]
---
DIG
Anne Heche sits down with KSite TV to discuss her character, Lynn Monahan.
---
Grimm
Here's some promo pictures for 4.14, Bad Luck - as usual, more at the link. [Spoiler TV]
---
iZombie
Here's a complete set of promo pictures from the pilot episode, some are old but some are new - check them out here. [Buddy TV]
---
The Flash
Finally, here's some set pictures featuring the Reverse Flash encountering Iris and the Flash — go here to see a third.
---
Additional reporting by Diana Biller and Charlie Jane Anders.