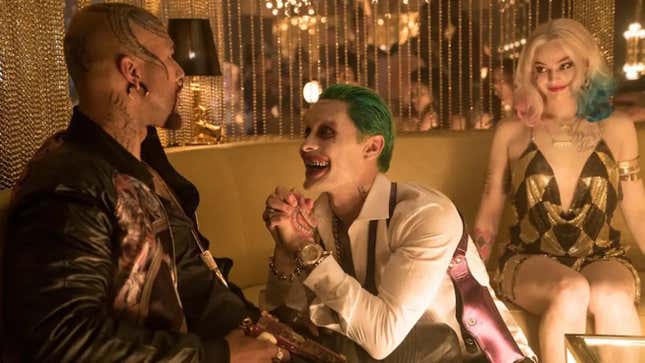 David Ayer has made a few features since 2016—including 2017 Netflix fantasy Bright—but the one his name is most associated with is another Will Smith-starring release: Suicide Squad, which five years after its release got a sort of sequel/do-over from James Gunn titled The Suicide Squad.
Spoilers of the Week: July 22nd
These days, most people associate James Gunn with his newest venture: heading up DC Studios with Peter Safran and plotting the future of entertainment as it swirls around DC's comic-book characters, including Gunn's own upcoming Superman: Legacy. But Ayer's still talking about Suicide Squad, usually in the context of his ongoing campaign to have "the Ayer Cut" of the film—a version more adequately representing his creative vision—released, something Gunn himself kinda, sorta weighed in on recently.
You can't blame Ayer for doing his best to keep the Ayer Cut in the news; persistence is, after all, why we got the "Snyder Cut" of Justice League. In a new podcast, he digs a little deeper into the story, saying that while he was filming Suicide Squad, the response was so positive his name was rumored to be part of discussions about Warner Bros.' superhero future.
"During Suicide Squad, when the dailies were coming in, people were like 'Oh shit, maybe Ayer's going to take over DC,'" Ayer said on Jon Bernthal's Real Ones, via IndieWire. "It's Game of Thrones in there. The palace politics were insane."
The Ayer Cut (which the director calls "like Schrödinger's Cut now. Is it more legendary to see it or more legendary to not see it?") was apparently never tested by the studio; according to Ayer, "everyone" he's shown it to says "This is the movie we wanted, why didn't we get this?", and laments how the studio turned his "dark, soulful movie" into a comedy. He also adds that he's ready to move on and "heal" from the experience, no matter what happens—but with a flicker of hope as Gunn plans DC's future, there's apparently still a chance it might see the light of day.
Are you curious about the Ayer Cut of Suicide Squad, or would you rather stop hearing about this one? Let us know in the comments below.
---
Want more io9 news? Check out when to expect the latest Marvel, Star Wars, and Star Trek releases, what's next for the DC Universe on film and TV, and everything you need to know about the future of Doctor Who.