Zack Snyder's Superman might be exploring how Clark Kent really became Superman... plus another possible actor for Lois Lane. Darren Aronofsky says Wolverine will still be a Darren Aronofsky movie. Plus Tim Burton talks Dark Shadows, and more! Spoiler rampage!

Superman Reboot
Reports of a basic plot synopsis have surfaced, supposedly based at least in part on a character breakdown for Clark Kent that was just sent to casting agencies. The story reportedly focuses more on Clark Kent than Superman, and it sounds more than a little similar to the structure of Batman Begins:
"[Kent is] a young journalist, traveling for the globe, who would rather solve problems and help people without resorting to using his special powers. When he is compelled to use his secret powers to intervene in a crisis in West Africa, Clark returns to Smallville to learn more about his origins and the hero he was born to be."
We don't know for a fact whether this breakdown is real, and, even if it is, whether it's a completely accurate representation of the actual movie. So, take this with a grain of salt. The same report also mentions Anne Hathaway is a contender to play Lois Lane, but there's no source at all for that, so take that with more heapings of salt. [What's Playing]
The Wolverine
Director Darren Aronofsky says his movie really will be a complete break from the other X-Men movies, it won't have a lot of explosions, and he's working under an assumption of complete autonomy from Fox: [Badass Digest]
Cowboys & Aliens
Writers Roberto Orci and Alex Kurtzmann say one of the biggest challenges was convincing Harrison Ford he could wear a hat that wouldn't immediately remind everyone of Indiana Jones, and that Steven Spielberg was crucial to getting him to agree to wear a cowboy hat. Despite that, they praise both the actors and creative team for taking the movie completely seriously and working hard to get it right, even if people were initially skeptical the movie would work with the current title, as Orci explains:
"In terms of our approach, there was a debate early on and suggestions from some quarters that the title should be changed. But we decided the title was too much of its own log line and too much of what made us love the property in the first place. We didn't want to lose it. At the same time, we knew that the title could be misleading. We wanted to make sure that this trailer made it clear that there was a certain tone to this movie that you might not be able to discern from the title. So aside from people liking the trailer, I think we accomplished the goal of demonstrating that this is a real movie."
G/O Media may get a commission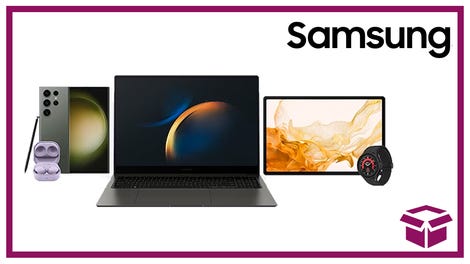 24 hour deals
Discover Samsung - Daily Deal
[LA Times]
Dark Shadows
Tim Burton confirmed they're making progress on the adaptation of the horror soap cult classic, which he's making with Johnny Depp:
It sounds like you'll be shooting "Dark Shadows" with Johnny [Depp] soon?
Yeah, I'm working on the script, and, you know, it's been kind of a long time coming, but I think I'm getting a script that I like. I don't really like talking because I'm not really sure what's happening yet but I'm excited about it. I think, yes, finally for me, it's getting to be the right tone.

Have you and Johnny talked specifically about his take on Barnabas [Collins]?
Burton: Yeah, we've been talking about it. I mean, He's finishing up another movie, but we've had a couple of really good meetings. Yeah, you know, I'm excited.
[<a href="http://moviesblog.mtv.com/2010/11/23/tim-burton-dark-shadows-frankenweenie-maleficent-addams-family/]
Sherlock Holmes 2
Here's a first look at Girl with the Dragon Tattoo star Noomi Rapace alongside Robert Downey, Jr. and Jude Law. [Cinemablend]

Fringe
Fox exec Kevin Reilly offers an interesting take on why the network moved the show to Friday, essentially arguing that such a huge percentage of the audience doesn't watch the show live anyway, so the slot doesn't matter:
"We are not killing the show. Over the last week, over 45 percent of the audience time-shifted the show. That's almost half of the dedicated audience watching it on their DVRs. It's been such a loyal fanbase. I will be really disheartened if the viewer base decides to not watch because it shifted one night. I hope they go with it, and if not they have the option of picking it up on their DVRs. If it does anywhere near what it did on Thursdays, we can glue that show to the schedule because it can be a big win for us."
[EW]
True Blood
The show has reportedly added three new regular characters as well as promoted a recurring character to a full-time gig. L Word actress Janina Gavankar will play Luna, a shapeshifter public school teacher, Life Unexpected's Alexandra Breckenridge will play a wiccan named Daisy, and soap opera actress Vedette Lim will play cage-fighter Naomi. Jessica Tuck, who plays the vampire mouthpiece Nan Flannigan, is now a regular. [Deadline]
The Walking Dead
Check out this video of Jeffrey DeMunn explaining his character, Dale: [Fangoria]
And, because why the hell not, here's an Italian language promo for episode 5, "Wildfire": [SpoilerTV]
Chuck
A few promo photos for "Chuck vs. the Leftovers": [SpoilerTV]

The Event
A promo is out for episode 10, "Everything Will Change": [SpoilerTV]
Supernatural
Taking the show's proclivity for absurd titles to dizzying new heights, episode 14 will reportedly be called "Mannequin 3: The Reckoning." [SpoilerTV]
Battlestar Galactica: Blood and Chrome
Former Caprica co-executive producer Jonas Pate will reportedly be directing the pilot of the latest BSG spinoff. [Deadline]
V
Another promo for season 2: [SpoilerTV]
Here's a bunch more set photos of the cast: [The V-Files]

Smallville
Lucas Grabeel, who played a Lex Luthor clone in season six, says he's heading off to Vancouver to shoot a return appearance, presumably as another older version of this season's Luthor clone. [KSiteTV]
Being Human
Syfy has set the premiere date for Monday, January 17. [TV Guide]
Additional reporting by Katharine Trendacosta and Charlie Jane Anders.