You knew it was coming, you knew what it could do, and now the T-Mobile Dash is finally here. Considered as a GSM alternative to the popular Motorola Q, the phone marries a QWERTY keyboard with the Windows Mobile Smartphone edition that previously only adorned candybar-style phones.
Does this Q-killer really kill the Q? Does HTC's line of excellent Windows Mobile phones continue on with this one? Do we stop asking questions we already know the answer to? Jump on to find out.
To start, the major differences to the average user between this Windows Mobile Smartphone Edition and Windows Mobile Pocket PC Edition phones (T-Mobile MDA, HTC TyTN) are the lack of touchscreen, lack of Mobile Office apps, and less apps programmed for it. Think of this phone as the lovechild of a T-Mobile SDA and MDA.
For important stuff like call quality, this phone holds up just fine. It's got HTC's great noise filtering, but holding the phone up to your ear feels like holding a a large clam shell—an actual clam shell—because it's wide, thin and light. The good news is the phone didn't get very warm after talking, which was a nice from the MDA.
G/O Media may get a commission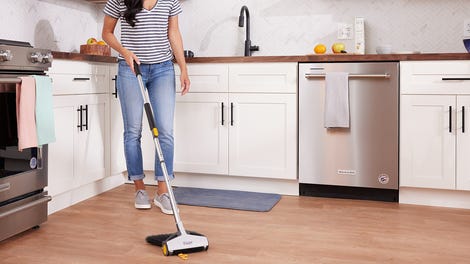 BOGO 50% Off
Flippr - BOGO 50% Off
But voice is just one part of this package, since you want a smartphone for the data. Browsing is just fine even without the touch-screen we're used to. PocketIE works to get you on most web pages so you can check movie times or log onto Myspace. Emailing is great as well, since you just have to enter in your email address and password, and if it's one of the larger email services—like Gmail—T-Mobile's servers will figure out the ports and protocols to use automatically. If not, they're easy enough to enter.
Most importantly, the keyboard isn't too bad to use. The keys are a bit shrunken because they had to cram a QWERTY onto the face of the phone, but unless you've got Fat Albert's fingers, you can get used to it. It's not as convenient as the slide-out QWERTY keyboards, but that's to be expected.
Other features of note are the 1.3-megapixel camera, speakerphone, Bluetooth, and WiFi. The Dash is also myFaves enabled, which means there's five myFaves icons on your Today page. T-Mobile's targeting this towards regular consumers and families who want to balance work and life, and want a phone that can access email on the go but still give them good voice quality. You can tether this phone to use as a modem to get your laptop on T-Mobile's EDGE service, but it's not "officially sanctioned." They got kinda nervous when we asked about it on a conference call, actually. They'd prefer you to use one of their many T-Mobile WiFi hotspots instead.
So is it a Q-killer? Definitely. If you're looking for a smartphone in a thin package and are willing to give up Pocket PC features like touch-screen and Office Mobile, you won't go wrong with the Dash. It's going to be $199 with a two-year contract, $249 with a one-year contract, and $349 if you want to buy it without a contract.
The phone will be available in stores October 25, but if you want to "pre-register" you can hit up this site.