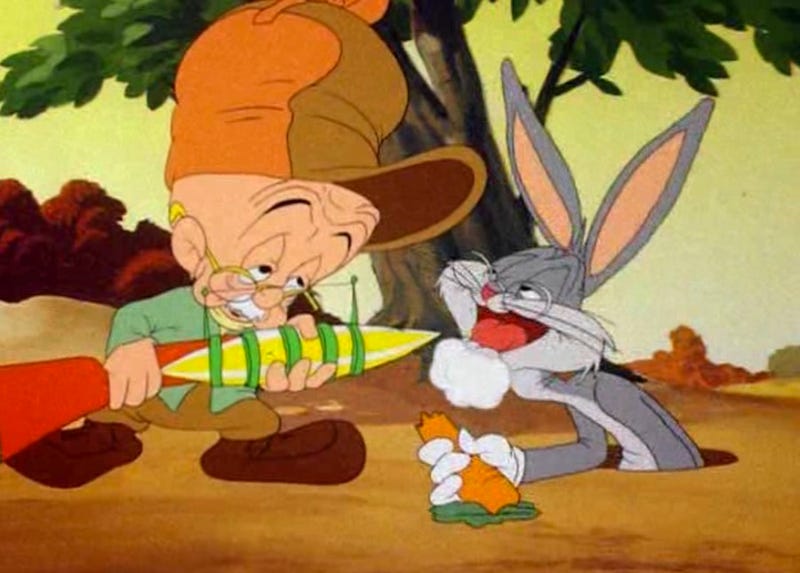 Unofficially, Bugs Bunny turns 75 today. It's unofficial because Warner Bros doesn't recognize birthdays of fictional characters. But that's no reason we can't celebrate! And what better way than looking at Bugs Bunny predictions for the year 2000?
Martha Goldman Sigall—the last colorist and inker from the original Looney Tunes who died last week—reveals how Bugs Bunny was born in this short. According to her, it was director Ben "Bugs" Hardaway who came up with it. The clip is a must-watch testimony on the legendary pop culture icon.
It's a good bet that you spent hundreds of childhood hours with Chuck Jones, even if you didn't know who he was at the time. "What's Up, Doc? The Animation Art of Chuck Jones" is a new exhibition which chronicles the work of the legendary animator who breathed life into household names like Bugs Bunny, Daffy Duck,…
Brilliant. Artist Bruce Yan remixes the logos of famous brands by inserting the cartoon characters we grew up with. So the Playboy bunny becomes a profile view of Bugs Bunny, the mermaid in the Starbucks Logo becomes Ariel, Charlie Brown is the BIC guy and so on. The twists are super clever and fun.
Remember Space Jam, the movie that pits Michael Jordan, Bugs Bunny, and a lady bunny with bunny boobs against group of animated alien basketballers? The loser was executed (or something). Well, the website is STILL running. Time warp! [Geekosystem]
He doesn't look it, but Marvin the Martian is going to be sixty years old this July 24. That's the day "Haredevil Hare" was released, the cartoon wherein the spunky little alien in the Trojanesque skirt and scrub-brush crest made his first appearance (albeit under the name "Commander X-2," according to the…
Warner Bros. is jumping into the online video arena next month with a pair of sites, thewb.com and kidswb.com, which will show full episodes of its biggest series, like Friends and Smallville on the former, and stuff like Bugs Bunny, Scooby Doo and Batman (hopefully Paul Dini's brilliant and amazing original animated…