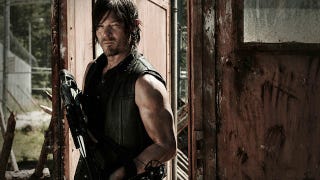 The crossbow-toting Daryl Dixon has had a lot of intimate relationship over the last few seasons of The Walking Dead, but none of them so far have been romantic or sexual. One fan wrote in to Walking Dead creator Robert Kirkman and asked if Daryl might be gay. Kirkman's response: it's been considered.
While we all now know TWD's Daryl Dixon as a zombie-killing badass, actor Norman Reedus needed a great deal of crossbow training before he could play the role so effectively. As Conan O'Brien's research team discovered via this footage, Reedus had a lot to learn when he first picked up Daryl's crossbow.
The Walking Dead wakes from its brief dirt nap tonight, refreshed and ready to shower us with zombie guts. Celebrate with Daryl Dixon and this absurd portrait by Dena Jarrar, and chat about tonight's episode here.
Sensitive, crossbow-toting redneck Daryl Dixon has quickly become one of the best things about the Walking Dead television show, but the character hasn't appeared in the comics...at least not yet. But series creator Robert Kirkman has teased the comic's new arc, which may feature a familiar southern hunter.