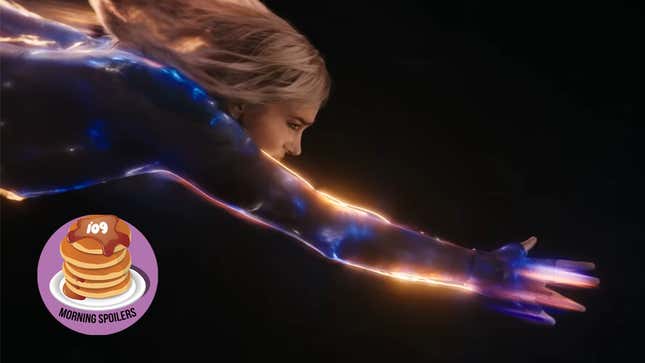 Get to know the mysterious characters of The Fall of the House of Usher. Could a Brightburn 2 really happen? Get a look at Kiernan Shipka's new time-travel slasher movie. Plus, what's coming on Walking Dead: Daryl Dixon and American Horror Story: Delicate. Spoilers, away!

Spoilers of the Week | June 3rd

Brightburn 2
Deadline reports The H Collective is developing a sequel to 2019's Brightburn through a new imprint called H3 Entertainment, a company that plans to "integrate the Metaverse, Web3 and AI into a slate of films."
---
Free Guy 2
During a recent interview with Collider, Shawn Levy stated he's no longer certain a sequel to Free Guy will see the light of the day in light of Barbie's overwhelming success.
I think it is definitely not assured. We love Free Guy and the love for Free Guy that has kind of resonated in aftershocks, if you will, in the last couple of years. That's been thrilling to Ryan [Reynolds] and I. We are developing a sequel, but the truth is that you now have Barbie that has obviously left a mark about a character in a fictional world who comes to self-awareness. So, we're only gonna make Free Guy 2 if it's different than the first movie and if it's different from other movies.
---
The Marvels
A new TV spot for The Marvels encourages you to see it in IMAX, alongside a smattering of new footage.
---
Totally Killer
The daughter of the sole survivor of a masked killer's rampage travels back in time to the night of the murders in the trailer for Totally Killer, starring Kiernan Shipka, Olivia Holt, Julie Bowen, Charlie Gillespie, Liana Liberato, Lochlyn Munro and Randall Park.
---
Bloodthirst
Elsewhere, Tara Reid leads a post-apocalyptic band of vampires in the trailer for Bloodthirst, co-starring Costas Mandylor, Robert LaSardo, Eileen Dietz and Sarah French.
---
Ms. Marvel
During a recent interview with The Playlist, Ms. Marvel director Adil El Arbi confirmed a second season will depend on the success of The Marvels this November.
We're waiting for The Marvels, so that will decide what the next step will be. So we're very much looking forward to that. I can't wait to see it, man. It's great to see the trailers and to see the whole family back there and Iman Vellani doing great work, so looking forward to that.
---
Stranger Things
Shawn Levy also stated the final season of Stranger Things will be "as big as any of the biggest movies" in a new interview with Total Film magazine (via Games Radar).
There's no way to be contiguous with season 4, and not, frankly, expand scale and depth. It's major, major, cinematic storytelling that happens to be called a TV series. Stranger Things 5 is as big as any of the biggest movies that we see.
---
The Fall of the House of Usher
The latest issue of Entertainment Weekly (via Coming Soon) includes descriptions of each character in The Fall of the House of Usher.
Bruce Greenwood's Roderick Usher is the family patriarch and CEO of Fortunato Pharmaceuticals. He is described as an ambitious and driven man, who has high expectations of his six children. While he gives them access to every resource imaginable, fatherly affection isn't necessarily one of them.

Mary McDonnell's Madeline Usher serves as the brains behind the operation at Fortunato. If he falters, she picks up the slack. But a downside to all that drive and ambition is the fact that she would step over her brother if she had to, regardless of the love she has for him.

Carla Gugino's Verna is a shape-shifting demon, who made a deal with twins Roderick and Madeline when they were younger. Decades later, she returns at the height of Fortunato's power to massacre the heirs to the Usher fortune.

Henry Thomas' Frederick Usher is the eldest son of Roderick. Despite being the natural heir to the company, he's described as the least capable person to take over the business out of all his siblings.

Samatha Sloyan's Tamerlane Usher is one of Roderick's children, who starts a health and wellness company of her own in an attempt to step out of her father's shadow.

T'Nia Miller's Victorine Lafourcade is Roderick's daughter out of wedlock. She'll do everything she can in order to gain her father's most coveted approval and affection, even at the expense of her life's mission to help people.

Sauriyan Sapkota's Perry Usher is the youngest of the Usher children. Rather than inventing new medical tools or running the family empire, he wants to make life one big party.

Kyliegh Curran's Lenore Usher is the daughter of Frederick, who's described as a kind and empathic young woman.

Rahul Kohli's Leo Usher is a video game patron and a socialite playboy with an intense drug habit.

Kate Siegel's Camille L'Espanaye is described as extremely cunning and biting. She handles the PR for the Usher family, which has made her an expert at turning bad behavior into good press.

Katie Parker's Annabel Lee is Roderick's first wife and the mother of Frederick and Tamerlane. With a warm and trusting nature, she always sought to find the best in Roderick, but that might have left her blind to the dangers encroaching on her family.

Carl Lumbly's C. Auguste Dupin is a brilliant attorney, who's determined to take down the Usher family.

Mark Hamill's Arthur Pym serves as at Usher family's enigmatic lawyer, who remains an unfailingly loyal employee and enforcer for the Ushers.
---
The Walking Dead: Daryl Dixon
Spoiler TV additionally has a brief synopsis for the fourth episode of The Walking Dead: Daryl Dixon.
Daryl and Isabelle negotiate with the owner of the Demimonde club.
---
American Horror Story: Delicate
Finally, Kim Kardashian may not have Emma Roberts' best interests at heart in a new TV spot for American Horror Story: Delicate.
---
Want more io9 news? Check out when to expect the latest Marvel, Star Wars, and Star Trek releases, what's next for the DC Universe on film and TV, and everything you need to know about the future of Doctor Who.