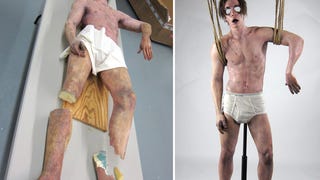 The absolute best part of the original Jeepers Creepers was that it starred Justin Long as some sort of fratty, navel tatted hero, who [SPOILER ALERT] ends up as a creepy human skinsuit in the monster's lair. And now they are making a Jeepers Creepers 3, fingers crossed they get some use out of the old Long corpse.
You can now watch the peculiar Funny or Die Steve Jobs movie iSteve. The 78 minute flick starring Justin Long as Steve Jobs was the third Steve Jobs biopic announced but the first to release. I think there's an award for that or something. You can watch the full length movie at Funny or Die here. [Funny or Die via …
What's this? Former Apple spokesperson Justin Long, using a jailbroken iPhone on Jimmy Kimmel Live? He's no longer under their thumb, so can use whatever he damn well pleases—but will he use a WP7 come October? [Thanks, Tolk!]
As Justin Long foretold, Apple has officially concluded their "Get a Mac" campaign, ending a particularly irritating chapter of tech advertising history. The window for nostalgia here is impossibly small, so watch this comprehensive recap while you still care.
If everyone thinks you're dead, what's to stop Liam Neeson from burying you alive? At least that's what this mad-scientist funeral director tries to pull with Christina Ricci, after she wakes up. Check out After.Life's first trailer.
Apple heard Windows 7 was out and called in the usuals to make fun of it in three different ways. UPDATED
Each day I get a little bit sadder that Billy Mays is no longer with us. Good thing there are so many spokeassholes vying for position in the marketing pantheon.
We've read about the dirty deeds Liam Neeson does to Christina Ricci's body in new horror film After.Life, but now you can see the revolting, zombie-like science experiment for the first time. Spoilers below...
Personally, I don't have a problem with Justin Long and his mac ads. Apparently I'm one of the minority. Contrary to previous reports, it seems that Justin Long is going to keep on being the Mac guy for the foreseeable future. He says, in his blog (wtf?):