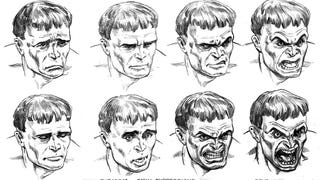 Artist Benton Jew has worked on not one but three Hulk movie projects: Ang Lee's Hulk, Louis Leterrier's The Incredible Hulk, and a never-made film that with a script by Jonathan Hensleigh. Jew has shared artwork he created for those projects, including a mockup of Billy Crudup as Ang Lee's hulk.
We were just getting excited for Louis Leterrier's G, in which the Earth stops spinning and gravity stops. And now there's another great take on the burgeoning "rotational disaster" subgenre.
Yesterday, Universal Pictures announced a deal for Louis Leterrier to direct G, a science fiction "tentpole" movie. Nothing much was revealed about G, except that it's "a scifi disaster pic with shades of The Day After Tomorrow and Taken." And they haven't hired a screenwriter yet.
Re-release the Kraken! A Louis Leterrier-less Clash sequel may be out by Spring 2012, to nab Sam Worthington before he starts Avatar 2. A Journey sequel is also in the works for Fall 2011, without director Eric Brevig. [Deadline]
Louis Leterrier, the director who just rescued The Incredible Hulk, has announced his next movie, about a team of young consultants who get drugged and left in a radioactive town in Russia. The group has to manage an escape, by working together. The movie is titled Strays and does not have a start date. Fingers…
Incredible Hulk director Louis Leterrier released a "commentary" on the movie's new trailer, and gave away many of the film's secrets. Depending on how you feel about half-hour fight scenes, his revelations will either thrill or appall you. Click through to read all the dirt (including spoilers) on the new Hulk.