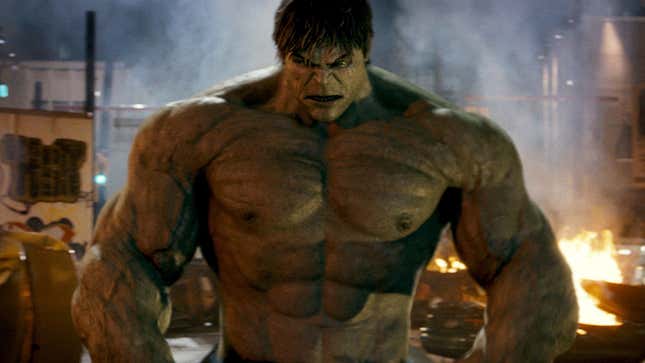 2023 is a big year for superhero movies, as it's when many of them from years past are hitting big milestones. Along with the MCU overall, the original Iron Man turned 15 this year, and it's not the only one—The Incredible Hulk, which released months later, is similarly a decade and a half old. But unlike Tony Stark, Bruce Banner hasn't had the chance to flex his narrative muscles a series of solo movies and recurring guest appearances.

She-Hulk: Attorney at Law Episode 9 Finale Review
Speaking to Comic Book, director Louis Leterrier talked about what would've happened had Incredible gotten the opportunity for a sequel or two. The biggest missed opportunity was bringing in other Hulk variants for Bruce to bounce off of and eventually punch in the face. While he didn't go into specifics for their roles, he said that he wanted to incorporate Bruce's Grey Hulk persona (aka Joe Fixit, a security expert for a casino owner in Vegas) and "Red Hulks"—which is interesting to note since at the time, those Red Hulks would've been Liv Tyler's Betty Ross and Thaddeus Ross, played then by the late William Hurt.
Leterrier continued by saying that one of his core idea for a Hulk series of films back then was "the access to consciousness." The first movie was built around the idea of Bruce suppressing, and later intentionally accessing his transformation, which would've been further explored in sequels. But he also acknowledged that what makes Hulk tricky to adapt is his complexity as a character. "You want the primeval Hulk... the rage Hulk. And then when you go Grey Hulk and Smart Hulk you lose that a little bit and you get a little bit more kiddish with it."
Exploring the different Hulk personas was something Leterrier wanted to take his time with, but Marvel Studios has had different plans since Leterrier was involved with them. While it seemed like Hulk was gradually maturing starting with Thor: Ragnarok in 2017, 2019's Avengers: Endgame revealed that Bruce and Hulk came to an (offscreen) understanding, resulting in the MCU's Professor Hulk. That probably isn't what the director had in mind, but he seems to have made peace with how Marvel's handled its Hulks. "I like She-Hulk," he noted, "but then you know, yoga between Hulk and... I was like 'Okay! yeah, we're very far from my Hulk.'"
The Incredible Hulk, along with She-Hulk, are available to watch over on Disney+.
---
Want more io9 news? Check out when to expect the latest Marvel, Star Wars, and Star Trek releases, what's next for the DC Universe on film and TV, and everything you need to know about the future of Doctor Who.