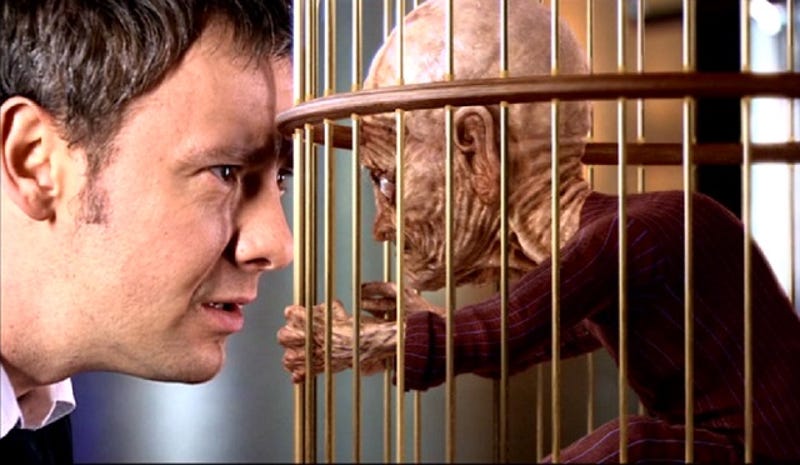 Some villains strive for wealth and power. Some villains strive for glory. But a surprising number of villains are motivated solely by their tangled relationships with the hero. These are love-hate relationships, in which the villain just wants to impress the hero or spend quality time together. Here are the 12 most…
Artist Karen, a.k.a. dogzillalives, puts an extra creepy spin on the already freaky carnivorous plants. Her sculpture looks like someone spliced human DNA with one of the piranha plants from Super Mario Bros.
Look at these amazing Star Wars and Indiana Jones—and Batman and Sesame Street and Dr- Who...—conversions of Donkey Kong. I want to play them so badly. Unfortunately, they are not real editions of the original Nintendo's arcade, but designs by Baznet. They make for awesome t-shirts, but they would make for even more…
Wreck-It Ralph was surprisingly terrific, doing a lot of clever stuff with the "video game characters have a life away from the screen" trope. So it's great news that studio execs are reportedly talking about a sequel. And this time around, director Rich Moore wants to find a way to include Mario from Mario Bros.…
Aaron Jasinski, lord of internet mashups, has delivered yet another brilliant masterpiece. Feast your eyes on the Throne of Games! Get it? Because it's supposed to be Game of Thrones, and the throne is made up of video consoles and the like? You get it. Created for the Gallery 1988 show, you can see more of work over…
Click to view
What can you get from a RC car with some wires attached and a lot of wine bottles? Drunk driving and the Mario theme, that's what. We have included the complete lyrics so you can sing along after the jump.