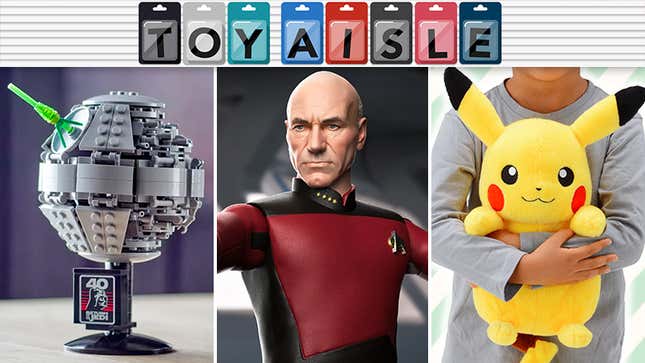 Welcome back to Toy Aisle, io9's regular round up of the latest in toy news. This week: Lego goes big for Star Wars day with new sets and special gifts, Super7 lifts the lid on more Star Trek figures, and there's a whole new line of adorable Pokémon plushes ready to thundershock your wallet. Check it out!

This Week's Toys Are Straight From a Multiverse of Marketing Madness
---

Lego Star Wars: The Mandalorian Fang Fighter vs. TIE Interceptor
Season three of Star Wars: The Mandalorian is complete, and you can relive the adventures (or come up with your own that don't involve Mandalore, Darksabers, and unnecessary drama around helmet etiquette) with a late addition to Lego's Mando lineup this year. This 957-piece set includes both a Mandalorian Fang Fighter, and a TIE Interceptor ready to dog fight it out, as well as three Lego minifigures: Din Djarin still wielding the Darksaber, the Mandalorian Fleet Commander, a TIE Fighter pilot, plus a black R2-E6 astromech droid. The set will be officially available starting on May 1 for $100, but isn't available for pre-orders yet.
---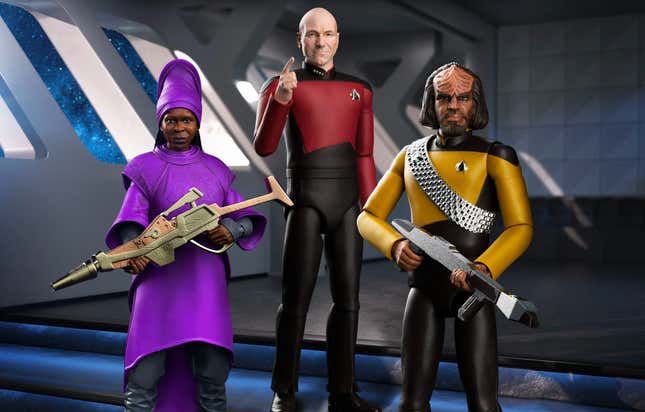 Super7 Star Trek: The Next Generation Ultimates! Wave 2
We're often left scratching our heads with the character choices Super7 makes for its various waves of Ultimates! figures. Wave 2 of its Star Trek: The Next Generation collection includes Lieutenant Worf, Captain Picard (the unassimilated version) and Guinan—although Guinan was also included as part of the Wave 1 collection, alongside Data, Riker, and Locutus. So either she was so popular she deserved a victory lap, or not popular enough, and Super7 is over run with Guinan figures. Whatever the explanation is, the trio of seven-inch figures is currently available for pre-order through Super7's website for $55 each, or in a $165 bundle, saving you exactly nothing to buy all three together.
---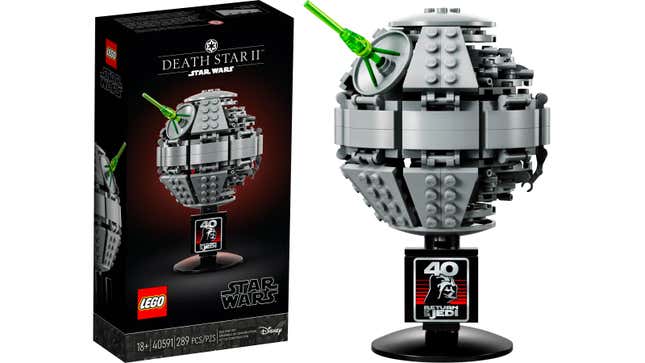 Lego Star Wars Death Star II (Gift With Purchase)
Good news! You can finally own a Lego version of the gigantic Death Star without having to spend hundreds of dollars on an equally massive set. This 289-piece recreation doesn't offer much play value, but it's a perfect display piece that won't take up an entire desk. The bad news? It's listed on Lego's online store for $25, but you can't just buy it. It's only available as a gift with purchase between May 1 and May 7, and you'll have to drop at least $150 on other sets to score one.
---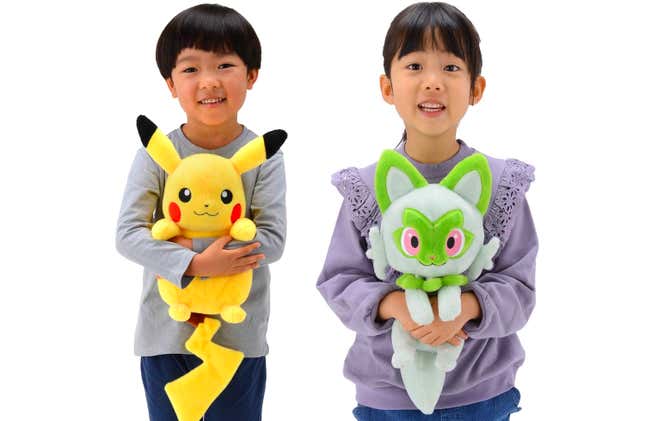 Takara Tomy Pokémon 'Hold Me!' Plush Toys
After the past few years of global chaos, there's no shame in anyone, young or old, reaching for a plush toy to help them feel better. What makes Takara Tomy's new Hold Me! Pokémon plushes stand out from other stuffed toys is that they're specifically designed to be held and hugged, with arms that will hang over your own making it feel like they're enjoying it too. They're currently available in both Pikachu and Sprigatito versions for around $37 after currency conversion, but only in Japan, so expect to pay a bit more to import them.
---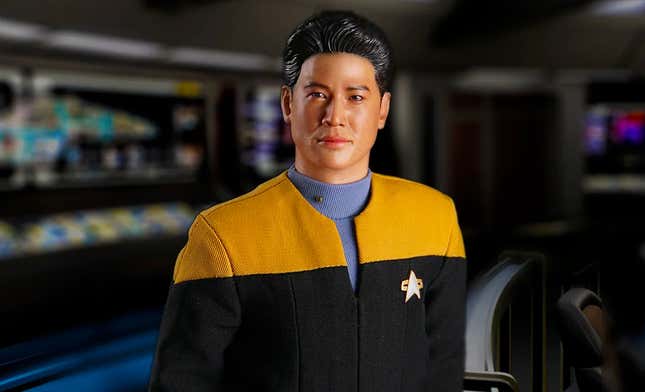 EXO-6 Star Trek Voyager Ensign Harry Kim Sixth-Scale Figure
EXO-6's latest Star Trek figure returns to Voyager for the forever put-upon, forever ensign, Harry Kim. Harry comes with alternate hands, a type-II phaser and tricorder that can be magnetically holstered to his operations uniform, and a padd. Hilariously, there's also a special bonus item included: an extra rank pip to attach to his uniform to make Ensign Kim Lieutenant Junior Grade Kim, should you desire to give him the field promotion Captain Janeway never did. [EXO-6 via Toyark]
---

Matchbox Collectors Coronation Gold State Coach
Can get enough of the antics of the royal family? Hot Wheels and Matchbox have been creating miniature versions of some of the most famous vehicles ever built, but for the 70th anniversary of the Matchbox brand, which happens to coincide with the coronation of King Charles III, you can now drop $60 on a 1:64-scale replica of the Gold State Coach originally created for the coronation of Queen Elizabeth II, but will soon be used for the coronation of her son and soon to be king of England. It's not actually made of gold, which explains why you can grab one for $60 instead of $600, but the team of horses is removable, if you'd rather hitch it up to a 1:64-scale Ford F-150.
---
Jakks Pacific Nintendo The Super Mario Bros. Movie Rumble RC Kart Racer
It might not have been exactly the movie we were hoping for, but at least The Super Mario Bros. Movie arrived with lots of fun Mario toys in tow. The latest is an 8.5-inch long RC Mario Kart toy featuring the plumber behind the wheel of a kart complete with an engine and tail pipes that shake and rumble as it races. Mario's head also turns along with the kart, as does its steering wheel, making it look like he's actually driving, and not the wireless controller with a 100-foot range. It's currently available from Target for $50.