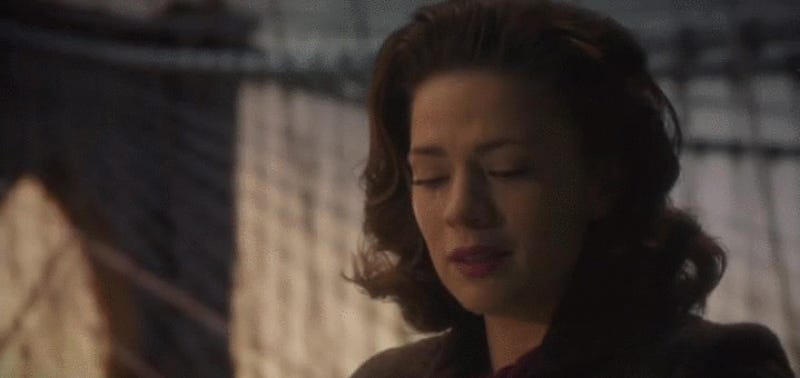 In the last few weeks, Marvel has killed Margaret Carter twice. First, in Civil War's revelation that Peggy has passed on in the current timeline, and then in a finishing blow, with the cancellation of Agent Carter late last Thursday. But amidst the sorrow, let's take a look back and remember Peggy's crucial…
Now that we know when Agent Carter will air — there's even a clip from the first episode and an appearance in next week's episode of Agents of S.H.I.E.L.D. — perhaps it's time for us to take a look at the history and evolution of Peggy Carter.
The Marvel short Agent Carter isn't even out yet — you'll have to wait until the Iron Man 3 Blu-ray hits next Tuesday — but Marvel apparently has confidence in Captain America's former flame. Deadline reports that they're developing a potential TV series based on Ms. Carter.
We get more and more excited for the Marvel one-shot short film Agent Carter, with Hayley Atwell reprising her role as Peggy Carter, with each new clip. In this one, Peggy discovers a strange vial, but she won't make off with it easily.
EW has the first clip from the newest Marvel short "Agent Carter", and, because they're jerkfaces, haven't made the video embeddable (watch it here). That said, it's pretty terrific, following Peggy as she infiltrates an enemy hideout all by her lonesome. Clearly, you should never send 3-5 men to do a woman's job.