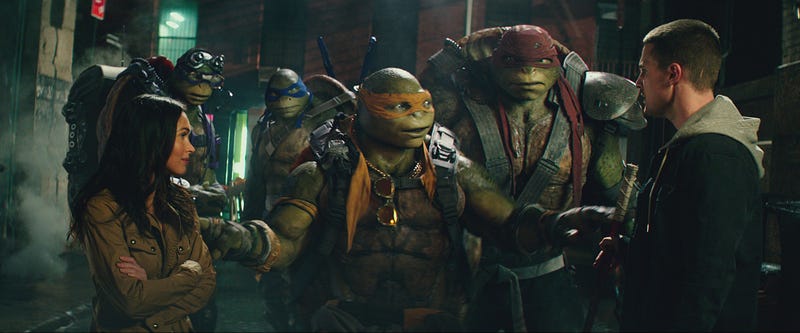 Teenage Mutant Ninja Turtles: Out of the Shadows plays like a greatest hits of everything iconic you know and love about the Turtles. Good guys, bad guys, ninjitsu, party wagons, everything; it's all there to make a movie that's—surprisingly—very entertaining. It's also borderline nonsensical but, in a movie with…
A couple of weeks ago, we wrote about Code 8, a mysterious project from Robbie and Stephen Amell. Now, the project has been unveiled, and it looks like an intriguing film project.
TV's Green Arrow made a few waves over the weekend in an interview where he questioned WB's handling of their DC Cinematic Universe announcement - and he's right to shine a light on how the weird relationships between the many heads of Warner Brothers might not be doing DC the justice it deserves.
Tonight sees the season premiere of Arrow, last year's most exciting new show. We caught up with stars Stephen Amell and David Ramsey, plus Malcolm Merlyn actor John Barrowman back at Comic-Con, and they explained to us how Oliver's failure at the end of season one will affect what happens in season two.
Greetings, fellow denizens of the post-apocalypse! The ol' mailbag was full before people had recovered from Comic-Con, so I expect to have plenty of questions about what went down (hint hint). Meanwhile, let's talk about Hollywood's perception of failure, the greatest superhero football team of all time and why I…
In this week's "Postal Apocalypse," we reveal the incredible secret excretory systems of vampires, figure out what you need to be watching on Netflix, and discover a war that's also a paradox... a paradox of death. Read on, but don't forget to send your questions to postman@io9.com!
Here it is — the first look at the new superhero series Arrow, all about the rich boy who's survived on an island, only to become a hooded vigilante, the Green Arrow. Here is your very first look at main character Stephen Amell (Hung, New Girl) in the infamous green hood, and with a bit of the Arrow beard as well!