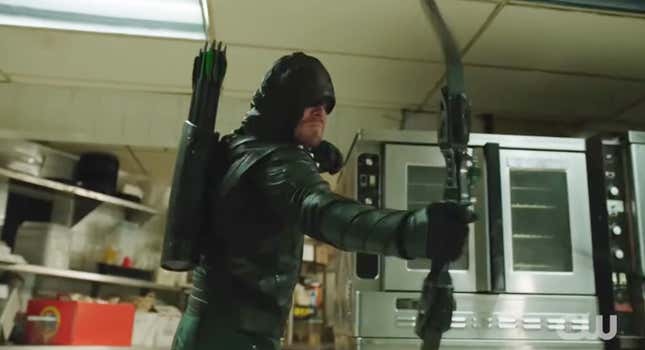 Stephen Amell, former star of the CW DC series Arrow, stepped into sticky stuff recently when he made comments at a fan convention saying that while he supports his union, SAG-AFTRA, he is not in support of its strike action. He soon took to social media to clarify his comments—and then last week was spotted on the picket line, albeit on the opposite coast from his former Arrow colleagues as part of a strike-centric show reunion.

Meet Microsoft's New Surface Laptops
Speaking to a TMZ reporter in a video posted yesterday, Amell sounded reflective, now that some time has passed between his initial comments, his walking-back of those comments, and the widely circulated photos of him marching in a "SAG-AFTRA Strong" t-shirt. "I think when I spoke the first time, I didn't choose my words as carefully as I should. I love acting, I love film, and I love television, and I know how much going on strike hurts. Not just the actors, but all the people who work on film and television," he said, also mentioning the writers who've been on strike alongside the actors, as well as other adjacent industries like hotels and restaurants. "I always say that I support my union—when I said that I don't support the strike, that was the wrong choice of words. Plain and simple. I put my foot in my mouth trying to take ownership of it."
He further explained the reason he wasn't at the Burbank Arrow picket line with his former co-workers because he was in New York supporting another former co-worker, Colin Donnell, who's appearing on Broadway in Jaws-themed play The Shark Is Broken, but that "it felt like a good time to go on the picket line" while he was on the East Coast, and said "I'll be on it again," adding, "I hesitate to say that I did a 180 [in talking about the strike], it's more that I just should have spoken more clearly and concisely the first time around." He also mentioned that after his initial comments made headlines, SAG-AFTRA representatives, including Duncan Crabtree-Ireland, "educated him" on "the objectives of the strike, the importance of the strike ... I guess what I didn't understand before is that no one comes to these decisions lightly. I have been incredibly fortunate, and I should use my position within my union to be force for my union, and not a force for myself."
---
Want more io9 news? Check out when to expect the latest Marvel, Star Wars, and Star Trek releases, what's next for the DC Universe on film and TV, and everything you need to know about the future of Doctor Who.