Take a deeper look inside the post apocalyptic animated movie 9, produced by Tim Burton. This detailed look at the rag dolls' throne room shows what scraps human culture will survive past our extinction at the hands of feral machines.
G/O Media may get a commission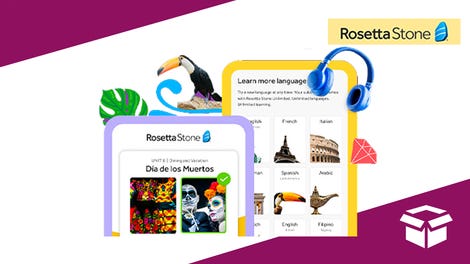 Extra 20% off
Rosetta Stone Lifetime Subscription - All Languages
The rag dolls that survive past the end of humanity each have a number instead of a name, and their leader is named 1. This throne room is 1's retreat. In there, his word is law and he's the ultimate authority. According to Focus Films, this special room is hidden within the same cathedral that leads to the Watchtower. "The Throne Room is the last refuge where 1 feels he can escape the threats of the outside world. An expanded view shows the picture source of each of the elements in 1's throne room."
Here is the official synopsis:
A new era in animated storytelling begins on 9.9.09. Visionary filmmakers Tim Burton (The Corpse Bride, Charlie and The ChocolateFactory) and Timur Bekmambetov (Wanted, Nightwatch) join forces to produce wunderkind director Shane Acker's distinctively original and thrilling tale. 9 stars Elijah Wood, John C. Reilly, Jennifer Connelly, Martin Landau, Christopher Plummer and Crispin Glover and features the music of Danny Elfman. When 9 (The Lord of the Ring's Elijah Wood) first comes to life, he finds himself in a post-apocalyptic world. All humans are gone, and it is only by chance that he discovers a small community of others like him taking refuge from fearsome machines that roam the earth intent on their extinction. Despite being the neophyte of the group, 9 convinces the others that hiding will do them no good. They must take the offensive if they are to survive, and they must discover why the machines want to destroy them in the first place. As they'll soon come to learn, the very future of civilization may depend on them.
In other 9 back story news "The Scientist," who helped create these rag dolls, now has his very own facebook page. The page sprinkles a few odd breadcrumbs about the back story to 9, and how the machines came to be. Here is one of the notes he has left:
Many of you have inquired about the origin of the B.R.A.I.N. acronym. In advance of my meeting with the Chancellor, I wanted to share with you the name of my creation.

The B.R.A.I.N. is a:

Binary
Reactive
Artificially
Intelligent
Neurocircuit

Wish me luck before the meeting.

- The Scientist
The film opens on 9.09.09.